Harrison Reed: 'I love the feeling at Fulham, winning the play-offs would be an unbelievable achievement'
Exclusive interview: Defensive midfielder joined Fulham on loan from Southampton on deadline day last summer and has flourished into one of the Championship's standout players under Scott Parker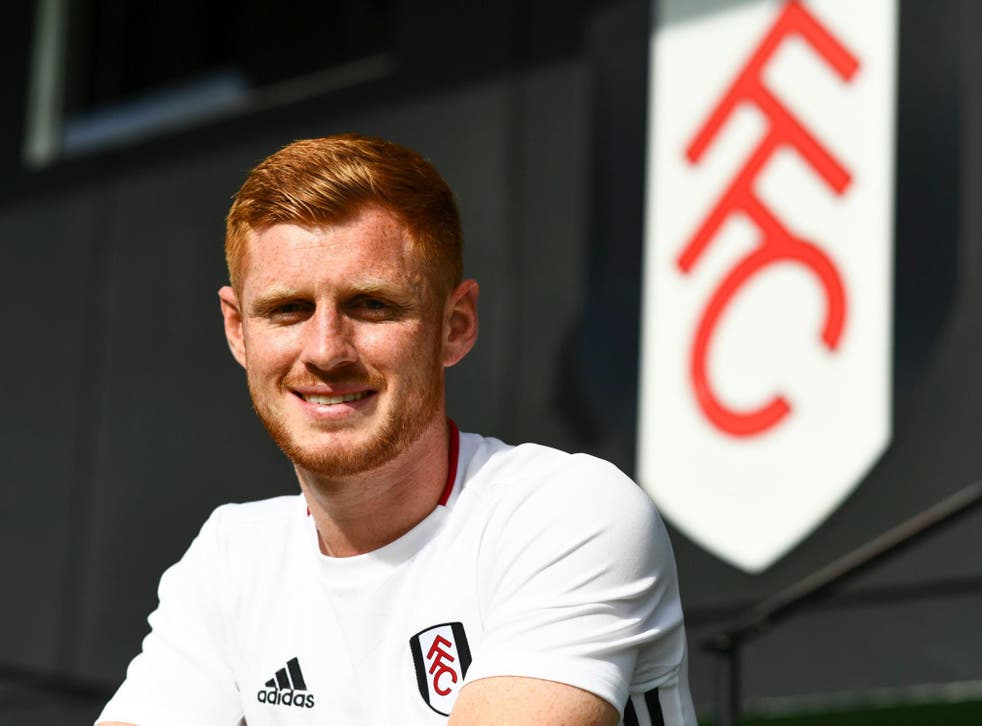 "Maybe it's a role that can be a bit understated," says Harrison Reed, reflecting on a watershed season at Fulham, and a loan spell walking the tightrope between the final hurdles and history ahead of tonight's play-off semi-final against Cardiff City. "I'm the guy who does the dirty work, being tenacious, winning battles and always trying to work the hardest. I've never been a flair player and you don't always realise that can be your strength, but I love it. That's my responsibility, to build the platform so the team can play our free-flowing attacking football. The manager told me that on my first day."
Even if he sometimes prefers to shun the limelight, Reed has been the industrious and infallible spine of a side rejuvenated by Scott Parker this season. During their relegation from the Premier League, Fulham were defined by a flattering approach that was easy on the eye but lacked any real grit and substance, with a frayed defence that was routinely ripped open and a goals-against column that threatened record books.
By his own admission, Reed did not immediately seem the obvious solution to those issues. A Southampton academy graduate, he had spent the previous two seasons on loan at Norwich City and Blackburn after becoming frustrated over a stop-start career at his boyhood club, and Fulham's intentions were only registered in the final days of last summer's transfer window.
"As soon as I heard about Fulham's interest, I was keen to go," he says. "I didn't expect to walk into the team straight away, it took me a few weeks to learn the style of play and what the manager wanted from me. [Scott's] experience has been so helpful for my development. He had an unbelievable career in my position, he knows the pictures I see on the pitch. It would be a disaster if I hadn't learnt from him. The season has been a real success so far and I've loved my time here."
Anything short of victory in the play-offs will quickly douse that sense of good feeling that surrounds the club. Promotion was the ambition laid out in no uncertain terms by Fulham's owner, Shahid Khan, when Reed signed his contract almost 12 months ago. Suspended for the final day of the season, Reed watched from the sidelines, nervously checking his phone as mayhem ensued. While faint glimmers of hope clung on, the squad had already accepted that automatic promotion would elude them by the faintest of margins.
"There was a bit of disappointment after the game," he says. "But we knew we needed a miracle. We were in touching distance, but in our minds, we expected to be in the play-offs. That's our journey now."
Fulham defeated Cardiff comprehensively at Craven Cottage little over a fortnight ago, with Reed retaining more possession and completing more passes than any other midfielder on the pitch. Tonight's tie, though, will be "a different game altogether", with both teams "fighting for their lives".
"We're confident after last time, but it's going to be a battle," he says. "We have to match their physicality. It's a massive game and there's a lot of pressure. You start to see the adverts; the atmosphere is building. Of course, you have that little bit of nervous energy because everyone's fighting for that ultimate goal of playing in the Premier League."
For Reed, it's a critical juncture in his own career. He first trained with Southampton as a seven-year-old, making his first-team debut under Mauricio Pochettino – "an incredible man and manager" – back in 2013, started in the Premier League under Ronald Koeman, and has been contracted to the club for a remarkable 18 years. But with his pathway to the first team unclear, he pushed to go out on loan and has spent three years away, often slightly under the radar, with just one year now remaining on his contract.
"It's been a long journey full of ups and downs," he says. "There have been lots of good times at Southampton and a lot of bad ones too. You learn to accept that as a player. James Ward-Prowse was in my first ever training session at the club and now he's the captain. Everyone's journey is different. Some people's pathway will be very smooth, but that doesn't just get handed to them. That comes from hard work.
"My loans have all been really positive, I've learnt from three great managers, and I feel like I'm at the stage now where I've established myself in a very good side. At the end of the day, I'm a Southampton player, but after becoming a major part of the team I'm in, if those opportunities were suddenly to be reduced or taken away from me, I'd probably really struggle with it."
Fulham are keen to take up their option to sign Reed on a permanent deal, although the agreed price will fluctuate significantly based on whether they achieve promotion. Southampton, who are set to lose midfielder Pierre-Emile Hojbjerg this summer, could seek to reintegrate Reed, with Ralph Hasenhuttl speaking in glowing terms in recent weeks. For Reed, though, that looming degree of uncertainty is something that he's become accustomed to and blurs silently into the background.
"You're prepared for that whenever you go out on loan," he says. "If there's talk about me signing for a club I've joined on loan, it's because I've made an impression and had a successful season. I really enjoy turning up at a new club and having to show what you've got, and the person you are off the pitch as well as on it. You get judged on different things. If you're a striker, it's how many goals can you score. In my role, I like to think people take notice of my attitude, how I train is exactly how I play, my mentality to always work hard and give absolutely everything.
"It's been a great season, it's a great group of players, and I love the feeling at Fulham, it's always positive and has been ever since I stepped through the door. Yes, I don't know what the future holds. But I'm focused on the play-offs and getting Fulham back into the Premier League. It would be an unbelievable achievement. Whatever decisions come afterwards will be the right ones for my career."
Register for free to continue reading
Registration is a free and easy way to support our truly independent journalism
By registering, you will also enjoy limited access to Premium articles, exclusive newsletters, commenting, and virtual events with our leading journalists
Already have an account? sign in
Register for free to continue reading
Registration is a free and easy way to support our truly independent journalism
By registering, you will also enjoy limited access to Premium articles, exclusive newsletters, commenting, and virtual events with our leading journalists
Already have an account? sign in
Join our new commenting forum
Join thought-provoking conversations, follow other Independent readers and see their replies