Huddersfield beat Reading on penalties to win £170m play-off final and secure Premier League promotion
Huddersfield 0 Reading 0 (4-3 on penalties): Christopher Schindler kicked the winning penalty to send David Wagner's men into the Premier League after a fairytale season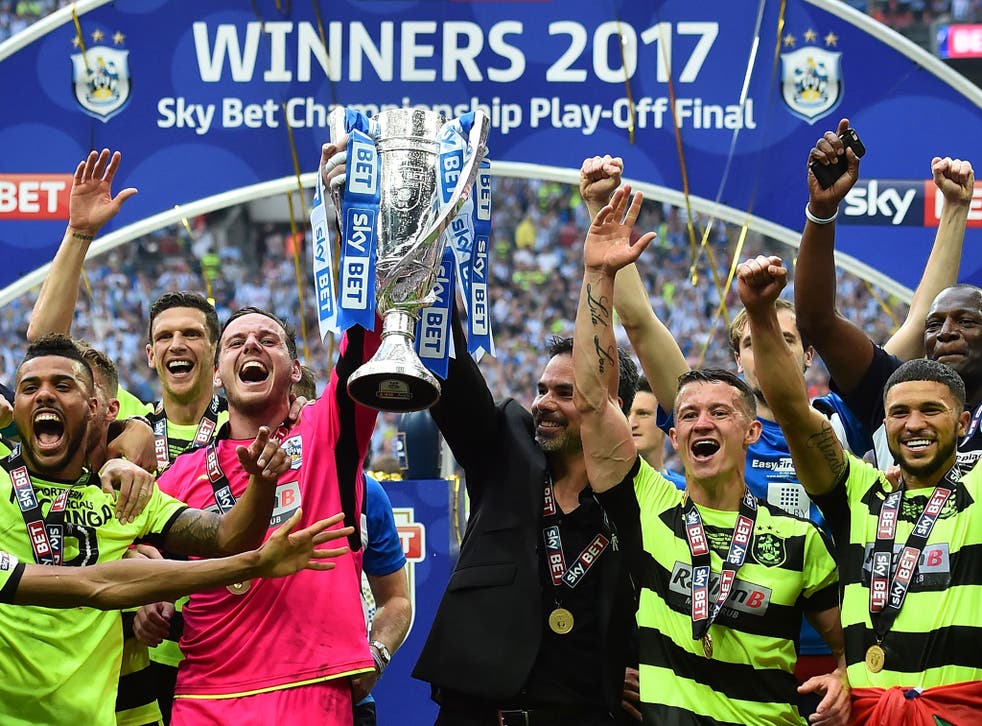 The result means promotion to the Premier League, the consequences mean £175m or more but the entire day feels like so much more to the players, manager, supporters and everyone associated with the resurgent Huddersfield town; something so much more intense and intangible.
This is what 45 years of waiting meant: utter glory and joy. Even if their eventual 4-3 penalty shoot-out Championship play-off final win over Reading was inevitably discussed in relation to the finances that do spell out exactly how pressurised this game was, it was the emotion-laced words of the figures involved that explain what it was really about, the feeling.
"To say I've been supporting this club since 1969," owner Dean Hoyle said. "Dreams come true."
"We've brought this fairytale to a happy end," champagne-soaked manager David Wagner went on.
'Happy' was quite the understatement, especially given the release of emotion after Christopher Schindler's winning penalty and an unbearable tense 0-0 draw. That was what made it all the more special for Huddersfield, all the more painful for Reading, whose manager Jaap Stam described it as "the worst-case scenario".
If the Huddersfield celebrations were uplifting, after all, the match itself was anything but. This was far removed from the chaos of play-off matches past - most memorably Reading's own 4-3 defeat to Bolton Wanderers in 1995 - and far removed from the helter-skelter football that has characterised Huddersfield's campaign. Reading's more prosaic possession game was one reason for that, but so was the unbearable pressure of the occasion, something that Stam also mentioned in the aftermath.
That, however, was also where Wagner showed what a good manager he is; one of the other little ways he has got such a massive effect out of a club budget he claimed was less than £12m. Before his players stepped up for the penalties that 11 months of football came down to, that pretty much represented "everything" for both clubs, the affable German calmed his players by talking about the relative simplicity of the task.
"I said to them it is the easiest thing to do to put the ball into the net from 12 yards. After 10 months, two teams have to do that. 'Look at this easy challenge and opportunity'. If you had asked them they would have said 'yes, I will take chance'."
Schindler took that chance, but only after Reading's Liam Moore and Jordan Obita had failed to, cancelling out the initial Michael Hefele miss that had first giving Stam's side the initiative.
It won't be forgotten, however, that Huddersfield also had the benefit of evident penalty specialist Danny Ward in goal, a Liverpool player loaned to Wagner by his former boss Jurgen Klopp. The one-time Dortmund assistant Wagner will now have to talk to his mentor about that, among many other things, like meeting in the Premier League.
Ward's save from Obita in the shoot-out was all the more impressive since he had so little to do during the game, with Huddersfield's Isaiah Brown having missed the single good - in this case gilt-edged - chance on just 10 minutes. It was a match that otherwise saw a lot of running from Huddersfield, a lot of passing from Reading, but very little actually happening. Stam put that down to the mere tension of the occasion, as everyone was too afraid to take the risks required for fear of making the mistake that could cost them.
"During the game both teams didn't want to take a lot of risks," the Reading manager explained. "You need to take responsibility on the ball and take initiatives but it's easy to say to do the same as in league games but it's very hard on a totally different occasion when it's hard to put aside. We worked our way through it and got to the shootout and then it's basically a lottery.
"But what is important for me is that the players took their responsibility."
Stam himself took the club to a level far higher than they would have expected at the start of the season, and the speculation from that fine work led to him stating that he is content at Reading, but it is still a feat that pales next to the near-miracle Wagner has pulled off.
In content and fairly modest high-spirited mood after the match, the German still pointed out how many had pointed out his lack of experience in England amid a few predictions that Huddersfield would go down. They are instead going up.
"I said no limits, and we know where are our limits," Wagner smiled. "The Premier League."
He had come into the press conference room with a loud "hello", before apologising if he smelled of champagne.
There was no need to apologise. This is really what it's all about.
Register for free to continue reading
Registration is a free and easy way to support our truly independent journalism
By registering, you will also enjoy limited access to Premium articles, exclusive newsletters, commenting, and virtual events with our leading journalists
Already have an account? sign in
Register for free to continue reading
Registration is a free and easy way to support our truly independent journalism
By registering, you will also enjoy limited access to Premium articles, exclusive newsletters, commenting, and virtual events with our leading journalists
Already have an account? sign in
Join our new commenting forum
Join thought-provoking conversations, follow other Independent readers and see their replies