Ian Holloway points Millwall towards Premier League promised land
'I don't know what I'm going to face and I don't care,' says the most upbeat man in football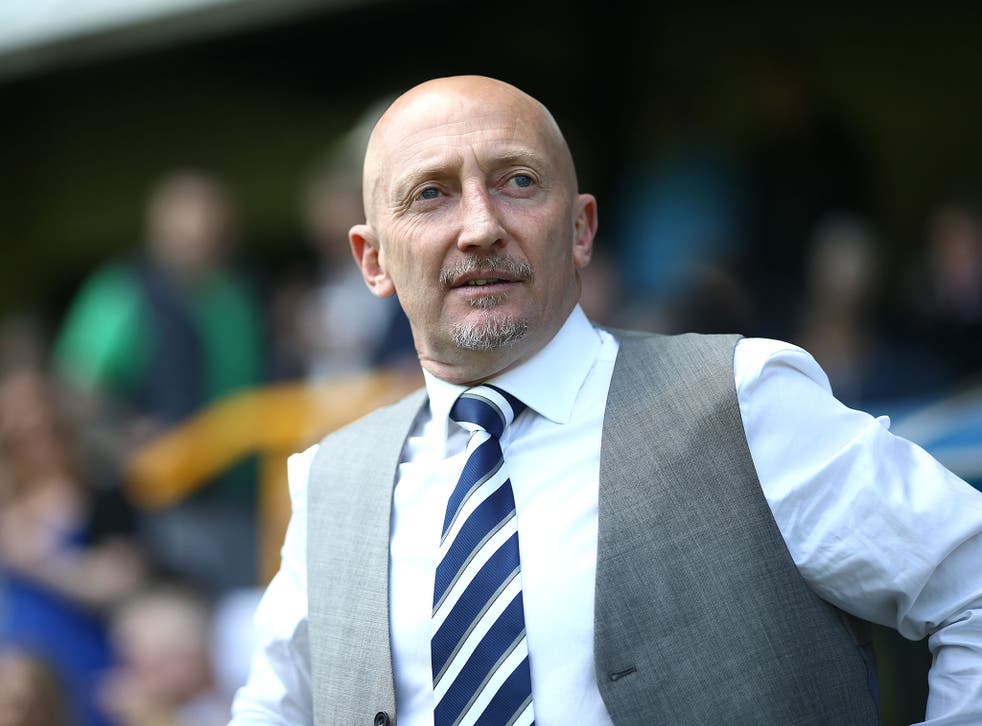 It is no surprise to find Ian Holloway – the most upbeat man in football – so optimistic ahead of the first weekend of the Championship season. But the Millwall manager, who dragged his team to safety last season, is now planning to take his side – one of the less well-resourced in the division – past Nottingham Forest, Wigan Athletic, Middlesbrough and the rest over the course of the season which begins on Friday night.
Premier League football at The Den would be quite an achievement but Holloway believes he can deliver it. "Everything that we are trying to do is to aspire to get to the Premier League," Holloway said this week. "I don't know when it's going to come, but it will be while I'm here, I'll tell you that now."
The example of Burnley last season shows that teams without too much money can still be successful in Europe's fourth-best-attended league and Holloway hopes that his Millwall side can do that this year.
Blackburn Rovers play Cardiff City on Friday night, while Millwall start at home against Leeds United on Saturday afternoon. Nobody knows what David Hockaday's side will produce, given the bizarre summer at Elland Road, but Holloway is confident in what his team will offer.
"I don't know what I'm going to face and I don't care," Holloway said. "I just hope Leeds realise their trip to The Den was a tough game against a good team who play good football with passionate supporters who welcome them in."
It was not always certain that Millwall would be hosting Championship football this season. The Lions were bottom with seven games left, as they struggled from Steve Lomas' disastrous tenure, but won four and drew three of their final seven games, and finished 19th.
"It looked like we were dead and buried," Holloway reflected. "It is amazing what you can do with your backs against the wall."
This year, though, Millwall are looking up rather than down. "The difference in mindset, the way we are going about things, is tremendous," Holloway said, delighted with changes to the training ground, pitch and dressing rooms.
"We have got a new thumb-print thing, I don't like people being late," Holloway said. "Everything I've asked for we have managed to get: new things my staff can go on to have a look at stats and passing patterns. Other teams would take that for granted."
"We've got a tower and scaffolding so I can film training and show it back to them. The days have got longer but they know they have had a good day's work and they've learned something. I have facilitated a place to come to get better, whether I pick them or not."
The end point for all of this is a Millwall side who pass and press as well as Holloway would like, and he feels that they are making progress. "Hopefully we can add some skill and football knowledge," he said. "Hopefully I can make this club bigger and better."
Solskjaer eyes quick Premier League return for Cardiff
The new Championship season promises a sea change in the fortunes of Cardiff City after the desperate straits they found themselves in during their inaugural Premier League campaign, when poor form combined with questionable decisions from owner Vincent Tan ensured relegation was always likely.
So it proved but Ole Gunnar Solskjaer's side have already been installed as favourites to win the Championship title.
"I think it's a good bet," Solskjaer said ahead of their opening match at Blackburn Rovers. "Then again this league is tough. There's at least five or six teams [that are] candidates to go up."
The former Manchester United forward criticised those players who have left the club since last season, such as Fraizer Campbell, Jordan Mutch and Steven Caulker. "When they don't want to sign a new contract I don't want them here anyway," he said.
Join our new commenting forum
Join thought-provoking conversations, follow other Independent readers and see their replies