Kevin Ellison and his fight against depression: 'Football was a relief – it has been my escape from realities'
Exclusive interview: The 39-year-old Morecambe winger – a man with one of the hardest reputations in League Two – opens up on his struggles with depression
Simon Hughes
Friday 03 August 2018 11:38 Comments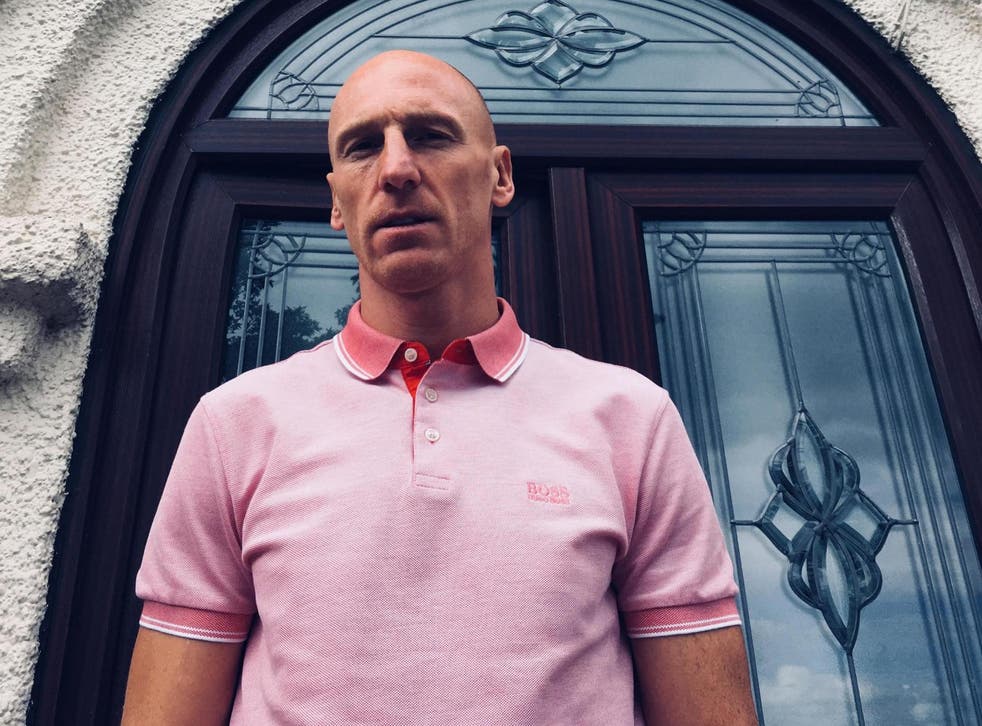 When asked to stand for a photograph outside the front door of his home in the West Derby area of Liverpool, Kevin Ellison does what comes naturally. His look is a mean one. He had earlier fixed a question about his reputation in League Two with a penetrative, unblinking stare before releasing the following self-assessment: "I'm a big, horrible b*stard and most of the league probably hates me," he said flatly.
This, however, is just one side of a 39-year-old, who would be the oldest outfield player contracted to a Football League club this season if it were not for the endurance of Dannie Bulman. The Crawley Town midfielder is a month senior to Ellison, a lean but formidable winger who joined Morecambe eight years ago despite not being on the friendliest of terms with their manager Jim Bentley at the time.
Ellison admitted: "We'd never seen eye to eye. We were both gobby and competitive. A few months earlier, Jim was playing centre half for Morecambe and I was at Rotherham. When he jumped at me, I grabbed him by the throat…so there we had it, two bald Scousers scrapping….
"…when Jim replaced Sammy McIlroy, I was his first signing."
Ellison, though, would have to pause at times during this interview as he became emotional recounting the impact of his depression on his family. Until June, only he, one independent therapist, an NHS councillor and Simon Barker, the Professional Footballers Association delegate in the north-west, knew about his problems, which he thinks began around the period he signed for Morecambe, aged 31.
He had not spent much time contemplating his own position and future until suddenly, contracts were shorter than they were before and this represented less security: a reoccurring concern each season contemplating where the next one would be spent and whether he'd have the finance to support his young family.
Meanwhile, after the birth of his first-born child, his partner suffered a miscarriage. "It sounds selfish even wording it openly like this but nobody ever asked me whether I was ok. Instead, you're trying to do your best to stay strong for others and not considering yourself. Maybe if I'd spoken about how devastating that was, I'd have never reached the situation I found myself in."
He would also lose relatives to cancer. "Again, I wonder if I'd spoken about my grief, would it have helped? Surely it would have done…without doing anything about my own mental health, I suppose it was inevitable that at some point it would blow up in my face and those closest to me."
Ellison says there are, in fact, three sides to him because teammates see a joker and a prankster – someone who is regularly told at the age of 39 that it is about time he grew up. When he used Twitter to discuss his problems in June one of the first players to respond was Jamie Devitt, an Irish winger from Dublin who spent two years at Morecambe between 2014 and 2016 before moving on to Carlisle United. Devitt described Ellison as possibly being "the loudest person" he knows, having apologised for not recognising the signs and offering support.
By comparison, Ellison saw himself "become an actor through depression" and ultimately the only person at Morecambe who had an inkling of his internal struggle was the club's doctor, who approached him once and asked whether he was ok because he'd been unusually quiet by his standards. Ellison brushed the doctor's concerns aside, fearing that any admittance might harm the chances of him earning a new deal.
In West Derby, Ellison sat calmly at his dining table. Behind him on a mantelpiece was a League Two player of the month award from a few years ago. There was the fresh smell of washing and the socks from his Morecambe training gear dangled on a drying rack. Having narrowly avoided relegation to the Conference by drawing on the final day of last season at already promoted Coventry City, Ellison spoke enthusiastically about the possibilities this time around. Regional rivals Accrington Stanley heaved themselves from close to the foot of the Football League to become champions in April and this gives clubs of similar means some hope
There are key differences at Accrington and Morecambe, however, and the main one is ownership. Whereas Accrington have benefited from the common sense and plain speaking of Andy Holt, Morecambe are now onto their third owner in as many seasons. There was a fifteen-month period where nobody seemed to know who actually owned Morecambe and this resulted in several months when players were not paid on time. It should be no surprise that in such instability – even with the determination and loyalty of figures like Bentley and Ellison who rejected offers to go elsewhere in that period – Morecambe have slipped from being a solid mid-table team looking up at the play-offs to one that is now among the favourites for relegation.
Ellison went through a similar experience when he was at Chester thirteen years ago and this helped his anticipation in the uncertainty of the environment. He stresses that the troubles at Morecambe arrived just at the point where he was beginning to sort himself out, though clearly they had the potential to compound or derail progression. Playing football had for a long time felt like a break from his depression.
"Football was a relief," he said. "It might have only been for 180 minutes across two games a week but for the last eight years, it has been my escape from realities. It was like a tablet. Football helped me get through the situation I was in. If I don't coach in the future, I will have to go to work and I think about that a lot. I'm still doing something at 39 that I wanted to do when I was nine years old. What will fill the void of football? I have no answer for that.
"It does worry me, though there's a difference between worry and depression and I'm not depressed any more. I get asked what would happen if Morecambe released me. It might come to a situation where the gaffer says, 'Kev, it's time to stop – but I'd like you to coach…' If that happens, I'd have to weigh everything up because while I still think I've got something left in the tank, I want to play whatever level that will be at. Football helps me burn off stress and I'm not sure what else will be as affective."
Ellison had initially taken anger management lessons after suffering from mood swings. He realises now that drinking after games on a Saturday, which sometimes resulted in him arriving home after the sun had risen the next morning, were binges and also attempts at escape. He did not gamble and he did not take drugs. He was aggressive without being violent and he did think about death a lot but he was not suicidal. In seeking help, his depression was diagnosed but only after he and his partner had separated. His thirteen-year-old son and 8-year-old daughter now stay with him on Wednesday and Sunday nights.
Last season, Ellison's spectacular volley and flying header on his 39th birthday in a victory at Wycombe Wanderers contributed towards two of his ten goals in 41 appearances. Yoga and meditation has helped prolong his playing career as well as bring calm and balance to his life. "Two things I never thought I'd ever even try."
He decided it was appropriate this summer to speak publicly about his past after seeing posts about mental health on Instagram by Mark Connolly, the Crawley defender. "I decided to direct message him because his story was similar to mine. Mark thought I was on the wind-up. Straight away he was, like: 'Kev, you're 39 – everyone hates you in the Football League. I'd have you in my team any day but you're a nuisance. How can you be suffering?'"
Ellison says eight players have since contacted him privately to speak about mental health, with some visiting his house during the World Cup to watch matches together and talk through their experiences. "Some didn't want to go to the PFA and said they felt more comfortable just speaking to me. Though they might get stuff off their chest, I'm obviously not a professional..." He has also helped a Grimsby Town supporter, someone with shared problems, who had first contacted him in January following a goalscoring performance at Blundell Park. "He just wanted to congratulate me at the time but it later turned out that he was suffering from depression as well and now he's opened about it with his family and has sought professional advice."
Ellison is not alone in masking his truest feelings. He thinks the nature of lower league football means there are many more like him, though the game's culture means this is difficult to prove.
"Football dressing rooms are ruthless. Sometimes players use banter as a way of increasing spirit, but they also hide behind banter to try and belittle someone that might be a threat. Players appreciate that other players are there to take your job. The potential upshot of that is, you get dropped, you get released and your kids don't get fed – we're not paid that much in League Two and we're not all qualified to do something else. What happens if someone else is a threat, especially if they show a sign of weakness? They get targeted.
"Players will continue to hide issues around mental health because they fear what the reaction will be like if they admit they have a problem. One of the reasons I kept it quiet was because it worried me that the club might use any admittance as a reason to let me go. Once word gets around in football, it's difficult to get in anywhere else. It becomes, 'He's got this, let's swerve him. '
"Ultimately, I know that by speaking about depression, it could affect me getting a coaching job or a role in management further down the line."
On any given match-day, Ellison – as a winger – is one of six players on the pitch closest to the touchline and therefore, the terraces. He revels in those interactions with supporters, or, "giving each other sh*t basically." When he speaks about these moments, a grin stretches across his face. You sense he thinks football would not be the same for him if he wasn't reminded about his age or his baldness.
"I don't want sympathy or attitudes to change towards me. I've been through the worst and I'm over it. Hopefully, there will be understanding rather than sympathy. From rival fans, I want the same treatment as before. The worst thing that could happen is if we go to Crewe on Saturday and there's silence."
Register for free to continue reading
Registration is a free and easy way to support our truly independent journalism
By registering, you will also enjoy limited access to Premium articles, exclusive newsletters, commenting, and virtual events with our leading journalists
Already have an account? sign in
Join our new commenting forum
Join thought-provoking conversations, follow other Independent readers and see their replies