Flawed Leeds set for five weeks of football they hoped they'd never play
Marcelo Bielsa's side had automatic promotion in their hands only to throw it away over the Easter weekend - now the unpredictability of the playoffs await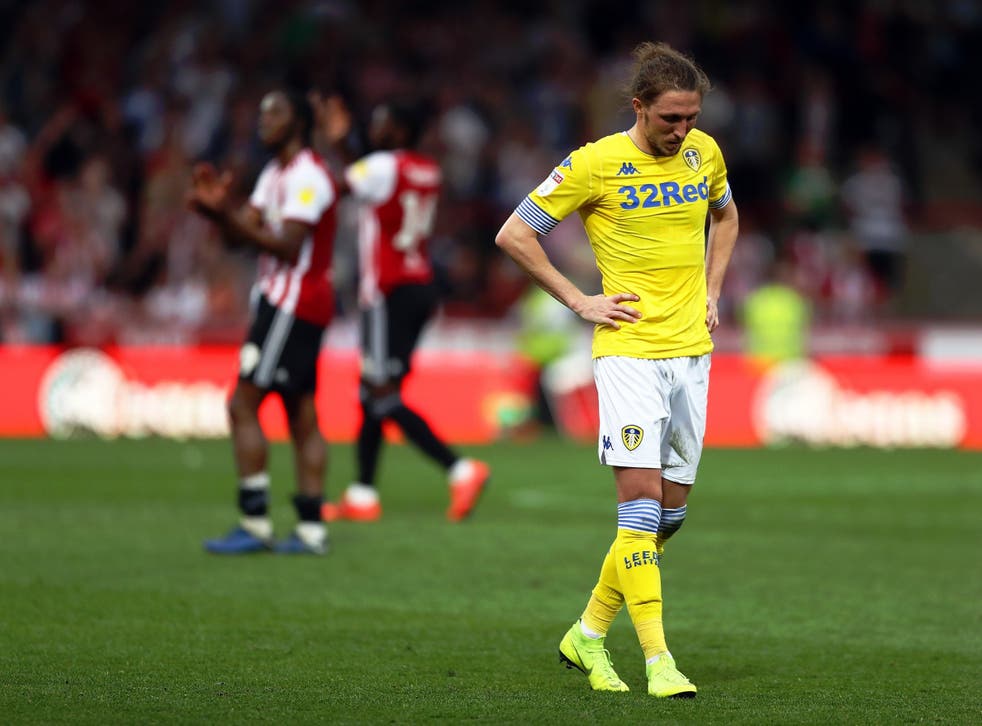 Imagine the May that Leeds United had envisaged for themselves. All they had to do was beat Wigan Athletic on Good Friday and Brentford yesterday, and then Aston Villa and Ipswich Town. They could even afford to draw one of those four games, but a 10-point haul would have been enough. Enough for a party 12 days from now, enough to the end of 16 years of hurt, enough for an early summer holiday and a return to Old Trafford, Anfield, the Emirates and the rest next year.
Now think of the sad reality of their next few weeks. They have only the faintest glimpse of that future but they need Sheffield United, who have proven themselves the most resilient team in the league, to slip up against both Ipswich Town at home and Stoke City away. And even if that happens Leeds would need to beat Villa and Ipswich. After the catastrophic long weekend, who would even bet on that? Far more likely, if we are honest, is a two-legged semi against a fresher side and, if that goes well, a Wembley final that is still five weeks away. By that stage, Leeds' players and fans would have hoped to have left this all far behind. One more Sheffield United win will make this reality.
The difference between these two possible paths, between ecstasy and anxiety, between second and third, explains the scene at the end of yesterday's game at Griffin Park.
Pablo Hernandez lying on the ground disconsolate, before covering his face with his shirt, wiping away tears. Patrick Bamford hunched over, struggling to stand up and walk off. Luke Ayling almost literally tearing his hair out in agony, then with his own shirt pulled up over his face too. Jack Harrison staring emptily into space.
They looked like a team who had just thrown their season away. Who had the winning lottery numbers but lost the ticket on the way to the newsagents.
Because that first possible path – second place and promotion – was still the likeliest route at the start of the Easter weekend. Back when Leeds were hosting Wigan Athletic. Back when Cedric Kipre got sent off, and Pablo Hernandez stepped up to take the penalty. But Leeds lost that game 3-1, the worst gut-punch you could imagine. The biggest game of their season, and their worst performance. In that 90-minute nightmare, they threw away their control of the promotion race, leaving themselves at the mercy of Sheffield United, who were busy beating Nottingham Forest 2-0.
Then yesterday afternoon the Blades applied their foot to Leeds' throat again. By going to Hull City, taking a 3-0 first-half lead and never letting it go, Sheffield United went back into second. And put Leeds under more pressure than these players had ever known before.
They came to Griffin Park knowing that their margin for error had died on Good Friday, and had not been resurrected. They had no room to get anything wrong. This game was the difference between letting the dream of automatic promotion slip away, or keeping it alive. And they lost it 2-0.
Maybe it was not as bad a performance as Friday, but it barely matters. It was a defeat just as painful and, taken together, these two losses have killed their dreams.
And it happened for the reasons that have nagged Leeds all season. They simply do not put teams away. Bielsa has complained all year that Leeds do not create enough chances to be as wasteful as they are, and he was proven painfully right yet again. He said afterwards it was the story of their season, and it was. They take more shots than any other team in the Championship but are ranked just 16th for shot conversion.
Leeds had no option but to start ferociously. They looked like a team desperate to respond to Sheffield United, to make an emphatic statement, to tick off the game and deflect the pressure away.
But all of that is irrelevant if you can't put the ball in the net. Leeds made two good chances in the first five minutes but both times lacked the precision to take them. Bamford skewed wide, Tyler Roberts took a heavy touch, and Leeds' season of costly inefficiency was summed up right there. Bamford also should have had a penalty when he was fouled by Julian Jeanvier but it was not to be.
After missing those early chances, something entered Leeds' minds: a fear that they had wasted their moment again, that they must push harder and harder to make it up, to make it good. And in doing so they lost their organisation when they needed it most. Brentford did not see much of the ball but you do not need to when the opposition shows you the way through.
And it cost Leeds. The goal that broke their hearts, that made their direct route to the Premier League almost impossible, came right at the end of the first half. As if Leeds were so keen on one more big push that they forgot about what might happen if Brentford got the ball. And it happened in a blink: Canos found space in midfield, rolled the ball between Cooper and Pontus Jansson, and Neal Maupay finished. Casilla pounded the grass in exasperation after. Leeds need hatfuls of chances to take the lead, their opponents only ever need one.
The second half felt like the first half sped up. An early Leeds surge, plenty of pressure and passing, but none of it quite good enough to score. Pablo Hernandez went close twice, Bamford again lurking dangerously, without ever making a difference. And if Leeds thought the first goal was painful, it had nothing on the second. Another fast Brentford break, but with the roles reversed, Maupay sliding in Canos, who beat Casilla.
And there it was: Leeds dominant but unable to score. Their opponents pinned back but deadly when they did attack. Leeds brought down by the same flaw yet again. And now facing another five weeks of football they had hoped they would never have to play. Where this same flaw will be tested and tested and tested again.
Join our new commenting forum
Join thought-provoking conversations, follow other Independent readers and see their replies