'I'll make my own pathway': QPR's Luke Freeman sets his sights high as he considers the future
Exclusive interview: The 27-year-old, who has spent his senior career in League One and the Championship, tells The Independent that he wants to play for a club with upward ambitions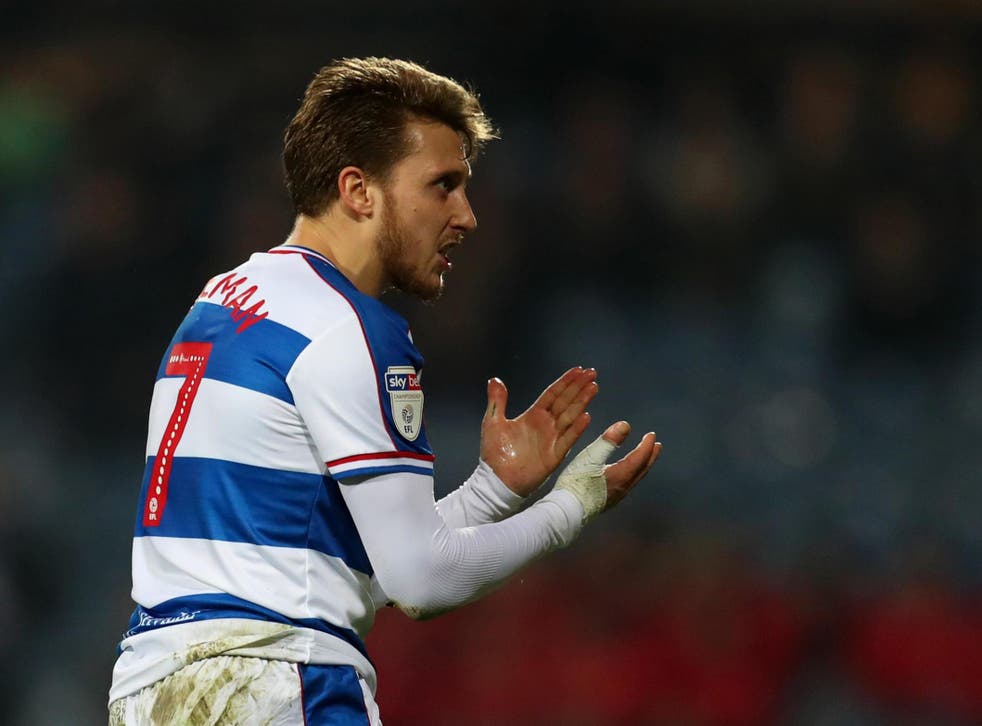 Luke Freeman has been the best thing about Queens Park Rangers for the last two seasons but Sunday's game at Sheffield Wednesday could well be his last for the club.
Freeman has just won fans', players' and Junior Hoops' player of the year, a reward for a season of brave, skilful performances, the heartbeat of a struggling team. It is worrying to imagine where they would have finished without him driving them on.
Because a season that briefly threatened to be a success – with QPR two points off the play-offs on Boxing Day – ended in a familiar decline. They have won two of their last 21 games, a run that cost Steve McClaren his job and sees them likely to finish the season just two places above the relegation zone.
And it will be another difficult summer at Loftus Road, with more belt-tightening planned and a new manager still to appoint. Loaned and out-of-contract players will leave and assets will have to be sold. And Freeman is their most valuable asset. Middlesbrough wanted Freeman last summer and were happy to pay up to £4million for him. They are interested again this summer and Sheffield United, who will of course be in the Premier League next season, could also reignite their interest. And it would be difficult for QPR to turn that much money down.
While QPR may well have to sell Freeman this summer, he is clear that he has "loved" his two-and-a-half seasons at Loftus Road and is still very happy there. But the 27-year-old, who has spent his senior career in League One and the Championship, wants to play for a club with upward ambitions.
"Obviously I want to continue playing, that's the most important," he tells The Independent. "I'm getting to a point now where I'm 27, I'm into my prime. I want to make sure that if I'm sold, it's hopefully to someone going in the right direction, with the resources to push for promotion."
QPR have been operating in very difficult circumstances for the last few years but Freeman represents one of their success stories. Ian Holloway signed him from Bristol City for just £500,000 in January 2017. He lives in Kent and has endeared himself to Rangers fans by taking the train and the tube to Loftus Road for games.
Freeman settled in fast under Holloway, and got the third-most assists in the Championship in 2017/18. When McClaren replaced Holloway last summer, QPR had a slow start before finding a run of form that almost no-one expected. Freeman was at the heart of everything good that they did, with their most goals and most assists. But that good form was not sustainable, and after Christmas they unravelled.
"It's been a bizarre season," Freeman reflects. "We started really badly then we kicked on and were unbeaten for a while, and things were looking good. Then it's been a slow, slippery slope."
So what happened? "I think we've been unlucky. Speaking to a few lads the other day, if you look at the 15 or 16 games of this bad run, in six or seven we have deserved something out of the game, whether it is a penalty decision that has not gone our way. We have had so many letters from the referees association [PGMOL] apologising for decisions. I think we have had eight letters apologising for decisions that have cost us a point or three. If in six or seven of those games you pick up a point, then we are nowhere near the bottom six. Then you're mid-table, looking up rather than down. But that's how it goes."
There were costly late penalties wrongly awarded against QPR, or that they should have been given but were denied. There was even a late missed penalty by Nakhi Wells that should have been re-taken but was not. All of these decisions costing Rangers crucial points. "I don't think I have ever been that unlucky for that long a period of time. 'How has that gone their way and not ours?' It just never seemed to stop."
Whether it was bad luck, or just an over-achieving team returning to normal, the bad run cost McClaren his job. He was sacked on 1 April, but the QPR senior players never lost faith in him and never wanted him go. When he was dismissed, the players told McClaren that they took responsibility for it.
"He was brilliant," Freeman says. "When he came in and said his goodbyes, we felt partly to blame for it. So we wanted to say sorry. Because he can only do so much, and we are the ones who've got to cross that white line and do the business. As a team we weren't doing it. The players were partly to blame, and a lot of bad luck."
Whoever replaces McClaren will have a difficult job keeping QPR in the Championship next season, especially if they sell Freeman and Ebere Eze. Decisions will have to be made on the expiring contracts of Joel Lynch, Jake Bidwell, Pawel Wszolek and Jordan Cousins, although the club has options to extend those four players. Rangers will likely have to rely on more loan signings, free transfers and youngsters to keep them up.
If Freeman does leave for a stronger side it will be latest step in a long journey that has already taken him up to Arsenal and back. Freeman impressed at Gillingham as a youngster and became the youngest ever player to play in the FA Cup, at 15 years and 272 days. He attracted the attention of Manchester United, Chelsea and Liverpool but was persuaded to join Arsenal by a lunch with Arsene Wenger at London Colney, as well as the fact he had grown up supporting the team.
Freeman loved his team as a youngster there, playing in a side with Wojciech Szczesny, Jack Wilshere and Emmanuel Frimpong. Even though that level of team-mate made progress into the first-team difficult. "Arsenal was brilliant, it made me the player I am," he says. "Every day is technical, technical. When I first signed I was just a street footballer, it was what I needed. I could have gone elsewhere but I wouldn't have had that technical foundation to build on."
But having played some senior football, Freeman did not want to get stuck back in development football forever. He eventually left Arsenal for Stevenage, then to Bristol City, then to QPR. Never wanting to get stuck in a comfort zone, always wanting to play and challenge himself, willing to take a step down to allow him to climb back up.
"Because I had the taste of first-team football so young, I was desperate to get back out and play in stadiums, in front of crowds. I was always desperate to get back out there. And, to be honest with you, the people in front of me were the likes of Wilshere and Frimpong, they were always going to be propelled into the first team. So it is knowing where you are, and thinking 'I'll make my own pathway.' Which is what I have done."
Join our new commenting forum
Join thought-provoking conversations, follow other Independent readers and see their replies