Neal Maupay refuses to rule out reunion with Dean Smith at Aston Villa, but is equally happy at Brentford
Exclusive interview: The Championship's unlikely top scorer has been the only thing stopping the Bees from slipping into the relegation zone, but that has not paused his Premier League aspirations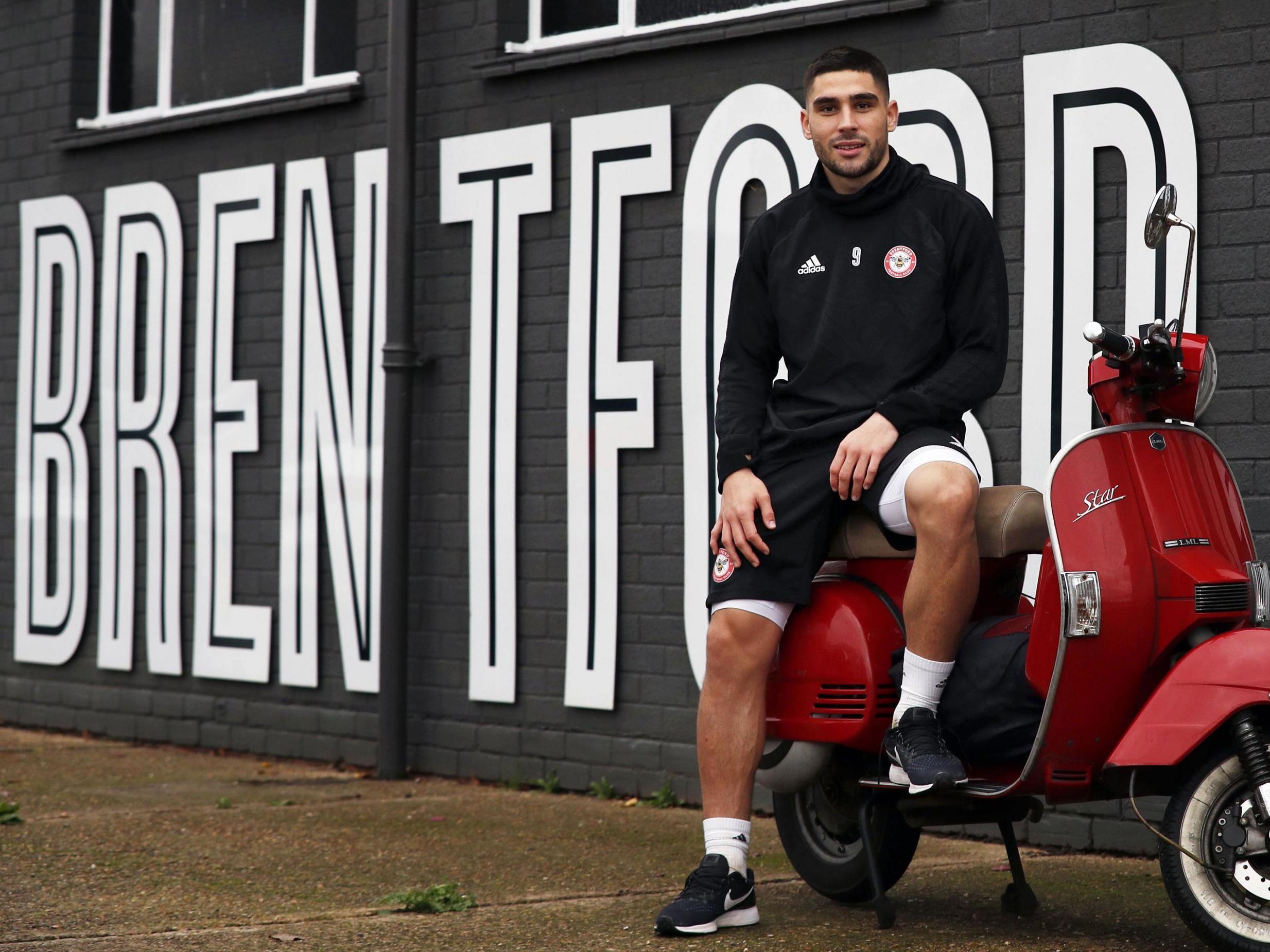 If there's one thing that weighs heavily on the mind of Neal Maupay, aside from scoring goals, it's learning from his mistakes.
It's why he's hard on himself when opening up about rash decisions to leave previous clubs. It's why he carefully monitors his English, often correcting himself apologetically. And it's especially why, as he sits cross-armed in one of the many cosy portable cabins at Brentford's Osterley training ground, he radiates a desire to turn his team's season around.
Although Brentford started their campaign top of the Championship, and looked destined to cement themselves into the play-off places, the departure of Dean Smith to Aston Villa in October marked a turning point, sending them on a frenetic journey towards the bottom. They've had just a couple of wins from 11 games since Smith left, leaving them just five points from the relegation zone. The only thing now keeping the Bees from slipping below the line is Maupay.
The Frenchman's keen eye for goal has seen him remain the division's unexpected top scorer for most of the season, with a handful of assists, too. Though it's certainly not been easy to sustain confidence over such a harsh winter for the club under new boss Thomas Frank, Maupay is adamant that this period is only temporary.
"At this moment of time it's a bit hard because we've been struggling for a while now," he tells the Independent, his gaze dropping to the floor, "So it's not easy to be happy and smile, because obviously we all want to win. But we try to figure it out, and we just work harder every day. That's the only thing we can do to turn things our way… it can't stay like that the whole season. If we believe and work hard it will change, I'm sure.
Which Championship teams could get promoted to the Premier League?
Show all 9
"I always put pressure on myself because I always want to score goals every game, and particularly at this moment we are struggling. So, because I'm the striker and I've been scoring a few goals, I'm like 'okay, Neal you need to help the team and score goals and then it'll be fine', but it's not that easy. I've been efficient so far, but I always want more and I hope I will help the team to step up and bounce back."
At 22 years old, Maupay displays an underlying maturity buried beneath the language barrier that some might not see at first. It's certainly something that wasn't overlooked by Brentford scouts when searching for a goalscorer in the summer of 2017. But before putting pen to paper to complete his move from Saint Etienne, Maupay had to make the trip across the Channel. A simple journey for some, but daunting when you consider he'd never been beyond the French border before.
"It's never easy," he says, taking his time to consider an answer, "I was young, and it was the first time to leave my country. So I didn't speak English. I didn't know anyone in the club. I don't know nothing about English football, about England. I'd never been in London. When you're not in your country to live with another culture of a people, of a place. It's not easy to settle and feel comfortable."
Luckily the presence of French-speaking players like Yoann Barbet eased the pressure of fitting in for Maupay. And though he admits he could hardly string a sentence together on arrival at Griffin Park, he strived to better his grasp on the language, and thus never even needed to take lessons.
"As soon as I knew there were two French players here… it made me more comfortable in my situation. It was an important thing for me. I was trying to talk to everyone. Every day I was listening to other players to talk, the coaching staff talking. I was listening to everything to try to improve my English. And after a few months it was better, and now it's alright."
Behind the scenes, Brentford have taken a slightly unconventional approach towards their long-term aim of playing in the top-flight. Owner Matthew Benham, a football analytics pioneer, has scouts utilise his company SmartOdds to find signings, and opted to close their youth academy in favour of focusing resources on their reserve team two years ago. Smith also scrapped the idea of a club captain this summer. And there's a new stadium the Bees will be moving into come 2020.
This, doing things their own way, in between healthy injections of player investment, is all with the aim of eventual promotion. And, though it's not going to plan this season, it's the kind of aspiration that attracted Maupay in the first place.
"When I first come here I saw the Brentford as a small club with ambition," says Maupay, "They were already talking about building a strong team to play at the top of the league. They do smart things, they brought players that they really wanted, that's the main thing.
"If you're in England, you want to play in the Premier League. That's obvious. So one day I'd like to play in the Premier League. If it's Brentford, that's the best for me. Obviously if I am 26 or 27 and I'm still in the Championship I will be like, 'oh, I need to go in the Premier League' but at the moment I just turned 22 this summer and I feel like I have a lot of things to improve, and it will come."
Maupay is clear about waiting patiently to make the step up to the next level. When in France at Nice and Saint Etienne, he admits to becoming impatient with the lack of football. Though playing time is hardly a problem now, he has learned not to head swiftly for the exit door without considering his options.
That being said, he is still keeping an open mind that a swoop from a bigger side could come sooner than later. His hot streak matched with Brentford's dreary form will have inevitably attracted attention from those with deeper pockets. And one person he admits he would love to work with again is Smith, who he never got to say goodbye to in October.
"I have a really, really good relationship with Dean. So obviously if one day he calls me and says 'Neal, I need you in my team' I would consider it. But at this moment I can't be focused on other things than Brentford. Obviously, I really liked working for him, so if one day he wants to bring me to Villa or wherever I would listen to him because he has done a lot of good things for me."
Support free-thinking journalism and attend Independent events
"Yes, I have a contract and I obviously want to finish the season. But you know, football is crazy. At this moment I say 'I want to stay in Brentford' but sometimes a few players say 'I'm going to stay', and then they leave the club. But me, I want to stay here and help Brentford and see how it goes."
Join our commenting forum
Join thought-provoking conversations, follow other Independent readers and see their replies