As the Championship circuses roll on, the quiet street procession of Norwich City continues to gather pace
Norwich have an interesting coach but they also have a sporting director working miracles. Can his achievements change mentalities at other clubs?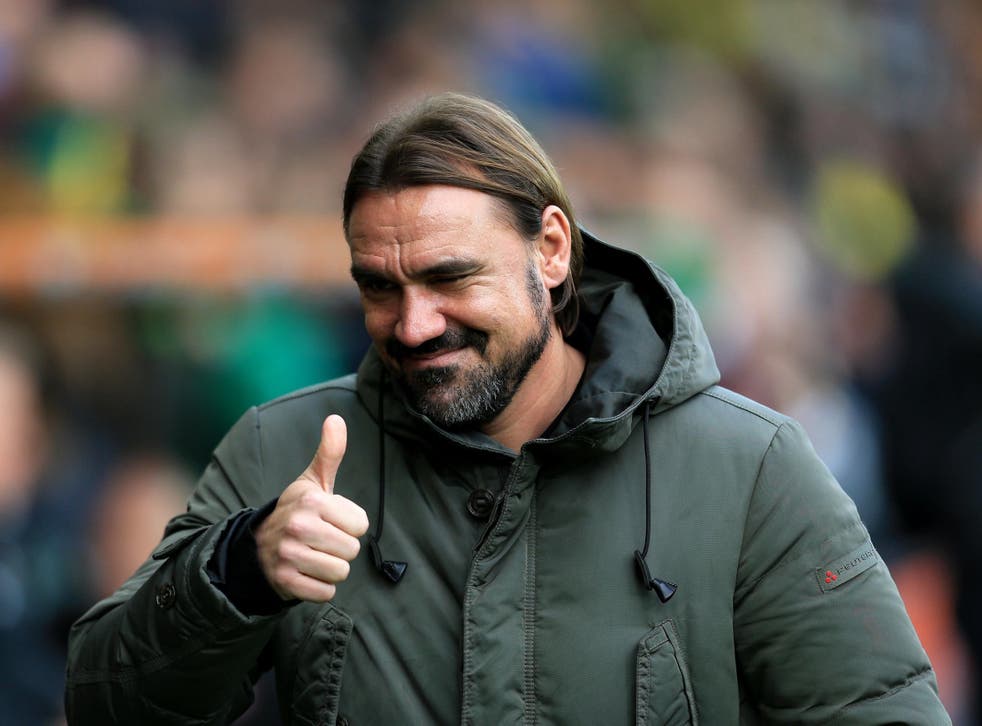 There are circuses and there are quieter street processions. The circuses are at Leeds United and Derby County right now, where the personalities and backgrounds of the managers concerned stimulate fascinations that extend way beyond the boundaries of the counties where they currently operate.
The street procession? That would be at Norwich City, a club that sits above Derby in the Championship table and is joint top with Leeds despite what has happened there since 2016 when a second relegation from the Premier League in three years led to a dramatic financial retreat.
It is only November and currently, just nine points separate Leeds and Norwich from fifteenth placed Stoke. The tightness in the competition reflects not only fresh standards that have been accelerated by new levels of financial investment but also, the sense that a remarkable story is developing at Norwich, where the cutbacks have instead indeed been stark.
Should Norwich remain where they are for much longer, a wider intrigue around the role of the manager will mature. Daniel Farke is a lank-haired, tough-looking 42-year old from Germany with interesting ideas. And yet, the involvement of the person who researched, interviewed and ultimately took the decision to hire him warrants even closer attention because his progression as a sporting director across two clubs suggests that the much maligned and perhaps misunderstood position can actually work in English football.
It is fair to assume that a lot more would be known about Stuart Webber had he decided to stay at Huddersfield Town rather than choose to leave for Norwich just two months before the West Yorkshire club achieved promotion to the top flight for the first time in 45 years.
That season, Norwich finished ninth with a budget that was quoted as being the second biggest in Championship history. Webber arrived with the task of stripping back while the clubs they were competing against went the other way. His immediate challenge was to reduce the wage bill from £70m and 18 months later, it stands at £23m. Meanwhile, he has sold twenty players for the combined sum of £78.6m and built a new squad worth just £14.2m.
His appointment in 2017 was recognition from Norwich's board that decisions before had too often been led alone by results on the pitch rather than the foundations being laid off it. There was a belief that a sporting director could bridge the gap between boardroom and training ground, bringing a new level of understanding of how the club's football operation was running. It helped that Webber holds a Uefa Pro Licence coaching badge and so, he has been able to interpret things that others on the board haven't been able to – those who have marriaged their appreciation of business with their passion for the club but do not necessarily carry with them any front-line sporting experience.
Webber reassured them that a top ten finish in the Championship was possible this season despite selling James Maddison and Josh Murphy in the aftermath of a debut campaign under Farke where they came 14th. He recounted Huddersfield's unlikely rise under David Wagner – another one of his appointments – where the team initially ended up 19th in a Championship which concluded in a succession of worrying defeats, 4-0 at Bristol City then 5-1 at home to Brentford.
It is not just the outcome from the sales of Maddison and Murphy that appear to be vindicating Webber's judgement but the methods behind those departures as well. He had accepted in the summer of 2017 that both players would leave and so, succession planning began in earnest with Emi Buendia identified as Murphy's replacement and Moritz Leitner brought in for Maddison.
Buendia had been relegated from the Spanish second division with Cultural Leonesa where he'd been on loan when Webber capitalised on Getafe's financial problems to seal a deal. Leitner, meanwhile, had been selected by Jurgen Klopp in his Champions League final squad in 2013, and though his career hasn't mapped out quite the way he would have wanted, his arrival in January gave him six months to settle in Norfolk before Maddison's departure.
The strategies behind both signings reflect the discussions that happen and how Webber and Farke's relationship works. While Leitner was a player that both Farke and Webber wanted to bring due to their understanding of his abilities (Farke had worked with Leitner at Dortmund and Webber had scouted him during his time at Huddersfield), Buendia came on the recommendation of Webber's scouting department. He already has seven assists and has scored twice in the last few weeks.
Farke understands why Norwich already have a shortlist of four managers that they'd consider as his replacement when he departs in whatever circumstance that might be. The strategy behind Webber's recruitment of managers is similar to his recruitment of players. He had spoken to Farke before he left Huddersfield to see whether he'd be interested in taking charge there, had Wagner chosen to accept one of the offers he had in Germany – the most tempting of which came from Wolfsburg.
There might be a reaction amongst fans or rivals to assess this and conclude it being untoward or undermining but the people Webber appoints think differently because they remember the manner of their own arrivals and appreciate that he cannot afford to be left behind should another club's intentions collide with his own, suddenly leaving Norwich without key personnel.
Webber is just 34 years old and his road to this point has been as long as it is less trodden. He was born in Aberystwyth and studied at a horticultural college before starting his coaching career with Wrexham's academy, taking charge of the under-12s. He became the assistant head of youth coaching at the age of 20 before deciding to follow Steve Cooper to Liverpool, another Welshman who is now in charge of England's under-17s.
When Damien Comolli went to Anfield as director of football, Webber took responsibility for recruitment for the 14 to 18 age categories and this was a period where he worked closely with Frank McParland, the academy director, who negotiated the contracts when Raheem Sterling, Jordon Ibe and Sheyi Ojo moved to Merseyside.
Discussions were held about Webber joining the first team scouting staff, focusing on the identification of new talent between the ages of 17 and 21 but Comolli and Kenny Dalglish were sacked a few months apart and suddenly, the proposed role was filled by Barry Hunter and Dave Fallows who came from Manchester City under Brendan Rodgers.
Webber went to Queens Park Rangers under Mark Hughes and regretted the decision, taking a pay-cut to go to Wolverhampton Wanderers as head of recruitment for the first team under Jez Moxey. Dean Saunders had just been appointed and Wolves went down to League One, though the mood would lift under Kenny Jackett and a return to the Championship was secured after one season. Webber's ability to trade was reflected then in his signing of Benik Afobe for £2m, the striker who was sold to Bournemouth for £10m.
Webber wanted a bigger influence and so, when Huddersfield offered that opportunity, he went. His first major decision as their director of football was to remove Chris Powell and recommend a new direction, ending a sequence of like-minded British managers. He concluded that if any foreign coach was going to work, Germany would offer more answers due largely to the number of qualified coaches that are registered in the country. John Morris, an agent who represents Jamie Vardy and Joe Gomez, recommended that he meet Wagner and after that meeting at his home in Germany, Webber told Dean Hoyle, the Huddersfield chairman, that he should go and see him as well. Aston Villa's Dean Smith was in charge of Walsall at the time and he was the other candidate that made it down to a final shortlist of two. When Hoyle asked Webber which way he should go, he concluded that Wagner would bring the drastic change that was needed. Hoyle listened to Webber, signing off with a warning that the decision would make or break him.
Due to the timing of his exit from Huddersfield, Webber's contribution in their unforeseen success was largely missed. On his arrival in Norwich, the first progressive measure that he looked to make related to basics around the club's daily operation, identifying that a tired looking training ground tended to produce a tired sort of team.
He has since sought to bring Norwich's business and football management structure closer together in order to generate the revenues that can make a difference and next week's winter training camp held in Florida is a reflection of this because the squad will be accompanied by a raft of new commercial partners and several meals are planned with everyone present involved.
Thanks to an innovative bond scheme which offered investors a favourable rate of return, £5m has already been raised and this was put into the Colney training facility where amongst the recent improvements has been the instillation of live cameras, which means sessions can be analysed and explained by coaches without wasting time. Elsewhere, the old canteen has been replaced by a dining area that resembles a restaurant – encouraging players to spend more time together.
It was important for Webber that he created hope through bricks and mortar: that the players not going elsewhere could see that the club hadn't given up and was creating an environment that indicated it was instead trying to go forward. Should the pattern of results continue and Norwich stay where they are, he will have succeeded in more ways than one and the street procession will have brought a carnival.
Join our new commenting forum
Join thought-provoking conversations, follow other Independent readers and see their replies