Oldham Athletic's David Dunn rues lack of dedication – and that failed 'rabona'
But the former Blackburn midfielder is adamant that where he fell down as a player, he will make amends as a manager now that he is in charge at Oldham
Simon Hart
Friday 25 September 2015 23:44 Comments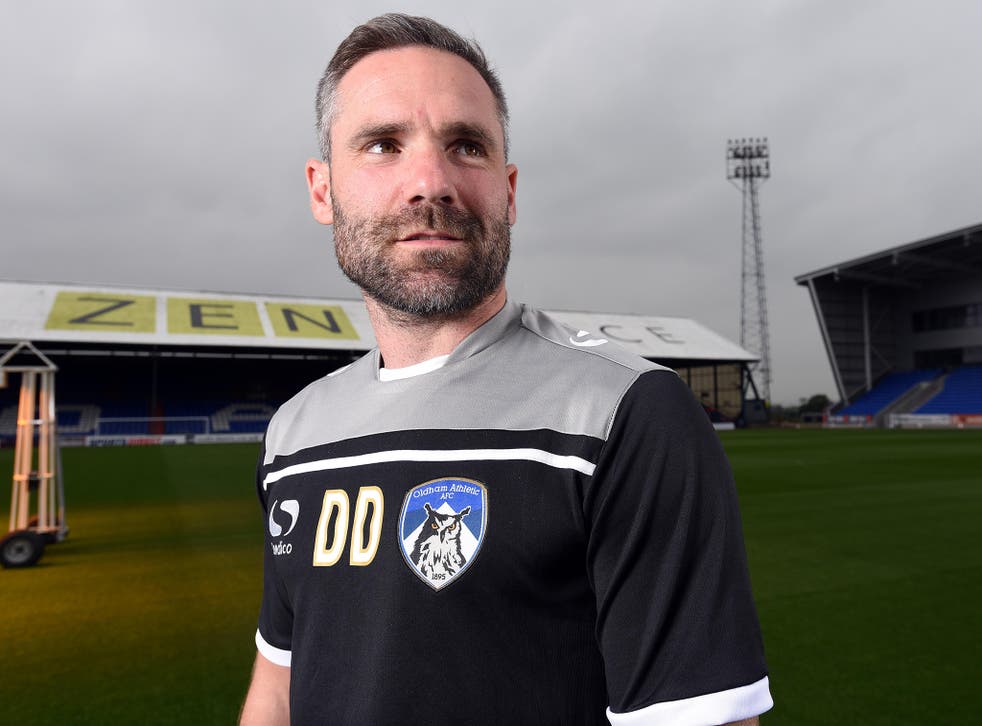 David Dunn is sitting in the Oldham Athletic manager's office reflecting on the unfairness of it all. He is in the 18th season of his professional football career, a career that brought 378 appearances for his hometown club Blackburn Rovers and England recognition, yet to some people he is best known for a single banana-skin incident.
Over 600,000 YouTube users have seen the moment he attempted a rabona when playing for Birmingham City against Aston Villa – and ended up flat on his face. "Unfortunately my little boy is seven and all his mates constantly take the piss out of me in the garden with it," he reflects with a mixture of amusement and mild annoyance.
"I'd say I had a reasonably good career and it is just a shame all you are remembered for is a stupid trick you tried. The worst thing for me was when I went into Currys in Blackburn once and I must have seen about 100 TVs on the wall and thought 'Bloody hell, I'm on every TV'."
All eyes were on him then and the same will happen when he stands pitchside at Boundary Park for his first home match as Oldham manager against Wigan. The 35-year-old only joined the League One club in the summer yet now holds the reins as interim manager after the dismissal of Darren Kelly following the 5-1 drubbing by Peterborough on 12 September.
He may have spent recent years preparing for management – he is currently completing his Uefa Pro licence – but by the time he sat down with The Independent on Wednesday, 10 days after his appointment, he had already gained a new insight into the sheer toll his new job takes.
"Last night I was watching the Blues game [the Birmingham derby] – I have played in a couple of them myself and was really interested – and suddenly I wake up at 5.30 in the morning having drifted to sleep at half-time. It has been 10 days non-stop and last night it just hit me."
These demands mean that, although he joined Oldham to extend his playing career – and played all 90 minutes of Kelly's last match in charge – he will not be selecting himself. "I just think it is quite difficult to combine the both at the minute," explains Dunn, who is determined to bring to his work as manager the dedication he says he lacked as a player and cost him greater rewards in his prime as a talented attacking midfielder.
With his explosive, barrel-chested bursts upfield, Dunn shone as Blackburn won promotion to the Premier League in 2001 and the League Cup in 2002 under Graeme Souness but he won only one England cap – as a half-time substitute in a 1-1 draw with Portugal in September 2002 – and regards it as his own fault there were no more. "My granddad always said to me, 'I can die a happy man when you've played for England' and I did, so it was great. But when I look at maybe Stevie [Gerrard] and Frank [Lampard] and JT [John Terry], people I came through the Under-21s with, sometimes I think they were probably more dedicated than I was. This is a regret for myself as a player because I know I should have been more dedicated in certain things. That definitely did affect me in terms of fitness. But like everything I will take a positive out of it and what I will do is be more dedicated at this."
Dunn is a bubbly character who chuckles at a comparison with Gerrard, who finally left Anfield in May just as Dunn was experiencing the pain of ending his own long association with Blackburn. "He's gone to LA and I've gone to Oldham – I don't need my suntan lotion too much over here," he laughs. "He made his debut against Blackburn in '98. I made my full debut that day and remember him coming on."
It was Gerrard whom he replaced on his England debut, yet the following year, after a disagreement with Souness over his best position, came the £5.5m move to Birmingham that represented his sliding-doors moment. He might easily have joined Chelsea instead. "Claudio Ranieri was the manager and if I had been a bit more patient it probably would have happened. I remember we had the Premier League Cup in Kuala Lumpur after I signed for Birmingham. Chelsea were there and Claudio came over and said, 'Why didn't you just wait? You should have waited two weeks'. So I was like, 'cheers'."
What followed at St Andrew's was a three-and-a-half year spell blighted by injuries – including spinal surgery in an attempt to remedy his hamstring problems. "I probably do feel a little bit guilty that I didn't play more for him," he says of Steve Bruce, his manager at the time. Dunn can draw lessons from 12 managers in all at club level, and speaks particularly highly of Sam Allardyce. "Probably more than anyone else he knew my body – or at least trusted me," he recalls. "His big thing was saying, 'You just get yourself ready to play for me every Saturday'." There are also recollections of Roy Hodgson, who gave him his debut as a Blackburn substitute at Everton only to take him off 11 minutes later after a team-mate's dismissal. "I won't tell you what I said to him!"
Lessons learned under such men have already proved invaluable for Dunn, whose managerial debut was a 1-1 draw at Doncaster last week. "When you take over and the lads have been beaten 5-1, confidence is low. The first week was about trying to get the confidence back up as best we can and really working on our shape. I worked with Mark Hughes and Sam Allardyce, and earlier on Roy Hodgson, and they were really big on shape – more than anyone probably Big Sam. It is such an important part of football that gets overlooked."
Dunn sees at Oldham, another old Lancashire mill town, the same connection between club and community that he knew at Blackburn. "There should be a really strong relationship," he says, mindful of the damage he saw inflicted by Venky's, Rovers' Indian owners.
At Oldham there are signs of progress in the new £5.2m North Stand after seven years during which that side of Boundary Park stood empty. Dunn, too, knows he must improve if he is to progress as a manager. "I don't think you should ever lose your character when you become a manager. Even when you come over to this side you still have to have an element of your personality that comes out. I won't change but, of course, I can't be doing certain things I did as a player that's for sure."
Register for free to continue reading
Registration is a free and easy way to support our truly independent journalism
By registering, you will also enjoy limited access to Premium articles, exclusive newsletters, commenting, and virtual events with our leading journalists
Already have an account? sign in
Join our new commenting forum
Join thought-provoking conversations, follow other Independent readers and see their replies