The long road back: How former Premier League wonderkid Reise Allassani is rebuilding his career in non-league
Interview: Allassani was released by Crystal Palace in 2016 and was on the brink of a move to Sheffield Wednesday in the Championship before suffering a devastating knee ligament injury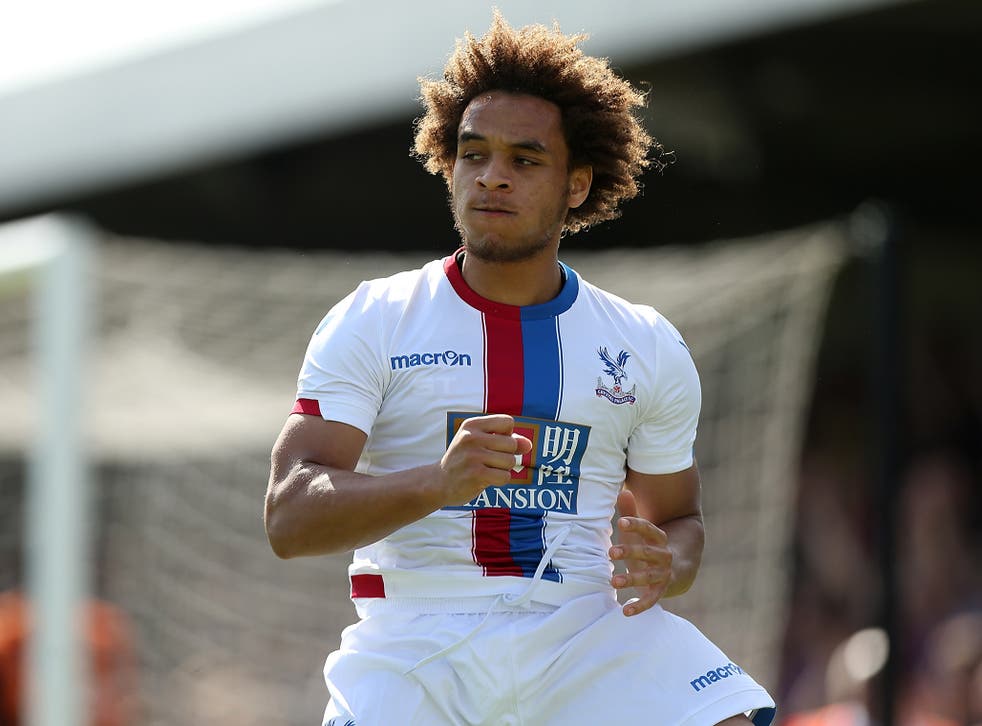 Reise Allassani was the golden boy of the Crystal Palace academy, an England under-16 and under-17 international, the natural successor to Victor Moses and Wilfried Zaha, an explosive local winger with the world at his quick feet.
But it has taken a move further down the football pyramid than Allassani ever planned on going to learn what football is all about.
Allassani was released by Palace in 2016 and was on the brink of a move to Sheffield Wednesday in the Championship before suffering a devastating knee ligament injury. He was left without a club, unable to play or train for almost one whole year, a devastating blow to a talented player about to turn 21. He recalls now, 16 months on, how his "world came crashing down" when it happened.
That could have ruined Allassani's young career, but instead it sent him on an unlikely learning journey. After a number of unsuccessful trials last summer, he is now relaunching himself down in the Bostik Premier Division, the seventh tier of English football. He is the best player at this level by a distance and has 17 goals in his 16 games for Dulwich Hamlet already. He is now on the radar of clubs as big as Celtic, who admire his burst of pace, bullish balance and eye for goal.
What has most impressed scouts is his resilience, and the way that Allassani has embraced the challenge of non-league football. It is a world away from Crystal Palace under-21s, the highest level Allassani played at before this one. But that difference – in intensity, in physicality, in competition – has made it the learning experience it is. And Allassani feels that he has already learned more, at Tonbridge Angels, Harrow Borough and Harlow Town, than he ever did in the gentle world of development football.
"Previously I had only played academy football," he tells The Independent, at Bromley FC, where Dulwich Hamlet train. "You can ask anyone: it is completely different from men's football, especially at this level."
Allassani had never played competitive senior football before he made his Dulwich debut, at Staines Town last October. It was an eye-opening experience. "The intensity is different. You play against guys that have families, they need a result, they've got things on the line. In academy football, some people aren't really too bothered by it. There's not enough will or desire."
The Bostik Prem is a long way from the Premier League, Category 1 academies and the world Allassani grew up in. But down here the stakes are far more real. "Every game is serious. If you come down to Champion Hill, and there's 1500 fans there, you want to do it for them. In academy football there's pretty much no fans, no atmosphere at games, and you're not really playing for much. I know you have the [under-23] league, but it's not the be-all and end-all. Here at Dulwich, we're trying to win the league or get promoted."
Allassani's form during his three months has certainly made promotion more likely for the troubled club. There are some good players in the Bostik Premier Division – Billericay Town spend over £20,000 per week on players – but Allassani is comfortably better than any of them. He has the speed and precision that made him such a young star at Palace, but he has added the physicality you need to play up front at this level.
"As the games have gone by, I've got better and better. Playing against physical defenders, my hold-up play has certainly improved. I remember we played Harrow Borough, against a centre-back who was a very big buy and couldn't really move. Every time I tried to move, he'd grab hold of me. I couldn't move. I'd never experienced that before in academy football. But straightaway I learned, ok this is really different. I've learned so many little things here that I wasn't able to learn back at the academy."
Allassani joined the Palace academy at the age of eight, after being spotted playing in a summer school in the car-park next to Selhurst Park. He was only from round the corner in Thornton Heath and soon settled in. He started off as a winger and then moved to playing as a number 10 or up front. By the time Allassani was 15 he was the best player in his age group and sure enough he played for England at under-16 and under-17 levels, in the team with Joe Gomez, Alex Iwobi and Ruben Loftus-Cheek.
As soon as Allassani turned 17 he was tied to a good professional contract, to ward off interest from bigger clubs. Then in the summer of 2013 Ian Holloway took him on the pre-season tour of Portugal, as the club prepared for life back in the Premier League. But just when Allassani looked close to a breakthrough, he was struck down by glandular fever, that robbed him of half a season. That set him back, and continual injuries meant he could never get a run of games together. "I could never really get going for a sustained amount of time."
So the long-awaited first-team breakthrough never came, and in the summer of 2016 Allassani was released by Palace, at the age of 20. He went on a six-week trial at Sheffield Wednesday, where he impressed Carlos Carvalhal, and was offered a contract. While negotiations were ongoing, he was playing a friendly for Wednesday's U-21s against Palace, on 12 September 2016.
Running with the ball, Allassani felt his right knee buckle, and then something inside it rip. It was his ACL. The doctors told him he would be out for nine to 12 months, Sheffield Wednesday told him they could not sign him. Allassani's "whole world came crashing down." It took two months before Allassani could even have the surgery, and after then he had to teach himself how to walk again, with the help of Matt Burton of ZeroTen Performance. Then more time in the gym, building up muscles, before running again in March 2017 and playing football in June, in the park in Bromley with his brothers.
But he needed a club, and went on trial with Doncaster, Peterborough, Yeovil, MK Dons and Leyton Orient, hoping to earn a contract. Those clubs all needed a player who was ready for right now, and they did not think Allassani was, not yet. It was frustrating, but that is why Allassani ended up training with Dulwich Hamlet, signing, and starring like he has.
Dropping down to non-league was never part of the plan, but all you can do in a situation like this is make the most of it. "In all honesty, it's something I did not want to do. When I came back from injury, my aim was League One or League Two. But once that was not possible, I have to think of a plan B, which I did."
The Football League remains Allassani's target and he will either move there this month or in the summer. But he has loved his time down in Step 3 of non-league, the trust shown by manager Gavin Rose, and the support of the fans. And to any other youngster who finds himself rejected by the academy system, down on his luck, out with injury, his advice is clear. You can learn plenty about the game, and about yourself, by dropping down a few levels.
"A lot of young players would like to stay at a pro club and play in the academy, but it might not get you anywhere. Coming to non-league, you have to have the right mentality. You have to understand it's going to be hard work. It's not pretty, there are no nice training grounds. You've got to come out of your comfort zone. But if you're willing to do that, you can make a success out of it."
Register for free to continue reading
Registration is a free and easy way to support our truly independent journalism
By registering, you will also enjoy limited access to Premium articles, exclusive newsletters, commenting, and virtual events with our leading journalists
Already have an account? sign in
Register for free to continue reading
Registration is a free and easy way to support our truly independent journalism
By registering, you will also enjoy limited access to Premium articles, exclusive newsletters, commenting, and virtual events with our leading journalists
Already have an account? sign in
Join our new commenting forum
Join thought-provoking conversations, follow other Independent readers and see their replies