QPR: Club announce 'exciting' plans for a new 40,000-seat stadium in Old Oak to cement their place in west London
The ambitious plans are part of club chairman Tony Fernandes's long-term vision for the club after they admitted their current home Loftus Road had 'no option of expanding'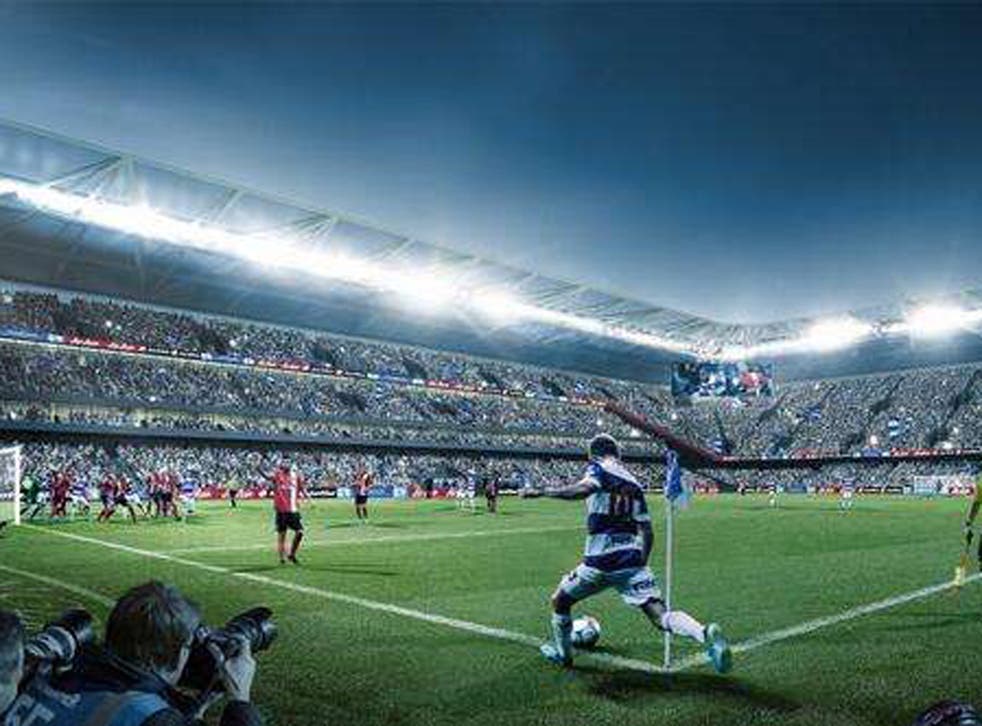 Queens Park Rangers have announced plans to build a new 40,000-capacity stadium in the Old Oak area of West London as part of ambitious plans for the club's future, which is focused around a return to the Premier League.
Rangers' chairman Tony Fernandes revealed the project on Thursday night after claiming there was "no option of expanding" their current home ground of Loftus Road, forcing the R's hierarchy to look at other potential avenues.
As part of the plans, the club hope to construct a residential and commercial precinct which will be larger than Canary Wharf in a move that should appease the local council's current commitment to regenerating the area.
Loftus Road was first used by QPR in 1917, and while there would likely be some kind of fan backlash, the initial reception appears to be slightly in favour of the move – which Fernandes has claimed will cement their place in west London's best.
The move comes as a surprise given that their current average attendance stands at 17,006 with the club sitting second in the Championship - level on points with leaders Burnley - and their attendance during last seasons doomed Premier League campaign was little more at 17,779. The increase proposed would see an additional 21, 640 seats added to the current maximum capacity of 18,360at Loftus Road.
Chief executive Philip Beard did confirm that the fans will be consulted about the move in the process of pushing through plans, where they hope to get planning permission at some point in 2015.
"Loftus Road is - and always will be - a special place for the club and our supporters, but we need more than an 18,000 capacity," said Fernandes in a statement released on the club's official website.
"With no option of expanding here, we have to look elsewhere and we welcome the (London) Mayor's and Hammersmith & Fulham Council's commitment to regenerate the area, which includes an option to develop a new stadium at Old Oak as a key catalyst to bring forward redevelopment, cementing our future in this part of west London.
"Not only will this give us a top-quality stadium to cater for QPR's needs as the club progresses and grows over the years ahead, but we are very excited about being the driving force behind creating one of the best new urban places in the world.
"This will be the catalyst for the regeneration of a forgotten area - ultimately bringing new transport, 24,000 homes and at least 50,000 jobs.
"It will create a vibrant new destination in London, boosting local businesses, attracting new visitors and tourism and creating a thriving community."
The announcement was made after both the club and developers Stadium Capital Developments concluded a letter of collaboration with the Greater London Authority and the local council to "bring forward an early and very significant private sector investment into the Old Oak Common regeneration area".
Previously, Mayor of London Boris Johnson has spoken of his ambition to see Old Oak regenerate into a new world-class city quarter, and Beard claimed that the "exciting" plans will give fnans something to look forward to.
"We look forward to working with the Mayor and local authorities and we will, of course, be consulting our loyal and passionate supporters, as well as the local community, on our exciting plans early next year," Beard said.
"We will look to build a stadium QPR fans and local residents can be proud of.
"Loftus Road is renowned for its atmosphere and with the help of our supporters, replicating that at our new stadium will be one of our top priorities."
The announcement comes after Brentford were given permission last week to go ahead with a new 20,00-seat stadium, while West Ham are set to move into the Olympic Stadium despite opposition from Leyton Orient.
Arsenal famously moved from their spiritual home of Highbury to the 60,000-capacity Emirates Stadium in 2006, while Chelsea have been linked with building a new ground at Battersea Power Station for a number of years.
Join our new commenting forum
Join thought-provoking conversations, follow other Independent readers and see their replies