QPR's Eberechi Eze: 'I always dreamt of finally getting here. There was no other option'
Exclusive interview: Coveted England U21 international endured trail of release and rejection before establishing himself as one of the country's most exciting prospects
Tom Kershaw
Thursday 09 January 2020 12:38 Comments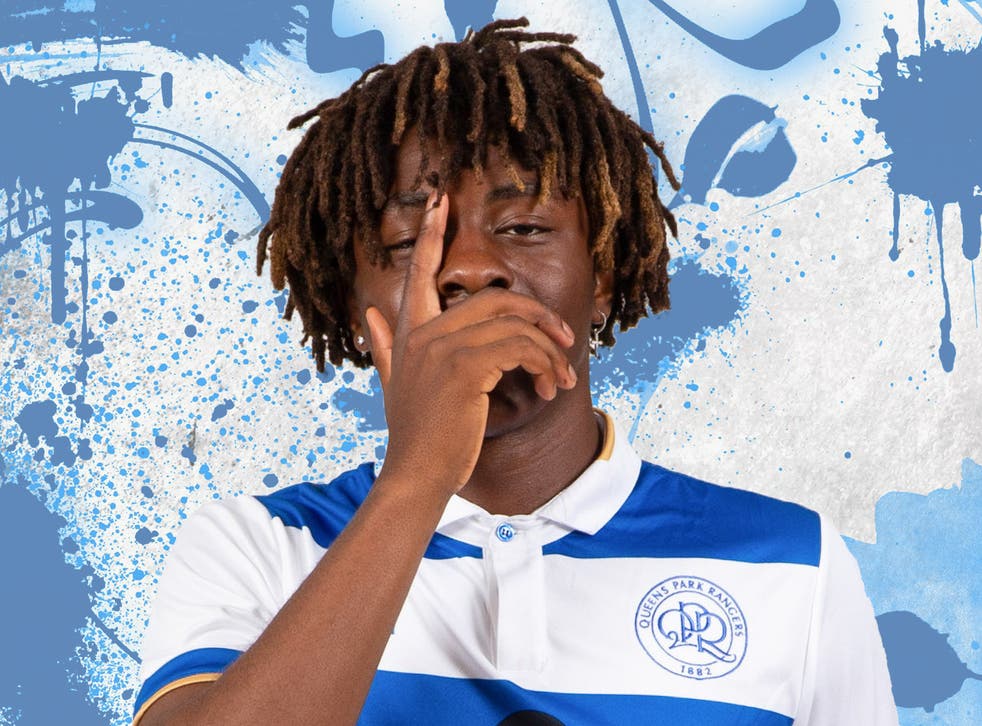 "It's exactly like going into the teacher's office," Eberechi Eze smiles, sitting on a leathery sofa at Queens Park Rangers' makeshift training ground. The 21-year-old is one of the most exciting playmakers in English football, scorer of 10 goals already this season and coveted by a handful of Premier League clubs, but before that came the demoralising trail of release and rejection that ultimately led him here.
​"It started at Arsenal," he explains. "I was 13 [when I was released]. That was the worst one. I remember crying in my room for a solid week, my mum telling me that it's going to be OK but not being able to get over it. Then I went to Fulham and I was finally starting to enjoy my football again. We played Arsenal a few months later but, when I went over to shake the academy manager's hand, I started welling up. All the feelings came back."
After Fulham came four months at Reading, then a numbing spell at Millwall, where the Spartan aggression and route-one ideology left no space for a floating No 10 who craved the ball at his feet. "Over and over again," Eze says. "As much as I wasn't happy at Millwall, it was a platform to play. I didn't expect to be released, but I was so used to the feeling. As soon as I went into [Neil Harris'] office I was thinking 'this could go left'. You have to try and just get on with it but it was definitely difficult to cope with."
Back then, the languid array of skills which have captivated the Championship this season were Eze's hindrance. He was a raw and addictive talent to scouts but lacked polish and was quickly pigeonholed by academy coaches as a luxury player. After Millwall, the maze grew tighter as second and third chances ground to dead ends – first at Sunderland, then Bristol City and Swansea – with Eze's work rate consistently cited as the sticking point. "The reason was always that it didn't look like my desire was there," he says. "The same thing again and again. All I could think was if you only you knew in my head how much I want this. It's probably a bad thing but I didn't think I needed to change [the type of player I was]. I probably should've tried to adapt, not play two different systems in one team, but I just wanted to get on the ball and enjoy myself."
This may well be Eze's last interview as a QPR player. This month, he's already been linked with moves to Tottenham, Southampton and Sheffield United and there's a reluctant acceptance at the club that he's unlikely to be here next season. Yet, as far-fetched as it seems now, in the summer of 2016 Eze was facing the prospect of a "real life" away from football, preparing to start a part-time job at Tesco and even considering college courses. "I honestly have no idea what I would have done," he laughs. "I didn't like anything at school. Even P.E was a drag. When my agent told me I had a trial at QPR I just thought: 'I have to get in'. There was no other option."
January transfer targets

Show all 41
Eze's easy charisma is a reflection of his football but, beneath his grin, he admits the potholed ride has scored him with a harder edge. "I'm much more resilient in terms of my mindset and not caring what people think, as long as I'm making the people around me happy," he says. "Just like last year, you get a lot of people having opinions" – referring to a similar vein of criticism he received during his first season in the Championship – "but it's your job to make sure you can cope with it. I've just learned to stick to my instinct because that's what got me here."
His rapid development this season is also a credit to the club's manager, Mark Warburton. He's styled the side around Eze's No 10 role – a brave risk to take on any unproven player – and ensured the team play attractive football along the floor. The shift has unshackled Eze, giving him the freedom to create and take players on. Take one memorable example against Hull earlier this season when he ran almost the entire length of the pitch, tangling three defenders en route, before winning the first of two penalties.
"[The manager] has taught me so much, in working off the ball, my energy levels," he says. "At the start of the season, he let me know 'last season is gone, you're a different player now, you're in a team where we want to get you the ball' and it's helped me a lot. I like doing skills, entertaining, that's how I've played football my whole life."
It's the cocksure brand of cage football that's swept a generation of footballers from south London. Raised in the flats by the Old Greenwich Hospital, staring out at the glassy new-builds opposite, Eze admits football doubled as an escape. "There are the nice parts [of Greenwich] and the not so nice parts. I grew up in a not so nice part," he says. "It wasn't the easiest life and you don't have as much as other kids around you. The first place we'd go after school is to the cage. We'd stay there till our parents called us in, not eating, playing all day and night. There wasn't really anything else to do. But that's where the love comes from. [At the time], you don't realise it's actually how you're learning your trade."
And while he is aware of the uncertainty over his future, Eze repeatedly stresses his gratitude to QPR for always encouraging him to stay true to that expressive, flair-driven style he developed at such a young age. "They've given me the platform to enjoy myself and helped nurture me into the player they always believed I could be," he says. "The fact I can do it at QPR, I'm hugely proud." The speculation he brushes off as "part and parcel of football".
"They weren't interested back then," he says. "From being released, playing academy football, always dreaming of getting to this stage and finally getting there. It's almost like a relief to see how far you've come."
Register for free to continue reading
Registration is a free and easy way to support our truly independent journalism
By registering, you will also enjoy limited access to Premium articles, exclusive newsletters, commenting, and virtual events with our leading journalists
Already have an account? sign in
Join our new commenting forum
Join thought-provoking conversations, follow other Independent readers and see their replies