QPR's Premier League loan signings have already saved their season after a dreadful start to the Championship
The Premier League experience of Tomer Hemed, Nakhi Wells and Geoff Cameron has already brought smiles back to Loftus Road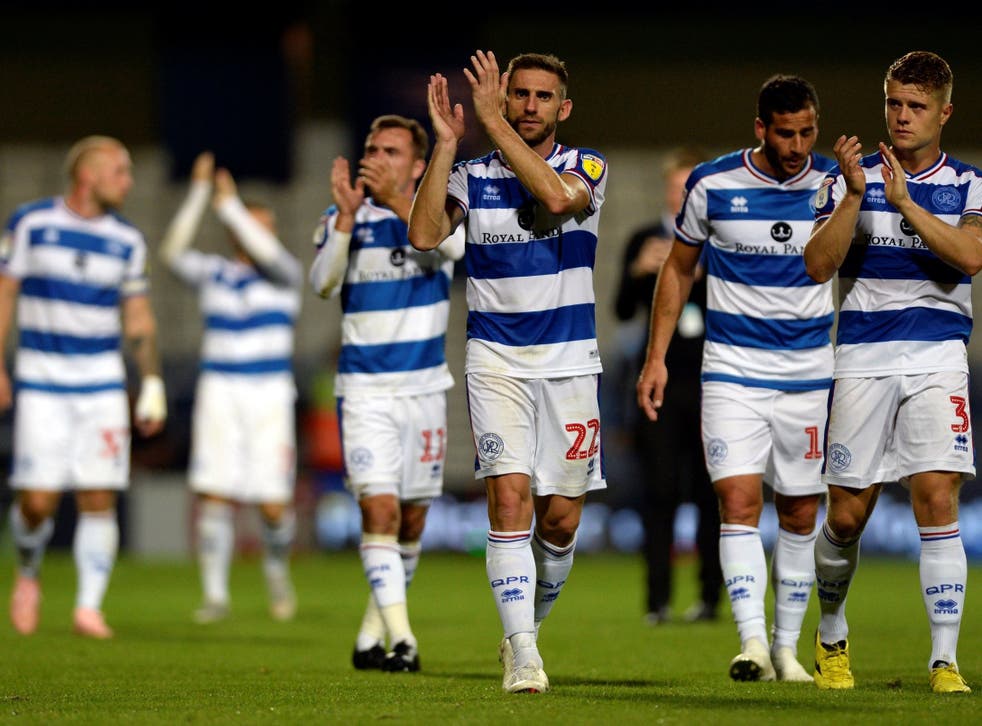 Journalists had been waiting nearly 45 minutes when a defeated Steve McClaren finally emerged from the Loftus Road tunnel on the evening of August 21. The former England boss's QPR side had just endured a three-goal pummelling from visitors Bristol City, and were sitting rock bottom of the Championship. It was already the worst ever start to a season in their history before kick-off, and now they hadn't taken a single point from the first four games. There were questions to ask.
But McClaren was insistent this was all temporary. After paying a £42m fine for breaking Financial Fair Play rules earlier this summer, he reiterated that the club was strapped for cash. However, the message was clear; he wasn't happy with his squad as it was, and there would be change.
Flash forward four weeks, and things are a rather different state of affairs. Director of football Les Ferdinand has helped draft in the loan services of three players, with valuable Premier League experience – Tomer Hemed from Brighton, Nakhi Wells from Burnley, and Geoff Cameron from Stoke. And since that frightful display against Bristol, the R's have been unbeaten.
The stats don't necessarily say everything about QPR's recent form though. Although all three of those new signings played a role in QPR's 2-0 victory over Millwall on Wednesday night, none of them had played a full 90 minutes until then. It's the effect their presence has had on the team as a whole that is most evident.
"When all you're hearing is that the club doesn't have any money and that they weren't going to bring players in – you hear a lot of negatives," Joel Lynch told the Independent after their Millwall win. "It's nice sticking the ball up the pitch, and it staying up there."
Centre-back Lynch has witnessed two of the club's three seasons since dropping back into the division, and is one of many players who understand the more difficult times the club has gone through, flirting far heavier with relegation than promotion under Jimmy Floyd Hasselbaink and Ian Holloway. Starting this campaign with four straight defeats might have lead some to believe the fight was already over, and their lack of ambition on the field in those games certainly showed. Lynch explained however the quick transition of mentality behind closed doors since the arrival of his new colleagues.
"Signing players like that before deadline day, especially the two strikers, made a complete difference," said the 30-year-old, "It gives you a lot of confidence that those players are going to score goals. It's been a great boost to the dressing room, and everyone's confidence. Everyone's thriving off it at the minute."
"We're always going into games now knowing we're going to score," added Lynch, "We're going to score goals because we've got them. Those players aren't fully fit yet. But the more games they play with each other, they'll get fitter and I'm sure they'll start picking up."
Which Championship teams could get promoted to the Premier League?

Show all 9
As Lynch says, forwards Hemed and Wells aren't playing at full capacity yet, and only have a goal between them. This is a testament that the presence of their new trio that has generated a positivity that's radiated through the team. They've now got options, and experience to guide them. Young players like Ebere Eze, who has netted three times, are suddenly playing with excitement. Although their back-to-back wins were against opponents like Millwall, who hadn't won at QPR sine 1989, and Bolton, who have recently gone into administration, the importance of bringing in those players can't be underestimated.
The international break gave the team time to gel, and recognise the changes on the training ground. When asked whether he'd noticed the difference in his squad, a smile curled across McClaren's face that had been in hibernation for some time. A month ago he was sighing with doubt. Now, it's more relief.
"I think they've had an affect from the first day they came through the door, I think all three," said the manager, "You could see the team, these are experienced Premier League players come to help us. That's what we said to the three of them. We had to be patient with the restrictions and wait for the loan market to open, and the owners, the board, they've spent a lot of money to strengthen this team. They've gone out and got some very good players. So we're delighted with the support we've got from them."
Taking up the role in June, McClaren understood he had a different job on his hands at QPR. With their lack of funds, and then disaster start, many had questioned why he stepped forward at all. Where blaming his squad seemed like an easy excuse to make at first, seeing the upturn in mood and performance, his qualms were justifiable.
"They've without a doubt lifted us all, because we never looked like scoring before," he added. "We always work hard, but at the end of the day it's about players. If you've got good players, you've got a good chance of winning football matches, and getting them three good players gave us a better chance and I think the others have taken that on board and are starting to produce as well."
Register for free to continue reading
Registration is a free and easy way to support our truly independent journalism
By registering, you will also enjoy limited access to Premium articles, exclusive newsletters, commenting, and virtual events with our leading journalists
Already have an account? sign in
Register for free to continue reading
Registration is a free and easy way to support our truly independent journalism
By registering, you will also enjoy limited access to Premium articles, exclusive newsletters, commenting, and virtual events with our leading journalists
Already have an account? sign in
Join our new commenting forum
Join thought-provoking conversations, follow other Independent readers and see their replies