Sean Dyche not interested in mind games as he tries to bounce Burnley back into the Premier League
Turf Moor manager delighted to be on brink of leading team back to the big time at first time of asking, he tells Mark Ogden
Mark Ogden Comments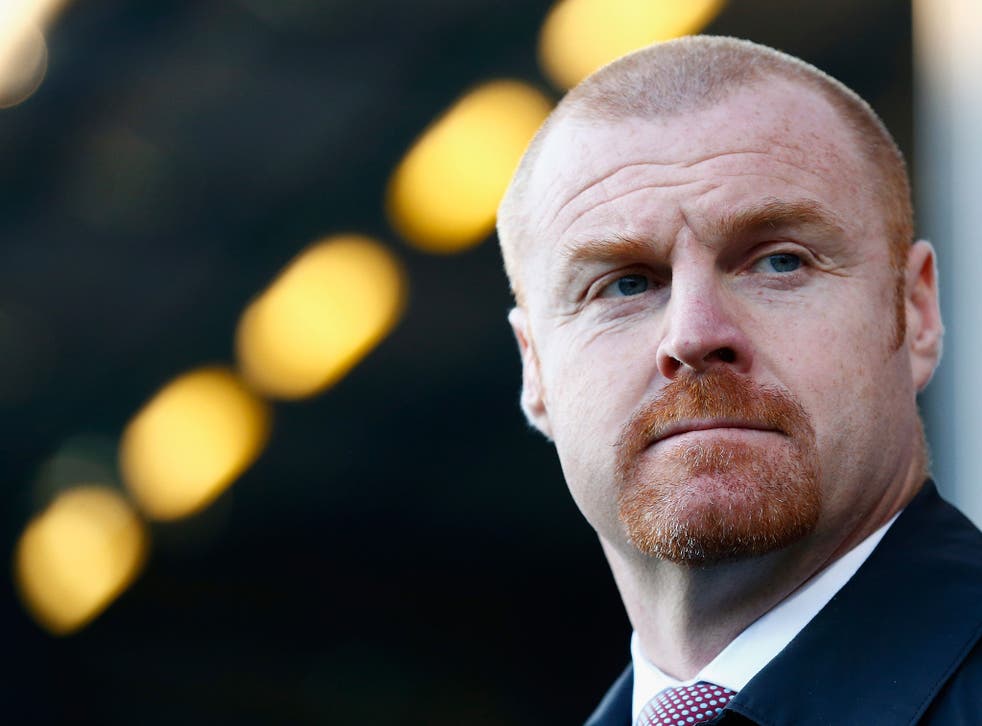 Sean Dyche does not do mind games. Or does he? Such is the bluff and double bluff nature of modern day football management that even the Burnley manager admits it can be impossible to avoid becoming tied up in knots by the dos and don'ts of the job.
Dyche's team sit on the brink of promotion to the Premier League – a combination of a Burnley victory at home to Queen's Park Rangers today and Brighton dropping points at home to Derby County will see them return to the top flight 12 months after relegation – but rather than adopt the lockdown approach of media silence and saying as little as possible with success within his grasp, the 44-year-old spends more than an hour with me discussing today's fixture and anything else that takes his fancy, from Pep Guardiola, obsessive disorders, new televisions to why he will not be swayed by the management manual.
"I know what the challenge is, so spending a bit of time doing this won't affect me," Dyche said. "It is not going to de-focus my thoughts on the job in front of us. I try to be quite balanced in what I do, in my normal life as well as football life, so I am not going to stop picking the kids up from school just because it might affect us winning a game.
"It sounds mad, but some people think there is an obsessive disorder about football and how we go about it. There kind of is, I suppose, but there still has to be balance and normality in your life. I just have my honest view and I don't play games. I will tell you what I am thinking, but people will suggest there is an angle to that. When you are like that, people then think I am actually playing games by being honest. You are damned if you do, damned if you don't. If you met me in a pub, I would speak like this as well. I don't play this as some kind of game."
Dyche is speaking in the cottage at Burnley's east Lancashire training complex, in the grounds of the 17th century Gawthorpe Hall, which doubles up as the club's press centre. It was in the same room that Dyche delivered his impassioned defence of midfielder Ashley Barnes last season after the player had been accused by Jose Mourinho of committing a "criminal tackle" on Chelsea's Nemanja Matic. Dyche spoke up for his player, only to find his motives questioned. Mind games again.
"When I spoke about that [Barnes challenge], me and Alastair Campbell [Burnley supporter and former New Labour spin doctor] had a big joke about it because people were saying I had been 'schooled' by him," Dyche said. "That was absolute nonsense. I hadn't been schooled by Alastair Campbell at all. I just spoke to our press officer, Darren Bentley, and said, 'Why don't we just give a considered view, park it and move forward?'
"We did that, but people then said we had been clever to use a hand-held camera, like it was little old Burnley. It wasn't like that at all – it was get a room, get a camera, have a chat and move on. But everything is analysed now."
Dyche is ready to embrace the intensity of the Premier League once again, however, with Burnley. Unbeaten in the Championship since suffering a 3-0 defeat at Hull City on Boxing Day, victories against QPR and Charlton will confirm promotion, regardless of what rivals Brighton and Middlesbrough achieve. Burnley have bounced back from relegation, despite losing top scorer Danny Ings to Liverpool and right-back Kieran Trippier to Tottenham last summer.
That Burnley stood by Dyche following relegation underlines the club's determination to play the long game. Over £10m is being invested in the Gawthorpe training ground and a profit of £30m was announced in recent results, but keeping faith in Dyche is paying rich dividends. "Continuity in football comes from winning and the fact is that I would still be a good manager, who knows what he is doing, if we weren't winning," Dyche said. "But I probably I wouldn't still be here. The real strength of modern football would be a manager who isn't doing well, yet his club stands by him, because they look beyond the current situation and say 'he is the guy for us.'
"It does beg the question – if people did give a bit more time to managers, would they come through it and be a better long-term solution than a quick fix? But not many want to try that out and see if it works. They are the facts of the job, though, and I can't do anything to change that apart from keeping on winning. But I just think that is part of life. Everyone wants everything now.
"You buy yourself a wonderful new TV, but a year later, there is a new model out and you decide that you wouldn't mind that one with even more things on it. Then another year on, an even bigger one comes out and you think, 'wow, I want that even better and newer one.'
"It's the same in football. Football mirrors life basically. It's a pretty soft analogy, but the mindset of modern football is that we want it now, we want it quicker and better. We want it more exciting and for it to over deliver too. Football has gone a bit like that and the turnaround is so quick because there is a higher demand than ever now."
Dyche endured mild turbulence at Turf Moor earlier this season, when his new team was finding its feet following relegation and started off with just two points from the first three games. But Burnley are now on the cusp of promotion with a team that has not only gone unbeaten in the league this year, but also managed the rare feat of suffering no suspensions or red cards – even with Joey Barton in the team.
"Joey is enjoying it I think," Dyche said. "I am not saying he didn't enjoy other environments, but I get on well with him and there is a good alignment between the two of us as people, not just as professionals. You can quite obviously see from his performances that he is enjoying being around us and what is offered to him. And he is delivering. But yes, it is a fact that we haven't a red card or suspension, but I have never preached to the players about it. I only tell them to focus on the game and the performance – that is our key goal and driver.
"It is about self-control and part of being a professional is self-control – if you lose control, then you are not going to perform as well as you can do. We want to be competitive, but I want them to do it in the right way.
"It did take us time to reform and remould, but people want it doing over 8-10 games. You can't do that. People also forget that Joey was late in the building, Andre Gray was late in the building – he didn't even do a pre-season with us. It's as though people want you to pour water on it and then watch it grow, but it doesn't happen like that. There is so much work that is done behind the scenes, but if it is not immaculate on a Saturday, people think you have been doing nothing all week."
If results go Burnley's way on Monday, Turf Moor will once again host the likes of Manchester United, Arsenal, Chelsea and Liverpool next season. Pep Guardiola will also come to town with Manchester City and, despite his stellar CV with Bayern Munich and Barcelona, Dyche expects the Catalan to face a wholly different challenge in the Premier League. "It is going to be really interesting and intriguing to see Guardiola coming into this country because the challenge of the Premier League is not as straightforward as in other countries," Dyche said. "We have seen that this year. I know this has been an anomaly of a season, not just because of Leicester, but the real superpowers have all had a weird season.
"Chelsea the most obvious, but City and United have been up and down, Liverpool have been up and down and changed their manager, Arsenal were always up there, but people are questioning whether they can go higher. Then you have Leicester, people going 'wow,' and Newcastle and Sunderland struggling at the other end.
"Look at La Liga, tough. Barcelona's goal difference is plus 74! When have you ever seen that in the Premier League? But in that lies the story. That doesn't happen in the Premier League because it is more nip and tuck and the bottom teams in England are much more competitive than those in the other major leagues. In the Premier League, you rarely see these gaps or gulfs, even with the financial situation.
So can Guardiola bring his methods and his style, which is an amazing style cultivated over many years at Barcelona, to the Premier League and still be effective? "That is going to be the big question. You would probably suggest he could do a version of it and, let's face it, whoever takes over at somewhere like Manchester City, you are going do alright, by the way. When you look at the players they have got, you are going to have a chance, but they want more than alright. They want something out of the stratosphere, so that will be the big thing – can he take them to the levels that they are expecting?"
But to be one of those attempting to upset Guardiola, Dyche and Burnley still have their own job to do. "Most players know where they are going, the journey they are heading and the destination at the end of it," Dyche said. "I don't need to keep telling them. They know that success starts with winning the title and let's see after that, but that has always been the focus.
"I don't have to ram it down their throats, but we are right on the cusp of it and now it's, 'can we go and grab it?'"
Register for free to continue reading
Registration is a free and easy way to support our truly independent journalism
By registering, you will also enjoy limited access to Premium articles, exclusive newsletters, commenting, and virtual events with our leading journalists
Already have an account? sign in
Join our new commenting forum
Join thought-provoking conversations, follow other Independent readers and see their replies