Brentford's Sergi Canos: 'I miss every training session – but is it worth it if we are putting people at risk?'
Exclusive interview: Former Barcelona and Liverpool winger reflects on the coronavirus crisis and recovering from a serious knee injury that has left him sidelined for six months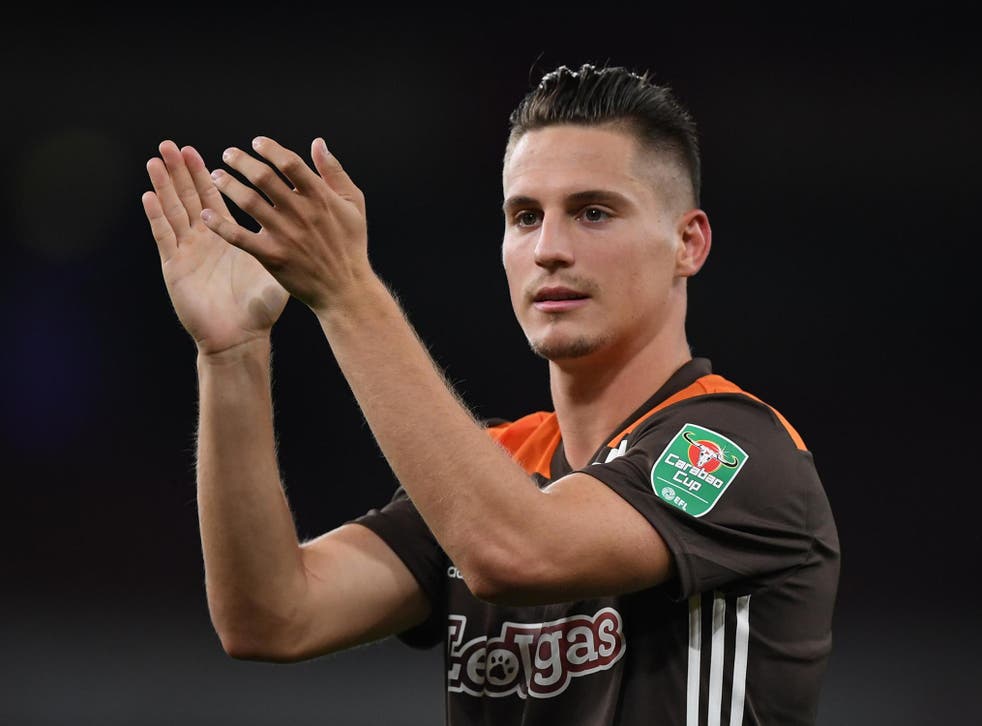 During those alien few weeks before the lockdown, when English football pressed on in a blur of hope and naivety, Sergi Canos stood alongside Brentford's assistant manager, Brian Riemer, at the training ground in Osterley. "He asked me a question I'll never forget," Canos says, recalling the agony of his injury-ruined season. "He said 'what do you miss the most?'"
After six months of painstaking rehab, Canos flexed at the ligaments in his left knee; the ones that had given way against Nottingham Forest and forced him to "learn how to walk, learn how to run" and regain faith in his own body. "Anyone could say they miss scoring goals, the feeling of playing on a Saturday, hearing the fans sing your name," he says. "But what do I miss the most? I miss every day; every training session, because that's the opportunity to feel like I'm footballer again. To do what I love."
Once of Barcelona and Liverpool, Canos felt lost to the sidelines, forced to watch as Brentford soared towards promotion, playing a maverick brand of attacking football that captivated the Championship. "I think this has been the most difficult time in my career," he says. "The team was playing so well and I couldn't be part of it. It was difficult to manage, and those feelings were making me sad, but how can I be sad if the team is doing really well?"
The coronavirus crisis has brought about a conflict of emotion. From a footballing perspective, the league's suspension has allowed Canos time to fully recover and cling to the promise of playing again this season. But even after the blur of vacant days spent envisioning his comeback, he's found it harder than ever to imagine returning to the pitch.
"I miss football so much and this situation has given me the opportunity to prepare myself to come back this season," he says. "But after you think: is it worth it? Is it worth playing this season? Is it worth putting people at risk again? It's very difficult. I'm training on my own in the park and I think: should I really be doing this? It would be great to play in the Premier League, but at the moment if feels far away. But I have to train because if the situation gets better and we go back to playing, I want to be ready and be the Sergi Canos I was before the injury."
The days are dominated by phone calls. Canos's mother and sister still live in Liverpool, besotted with the city ever since his move from Barcelona in 2013. The rest of his family reside in Spain, where his grandma hasn't been able to leave her house for over six weeks, and had warned him of the devastation sweeping Europe long before it truly registered in England. "When the situation in Spain was becoming very heavy, we were still training and I remember the doctors and physios just saying this can't happen [for much longer]. We are going to have to all stay at home soon," he says. "My mum and sister could have come here, but I'm scared to bring the virus home if I'm going to the shop or the park."
The bond between Brentford's players and staff has helped them to pull together during the pandemic. Several members of the squad have set up individual fundraising projects for the NHS, while Canos has taken a keen interest in the Brentford Community Support Trust ever since his first loan spell at the club in 2015, winning the PFA's Community Champion award last season, and taking a lead role in online activities for young people during the lockdown. "Luckily, we are a team that does these kinds of things," he says. "It's not just me, it's everyone. We like to do this as a club and it gives an incredible feeling in the dressing room, because we are people before footballers, and all those things translate onto the pitch."
His work helping to raise awareness around mental health in particular became a pillar during his own recovery. "With mental health, it's important to talk about these things," he says. "I think some people struggle to make those steps to find how to say: 'I need help, I need to talk to someone'. I had my ups and downs [while injured]. I can't describe how much my family have helped me these past months. It's important to talk and if I didn't when I had those downs, I wouldn't have been able to make it up again."
An upbeat and affable character, whose personality is reflected in his skilful and occasionally firebrand style of football, Canos credits his resilience to the bold decision to leave Barcelona's La Masia academy, aged 15; a move that upended his universe and landed him on Merseyside in a harsh "culture shock".
"At Liverpool, it became very professional, very fast," he says. "It was difficult to be the foreign player coming from Barcelona. There were times I used to ask my dad: 'Why we didn't we stay? Why did we have to move?'. But when I moved to Brentford on loan [after two years in Liverpool's academy], I realised why it was best to leave Barca. Of course, sometimes I think about what would have happened if I'd stayed, but I know it was the right decision because I'm very happy where I am."
In the background, the rain pelts against the windows of Canos's home in west London. It's certainly not Nules, the town an hour north of Valencia where he was born, but it feels like home. "I do feel a bit English," he laughs. "I have a sister that his half-Scouse, half-Spanish. I'm very settled in this country and I love playing football here. Even if it's a Tuesday night, -1C and snowing, the Brentford fans are still coming. It's amazing. I've missed that every single day."
Register for free to continue reading
Registration is a free and easy way to support our truly independent journalism
By registering, you will also enjoy limited access to Premium articles, exclusive newsletters, commenting, and virtual events with our leading journalists
Already have an account? sign in
Register for free to continue reading
Registration is a free and easy way to support our truly independent journalism
By registering, you will also enjoy limited access to Premium articles, exclusive newsletters, commenting, and virtual events with our leading journalists
Already have an account? sign in
Join our new commenting forum
Join thought-provoking conversations, follow other Independent readers and see their replies