The Championship: Heaven and hell on the final day
Steve Kember and James Scowcroft share their memories
Steve Kember
,
James Scowcroft Comments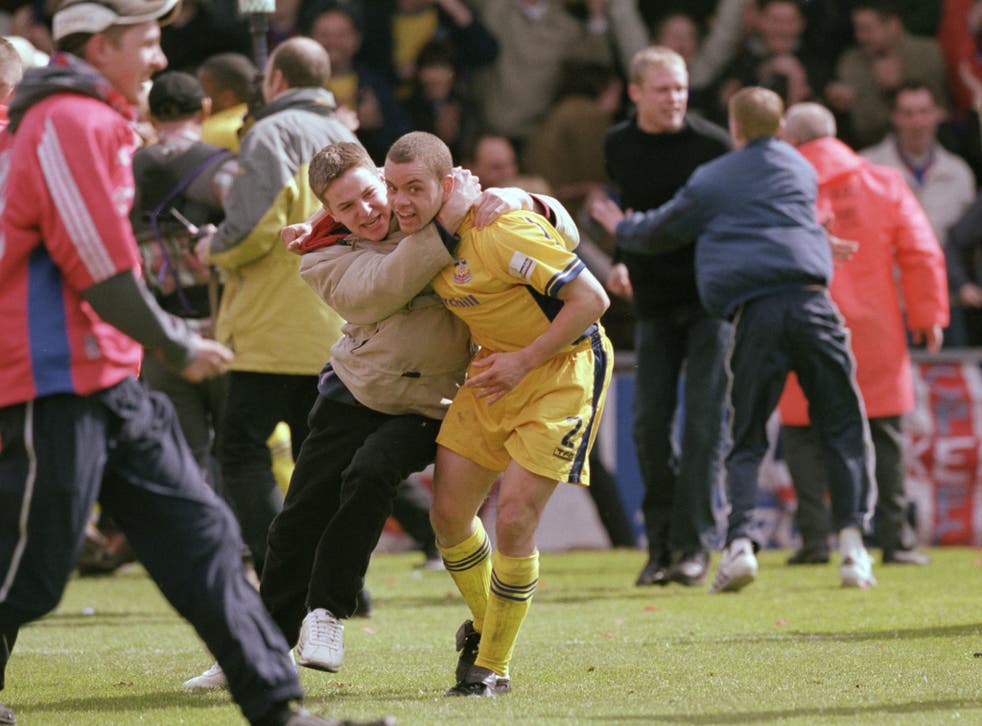 Heaven
Steve Kember, Crystal Palace, 2001: We did our bit – then it was a nervous wait
Palace's caretaker manager won 1-0 at Stockport County on the final day of the 2000-01 season to stay up.
The club owner, Simon Jordan, asked me to go and see him and said he was going to make a change for the last two games. I was brought in as caretaker manager in place of Alan Smith.
If we won both games, and if one other result went for us, we'd stay up. We won 4-2 at Portsmouth on the Wednesday and then we went to Stockport for the last one, quietly confident because of how we had played at Portsmouth.
But when we got there, Stockport were really up for it and we got a bit nervy. We were on top but without being convincing, we couldn't force those decent chances in. It was 0-0 at half-time. We just said to them "keep playing".
Dougie Freedman, who got the winning goal, was getting a bit frustrated. I had a quiet chat with him at half-time and said: "Keep going, you'll get your chance, don't get frustrated".
Luckily for us that chance fell with about eight minutes to go and he put it away. He picked the ball up in the inside-left channel, beat one player, cut inside the second one, and knocked it in the far corner.
Our game finished 1-0 but then we had to wait for the Huddersfield score to come through; we'd had no idea they were getting beat until we got back to the dressing room.
Our kit man, Brian Rogers, had his radio on him and we were all in the dressing room waiting for that game to finish. The scores were coming in, the nerves were jangling, but luckily for us Huddersfield got beat 2-1 at home to Birmingham City and we were safe.
Once we knew, we were charging all over the place and we all went back onto the pitch and celebrated again.
Hell
James Scowcroft, Ipswich, 2000: After the slog, no player wants play-offs
In the 1999-2000 season, Ipswich Town missed out on second place – and automatic promotion – on the final day because Manchester City won 4-1 at Blackburn Rovers.
In our second-to-last game, we won 3-1 at Charlton, who had pulled away and won the league, and that put pressure on Manchester City to go and win at Blackburn on the final day to finish second. They had to win. We had Walsall at home.
It was tense going into the final day of the season. Everybody has their radios on, but the only 22 people who aren't aware of the scores are the players on the pitch, who have got no idea what's going on. All of a sudden you'll get a shout or a scream in the stand, and it spreads around. It becomes very tense and very nervy.
City were 1-0 down at half-time. People in the crowd were telling you the scores. You knew what was going on. It was to our advantage, but all of a sudden you heard a groan, some Walsall fans started getting up and cheering and gloating at the Ipswich fans, and you think "this isn't going to be..."
We beat Walsall 2-0. At one stage we thought it could be us, but unfortunately City beat Blackburn 4-1. We were hoping for more from Blackburn and it didn't happen. It was a major disappointment: you're on the verge of it, and you've been there all season, and all of a sudden you've got another three games of hard work in front of you while City are home, dry and on their holidays.
It's afterwards, the real disappointment, having to pick ourselves up to go into the play-offs. No player wants to go into the play-offs, after a long hard season you want to get it wrapped up and get your feet up.
Register for free to continue reading
Registration is a free and easy way to support our truly independent journalism
By registering, you will also enjoy limited access to Premium articles, exclusive newsletters, commenting, and virtual events with our leading journalists
Already have an account? sign in
Join our new commenting forum
Join thought-provoking conversations, follow other Independent readers and see their replies