The hidden side of Sam Allardyce
He can be perceived as arrogant but West Ham's manager has worked hard to get from his days knocking down walls and mowing lawns to the top of the game – and he's proud of his achievements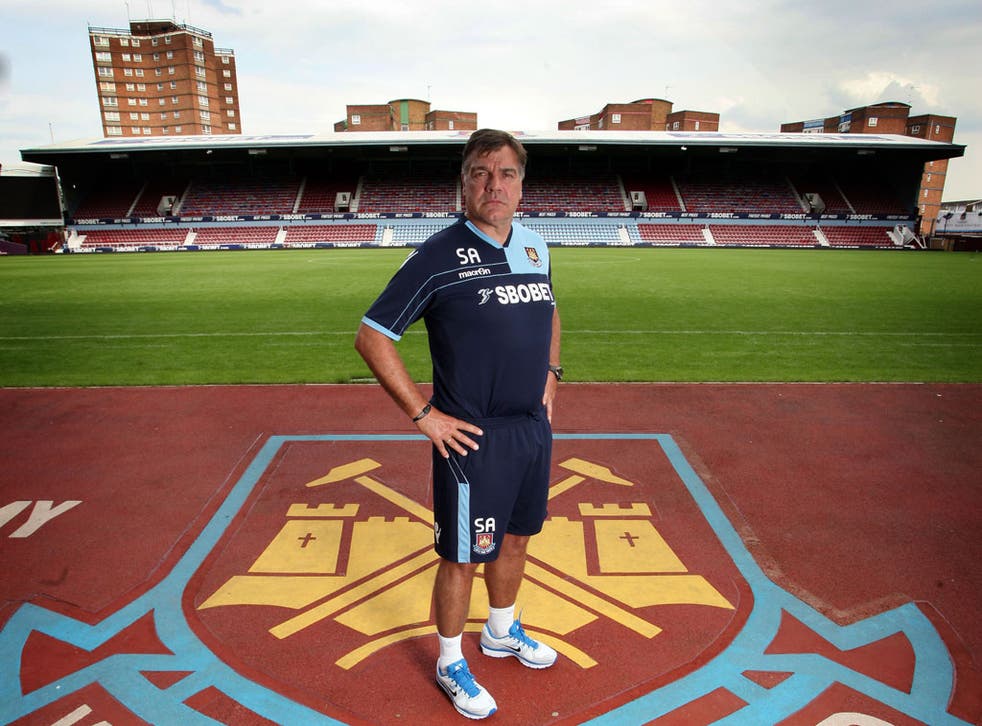 "I started my coaching badges when I was 26 or 27," recalls Sam Allardyce. "But the odds are against you, there's a pretty good chance you won't make it."
Then, perhaps typically some would argue, come the statistics, about how few managers and first-team coaches and reserve managers in league football can actually have a job at the same time (for the record, it is just 276).
But then comes the admission that as a result he started a building company up in Tonge Fold in Bolton, while he was still playing. During the season he would buy up old terraced houses, sorting out mortgage advisers and solicitors and getting his team of builders together. In the summer, free from the constraints of his playing career at Burnden Park, he would turn up on site in his overalls and get covered in the dirt and grime that house refurbishment entails.
"Yeah, I would go in and knock down walls and help out," he adds. "But you see, in my life, right as a very young kid from when I went to Bolton, I would always work in the summer anyway.
"I went cutting the grass in the parks, I went working in laboratories making aspirins, because you'd get paid more than you were earning as a footballer. Being brought up from a Scottish background, I was a bit of a tight bastard, which is what I'm not now.
"In the holidays I thought I might as well earn some money. I met my wife Lynn and I thought I'm not going to wait years, I'm going to get married and have kids and I'll have to have my own house. I'll have to graft for it. If I don't make it as a footballer, I've had these experiences in between that might help me."
But he made it as a footballer – a big, strapping centre-half. It was as a coach that the door was more difficult to open.
"I'm serious," he adds. "When I started doing my coaching badges, I thought this might not happen. There are probably a hundred people going for a job every time they become available and if you have no track record, how are you going to break in on the ladder?
"I think by doing your badges early and showing a willingness to learn how to go over to the other side of football, to the FA, and the coaching courses and the management courses, that even though you don't know it at the time, people see you. That gives you an opportunity. It might stay in their mind that they want to give you a job.
"Then I got the daft phone call from Father Joe [Young, the then chairman]. He said 'Come and manage Limerick.' He called me because he needed a player-manager. He didn't know me. He said 'I've picked you off the PFA list.' He knew about me playing."
It was an alphabetical list? "Yeah."
So if you were Sam Thompson you wouldn't have got it?
"Yeah, probably.
"When he first called I thought it was someone taking the piss. I put the phone down. But he called me back."
It is a side to Allardyce that seems important to bring up in light of a difficult week at West Ham, where his side drew for a fifth successive time at Upton Park, and his post-match television interview was fractious, so much so that he defended himself in his column in yesterday's Evening Standard.
"Telling the truth can be detrimental to your career," he wrote. "We didn't lump the ball against Middlesbrough. It annoys me, it constantly comes up, but it can't get me down. I don't live in the world of perception, I live in the world of reality. We made more passes than Middlesbrough. My job is to see everything and when I'm asked my opinion, I give it from a position of knowledge and therefore strength."
Knocking down the perception of Allardyce is something that seems to have become more difficult with time. He reminds people of his success for a reason.
"It rankles with me at times that I have to remind people what I have done," he adds. "You have to accept it for what it is. If you start talking about it too much, you just get labelled big- headed, people go 'He's blowing his own trumpet again, what's he on about this time?' But if no one else is going to talk about it, you have to talk about it. You have to fight your own corner.
"The lingering long-ball shit, the old style, all that rubbish that's never been me and never been a part of what I am. I'm a purist in football terms. I love football. I hate the politics that are involved in football because it's destructive and not for the good of football. I believe in what I do because it works. People work with me, not for me, they enjoy being in this environment."
Allardyce is a genuine football man, good company, thoughtful (he lists every squad member that took West Ham down last season and is still stunned they did) and with the scientific forethought that has left many of his contemporaries behind.
Behind the apparent arrogance is a real street fighter, a manager who has dragged himself by his fingertips to the top of English football.
Back in his former life as a Bolton builder, when the property market crashed, he had to dig his family out of a financial black hole. "There was no money or very little money," he adds. "I went into the world of darkness and it was disturbing. My wife caught me staring into fresh air.
"I still had a business with my playing partner, Roy Greaves. We had a couple of businesses between us, licensed pubs and a social and snooker club. I could go and work there for some money. I had a small pension that could keep me going but this was going to be a period of time that, having got on the ladder, I got kicked off it very quickly.
"West Brom was my first job as reserve-team manager. The second season, Brian Talbot made me his assistant. By January I was sacked with Brian, and you go 'Right, what am I going to do now?' Those businesses couldn't afford to keep me. I had a wife and two kids. So Walshy [Mike Walsh] lost Sam Ellis who joined Reidy [Peter Reid] at Man City and was in charge of Bury. I just rang up and said 'I'll come in.' He said 'We've got no money.' I said 'It's all right, I'll just come in anyway. I might as well come in and try and help'."
A big former northern footballer, in charge of a pub – it was the ultimate cliché. Yet Allardyce turned to science to a spectacular degree. He built a managerial career at Blackpool and Notts County and when he took over at Bolton he was mocked for the size of his back- room staff and its modern approach – a backroom staff currently employed at Manchester City, Chelsea, Fulham, Sunderland and in America.
Allardyce had met Billy Beane years before anyone in England had even heard of Moneyball, the book about sport's "metrics" which last year was released as a film starring Brad Pitt. His methods took Bolton to regular top-seven finishes in the Premier League. They reached a cup final, they qualified for Europe. They beat Arsenal on a consistent basis, driving Arsène Wenger to distraction in the process, and would flirt with Champions League qualification. No team of such stature has got anywhere near doing anything like that since. Now people bemoan the predictability of the top six or seven.
"I loved Bolton, where I was allowed to build a football club, it was where I had started my career and then you get the opportunity to manage that football club. We achieved things we were never supposed to do. Then you want to see if you can take it a step further.
"How did I feel going for the England interview? I felt proud and privileged and honoured to be considered at the time. I was looking forward to getting the job if I got it. I thought, however much pressure there is on you, which there is in that particular job, the group of players who were very, very good would hopefully be suited to my style of management, that it would get the best out of them. It wasn't to be, but it was nice to be close. I hit the crossbar.
"Are England, Newcastle and Blackburn [the two clubs where he lost his job to new owners] my three 'if onlys'? I think you're right there."
Now he has another real fight on his hands. At the start of the season, he said he expected to be sacked if West Ham were not promoted inside two years. Despite recent events, they sit only two points behind second-placed Reading with a game in hand. They have not lost for nine games but there is an admission of how hard it was taking over a relegated club with a massive wage bill.
"The initial stages were difficult," he says. "You have to sift through the negativity and the depression and the job cuts and job losses that relegation brings, and it's in every area. People have to lose their jobs and players have to go, whether we want to or not if they have high earnings. Then you have to address the situation and produce a team that is worthy of playing for West Ham.
"Once that period of time has [gone] and you've obviously got staff in and you're implementing your own philosophy, you can then see the light at the end of the tunnel. To bounce back is a hard ask, based on what a club has to go through when it falls out of the Premier League. The hardest part was when I first came in and people are losing their jobs. There is so much discontent. It is a real challenge, but challenges are what you like as a manager.
"[Before we played Leeds] our lads were listening to [Captain Martin Hewitt, one of the former servicemen featured on the BBC's Walking with the Wounded documentary] who was deployed with the troops in Afghanistan. He told us, 'If you don't get the basics right [there], you don't lose a football match, you're dead.'
"The players reacted brilliantly, there was a massive round of applause at the end. He was a super human being, he has no use of his right arm and yet he's been to the North Pole. He was great, inspirational. Without drive, you can't achieve anything."
No one can question Allardyce on that score.
My other life
"I went to watch Dancing On Ice the other day. All that the city of London gives you makes life enjoyable away from West Ham, more so than anywhere else I've been. There's so much available to go to.
"At Bolton and Blackburn I had a great amount of friends and you could go out for a meal, but here you can go and watch Rihanna or go and watch a show or go and watch Dancing On Ice, like I did with the missus the other day. You can sit down and enjoy life a bit more.
"The best thing is the environment I'm living in. Living in Canary Wharf has been a great experience.
"Am I a bit more anonymous here? Yeah, it's great. I've been on the Tube a couple of times, and no problem there."
Register for free to continue reading
Registration is a free and easy way to support our truly independent journalism
By registering, you will also enjoy limited access to Premium articles, exclusive newsletters, commenting, and virtual events with our leading journalists
Already have an account? sign in
Register for free to continue reading
Registration is a free and easy way to support our truly independent journalism
By registering, you will also enjoy limited access to Premium articles, exclusive newsletters, commenting, and virtual events with our leading journalists
Already have an account? sign in
Join our new commenting forum
Join thought-provoking conversations, follow other Independent readers and see their replies