The junior Dons who proved a class apart
The talk is of AFC Wimbledon's 'golden generation' after five members of an Under-10 side came through the club's ranks, yet Glenn Moore hears it is less to do with talent and more about attitude and coaching
Glenn Moore
Wednesday 06 May 2015 19:34 Comments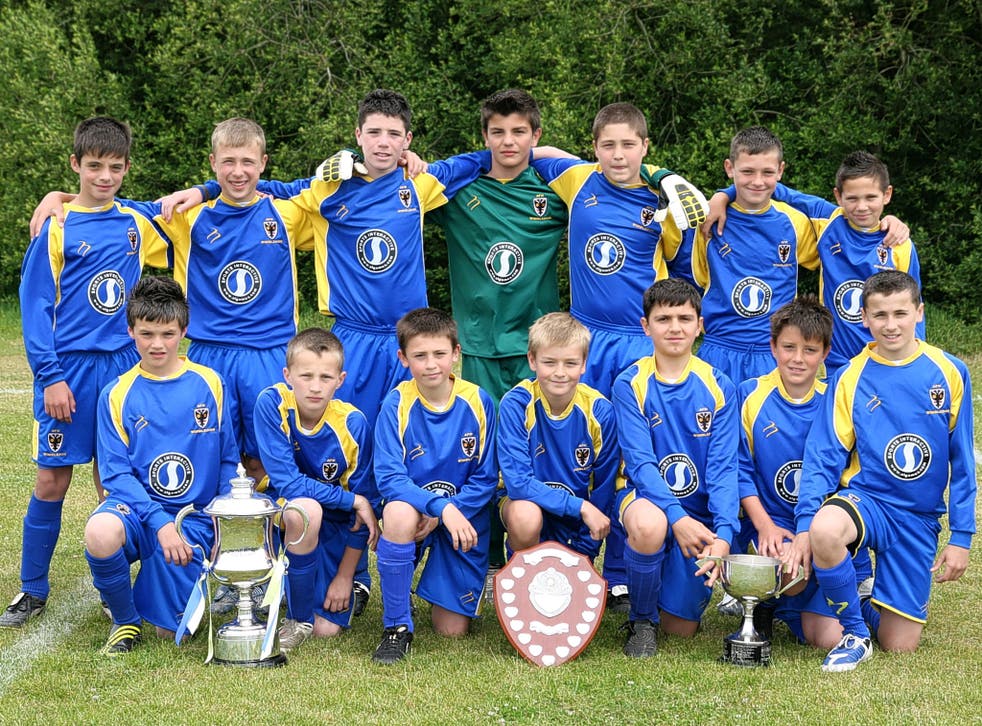 Their club was dreaming, but the players were not – not really. Every other kid wants to be a professional footballer but deep down they know it is a fantasy. When Ben Harrison joined AFC Wimbledon's Under-10s it was because a friend played there. Wimbledon, at the time, were in the Ryman League and their youth teams played in the Epsom & Ewell League against sides with names like Kingswood Falcons and Esher Eagles. It was not an obvious route to stardom.
That was in 2006. Harrison, who turned 18 in March, is now a professional footballer with a handful of League Two appearances. While that is a fine personal achievement, the remarkable aspect is he is one of five players to come through the ranks together, going back to the days when they had just said goodbye to their cuddly toys.
Clubs do get "golden generations", most famously at Manchester United two decades ago, but not very often. It is even more unusual for five lads to go together from a Sunday parks league to the professional game.
Centre-back Ryan Sweeney and right-back Callum Wilson (nephew of former Fulham and Republic of Ireland midfielder Robert Wilson) joined at seven. Harrison and midfielder Danny Gallagher came in at nine, striker Egli Kaja a year later. Sweeney, Harrison and Gallagher made their debuts this season as 17-year-olds, Wilson and Kaja have been regulars in the U21s.
The five are in the photograph above, taken at the end of a successful season at U12 level. The trophy is for the West Surrey League. Youth teams from professional clubs do not play in competitions like this. They play each other in development leagues with matches often held on manicured academy lawns, with good referees and well-behaved parent spectators. There is a concern this is producing players with fine technique but not enough resilience. Facilities, officiating and behaviour on the parks can be more "character-building".
There is obviously more to it than character. Intriguingly, at a time when the Football Association and Premier League are devoting considerable resources to youth development, the quintet had the same coach from U9 to U18.
Mark Robinson was a promising young player whose career had not worked out. He was working for the Performing Rights Society collecting dues from south London pubs and clubs, an experience in people skills that would later prove invaluable dealing with parents and agents. A chance meeting with Callum Wilson's father, Tony, led to an offer to coach Wimbledon U9s on a voluntary basis.
Robinson had firm ideas, heavily influenced by a week training under Dario Gradi when 14. One was an unfashionable belief in repetition of skills. "The philosophy now is 'let the game be the teacher'," said Robinson, "but I believe there has to be a lot of repetition because there is a strong link between technique and decision-making."
Gradi's belief in passing also influenced the approach to games. "Some of the ideas did not go down too well with parents at first because we would lose games," he said. "I would ask the boys to be incredibly brave on the ball. If the opposition left a player up [no offside at this age] I'd let the keeper mark him. With the ball, it was all about playing out from the keeper. It cost us games. Then we moved to 11 a side at U11 and all those good habits fell into place on the bigger pitches. We went on this unbelievable run."
At Under-13 the young Dons won more than 100 consecutive matches, being crowned national champions. Not bad for a club whose parent team were in the Conference and needed to charge their youth players £400 a year in fees.
Scouts appeared. Patrick Roberts, who is in the photograph, left to join Fulham. He has since played 20 first XI games and for England Under-19s. Another player, who has since disappeared from view, went to Chelsea. Sweeney also left – only to return, preferring the Wimbledon way.
Robinson said: "I would spend hours talking to scouts from other clubs telling them the boys were not going to leave. They couldn't work out why these boys who were paying to play football were staying with us. A few said I was stopping the boys progressing and there were times when I wondered if I was doing the right thing. Obviously Patrick has done very well, but others who left have not."
It is worth noting this was not one of those youth teams which cherry-picked the best from rival clubs. Robinson said: "At 10 years' old, this was not a golden group. They were not the most naturally gifted players." Gallagher, he noted, "was in the B team until they went to 11 a side at age 11".
"What does set them apart is their mentality," he said. And a lot of practice with twice-a-week training even at 11. Harrison said: "It was a commitment but I am so glad I made it. If you'd said then six pros would come out of that group, you'd laugh. We were not even thinking about it. I took it seriously, but I was playing Sunday league with my mates."
Given a degree of raw talent Robinson believes "you can educate anyone to do anything if they want to learn". This is at the heart of Wimbledon's approach. "Are we going to get the best eight and nine year olds?" he said. "No, but we can produce a lot of good players if we get the coaching right. Our aim is to be the best academy at developing players, then, like Crewe, we can start to lure the best youngsters. That's my mission."
The next step is overseen by manager Neal Ardley, himself once a Dons product, and more latterly academy director at Cardiff City. Playing a 17-year-old centre-half in League Two is brave, but the young players at any club need to see there is a pathway to the first team and even the long road from the U9s can be negotiated.
Register for free to continue reading
Registration is a free and easy way to support our truly independent journalism
By registering, you will also enjoy limited access to Premium articles, exclusive newsletters, commenting, and virtual events with our leading journalists
Already have an account? sign in
Join our new commenting forum
Join thought-provoking conversations, follow other Independent readers and see their replies