Football review 2016: Leicester's title triumph, England's Euros exit and Paul Pogba's #Pogback
A remarkable year for football will be remembered for one team's incredible run to the Premier League title, but also the discovery of dark, uncomfortable truths about the national game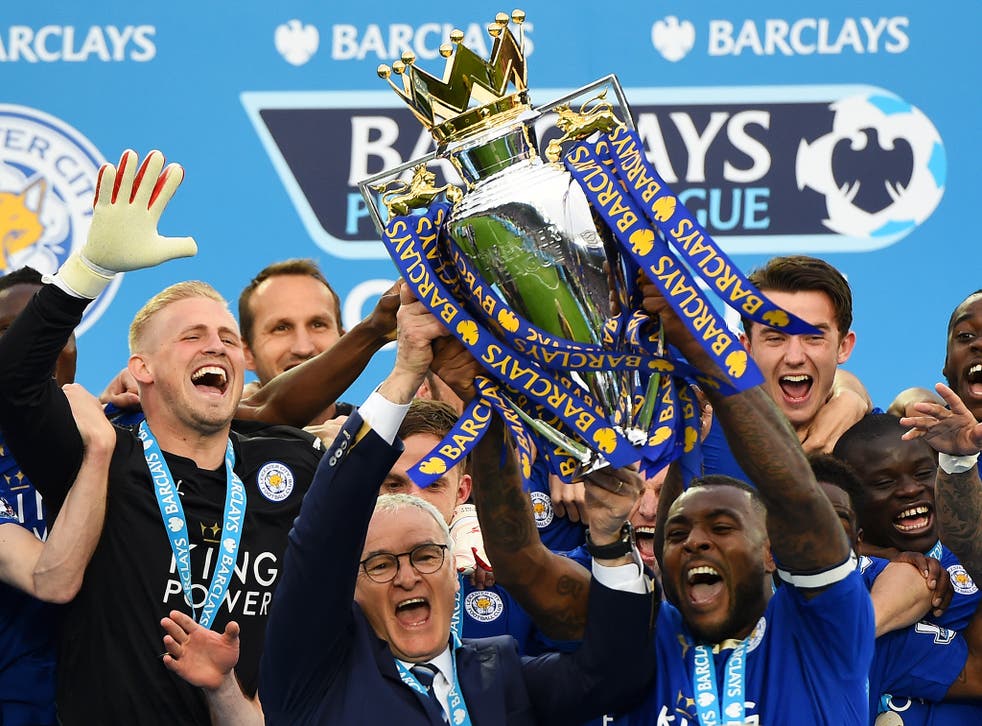 January
The first few weeks of the year were spent cleaning up the fall-out from the biggest story of 2015, Jose Mourinho's Chelsea collapse. Guus Hiddink was drafted in just before Christmas and in January they recorded crucial away wins at Crystal Palace and Arsenal, which helped to slowly push them back up the table.
Even the two curious additions of Matt Miazga and Alexandre Pato during the transfer window did little to disturb the new sense of calm at Stamford Bridge. There was a long way to go, but Chelsea were steadily on the patch back to normality.
February
The longest-running transfer saga in English football ended on 1 February when Manchester City announced the signing of Pep Guardiola, almost five years after they first approached him. For City it was the culmination of years of work and the whole re-design of the club for Guardiola's benefit. For the Premier League it was a vindication, as the most sought-after coach in the world came to work in England for the first time.
For Manuel Pellegrini it was an emotional struggle, as he announced his own departure to an unexpecting media. And for City it was a distraction. They were only three points off the top this day, but their form spiralled in February and they ended the season scraping into fourth.
March
Newcastle United only had 10 games to save themselves on 11 March when they appointed Rafa Benitez as manager. It was brave of them but even braver of him, two months after getting sacked by Real Madrid. And they nearly pulled it off. Newcastle took 11 points from their last six games, but Sunderland managed to stay just out of their reach and stay up.
Sam Allardyce had been there for longer and had the benefit of bringing in his players in the January transfer window too. So it was not to be and a limp 0-0 draw at Villa Park relegated Newcastle. But was it worth it? Benitez found two things he had lacked for years, control and love. He is now running one of the biggest clubs in the country and guiding them back into the top flight. Sometimes you have to take one step down to take two back up.
April
Tottenham Hotspur were still the best team in the country going into April, even if Leicester were still just ahead of them in the league. But April was the month when the wheels started to come off. On the 2nd, they drew 1-1 at Anfield, one of the games of the season, leaving Mauricio Pochettino beating the ground in frustration.
Then on the 25th, they blew a 1-0 lead at home to West Bromwich Albion, dropping another two points that set up their Stamford Bridge melt-down. It was not the first time a Pochettino team has faded in April, although he made sure to blame their lack of maturity for it afterwards. It was a collapse that the team is still recovering from.
May
A remarkable run of 1-0 wins in March and April meant that by May, Leicester had a lead at the top of the Premier League which made their triumph feel inevitable. It was strange because, by any measure, it was the most remarkable achievement in the modern history of football. But when an exhausted and crestfallen Spurs collapsed at Stamford Bridge, the Leicester players could party at Jamie Vardy's house to mark a title win unlike any other.
Andrea Bocelli came to the King Power to sing, reducing Ranieri to tears, and Vardy won the FWA Footballer of the Year. Nothing like this will ever happen again.
June
Four days after voting to leave the European Union, England crashed out of the European Championships in the most humiliating moment in our national football history. Having stumbled complacently through the group stage, England self-destructed against Iceland, losing 2-1 and looking terrified and clueless in a second half that was genuinely difficult to watch.
Roy Hodgson had absolutely no choice to but to resign as soon as the match was over. His four-year tenure as England manager, and a lot of hard work, was reduced to one embarrassing joke. His time in charge of England, and in fact the whole modern history of the national team, will always be remembered for this.
July
Not many players change their public perception at the age of 31 but that is what Cristiano Ronaldo managed at Euro 2016. He has always been a brilliant individual player but in France he achieved something he had never managed before, earning a reputation as a leader and team-man.
Ronaldo was more than just a captain to Portugal, he was a father figure, and he was stretchered off in tears with a knee injury in the final in Paris. But he roared his team on from the technical area and they shocked France in extra-time.
That win gives Ronaldo's career an extra edge, and an achievement that Lionel Messi has never got with Argentina. It makes him even more of a great than he was before, and worthy of far more admiration.
World's highest paid footballers

Show all 10
August
The Premier League had already signed up Guardiola, Mourinho and Antonio Conte, but what it still needed this summer was a superstar player. He arrived in the form of Paul Pogba, back from Juventus to Manchester United for a world-record fee of £89million.
A huge moment for English football, which has been short on top players ever since Ronaldo left for Spain in 2009. But also a huge moment for Manchester United commercially. Pogba is the leading light of the new generation of social media footballers, and his #POGBACK arrival hashtag, and video with rapper Stormzy, were an unavoidable part of the story. In terms of clicks and likes, his fee was paid back very quickly.
September
Three years on from their last meeting, Mourinho and Guardiola locked horns again at Old Trafford on September 10. It says plenty about our obsession with celebrity managers that this was the most anticipated game of the year, with a build-up that no touchline sparks, not that there were any, could ever live up to.
It was Guardiola who came out on top, though, as City picked United apart in the first half, racing into a 2-0 lead and then hanging onto it in a nervy second half to win 2-1. It felt like a potential title marker but in reality another coach would end 2016 the strongest.
October
Sam Allardyce's farcically brief tenure as England manager ended on 27 September, after one game and one win, and in October Gareth Southgate took over on a temporary basis. It felt like something that had been inevitable for some time, after his long Under-21s tenure, even if the timing and circumstances were a shock.
Southgate's first job was simply to restore order and normality after the twin shocks of Iceland and the Allardyce sting. His first two matches, a 2-0 win over Malta on 8 October and a 0-0 in Slovenia three days later, were footballing non-events. All England could seriously hope for, though, was a long steady calm run after a traumatic few months.
November
Football was rocked in November by revelations about abuse of teenage boys by coaches in the 1970s and 1980s.
The protected, hierarchical, deferential world of youth football was shown to be as rife with corruption as any another major British institution of the time. And it took the remarkable bravery of the victims, as well some brilliant journalism, starting in mid-November, to shine a light on the dark past of our game.
December
For all the attention on Guardiola, Mourinho and Jurgen Klopp, it was another manager who found the right balance the fastest as this season got serious. Antonio Conte had just seen his side get shredded by Arsenal when he decided to switch to a 3-4-3 system like one that he had used in Italy.
It led to a remarkable sequence of 11 consecutive wins which propelled Chelsea from looking like a team in need of major surgery into this season's likeliest champions. Even if Chelsea do not win the title, it is a remarkable feat of management, just one year after Mourinho was sacked with Chelsea in meltdown from top to bottom.
Register for free to continue reading
Registration is a free and easy way to support our truly independent journalism
By registering, you will also enjoy limited access to Premium articles, exclusive newsletters, commenting, and virtual events with our leading journalists
Already have an account? sign in
Register for free to continue reading
Registration is a free and easy way to support our truly independent journalism
By registering, you will also enjoy limited access to Premium articles, exclusive newsletters, commenting, and virtual events with our leading journalists
Already have an account? sign in
Join our new commenting forum
Join thought-provoking conversations, follow other Independent readers and see their replies