'Exceptional' Bukayo Saka lauded by Gareth Southgate after England hat-trick
Arsenal star defied injury worry to grab first hat-trick as England cruise past North Macedonia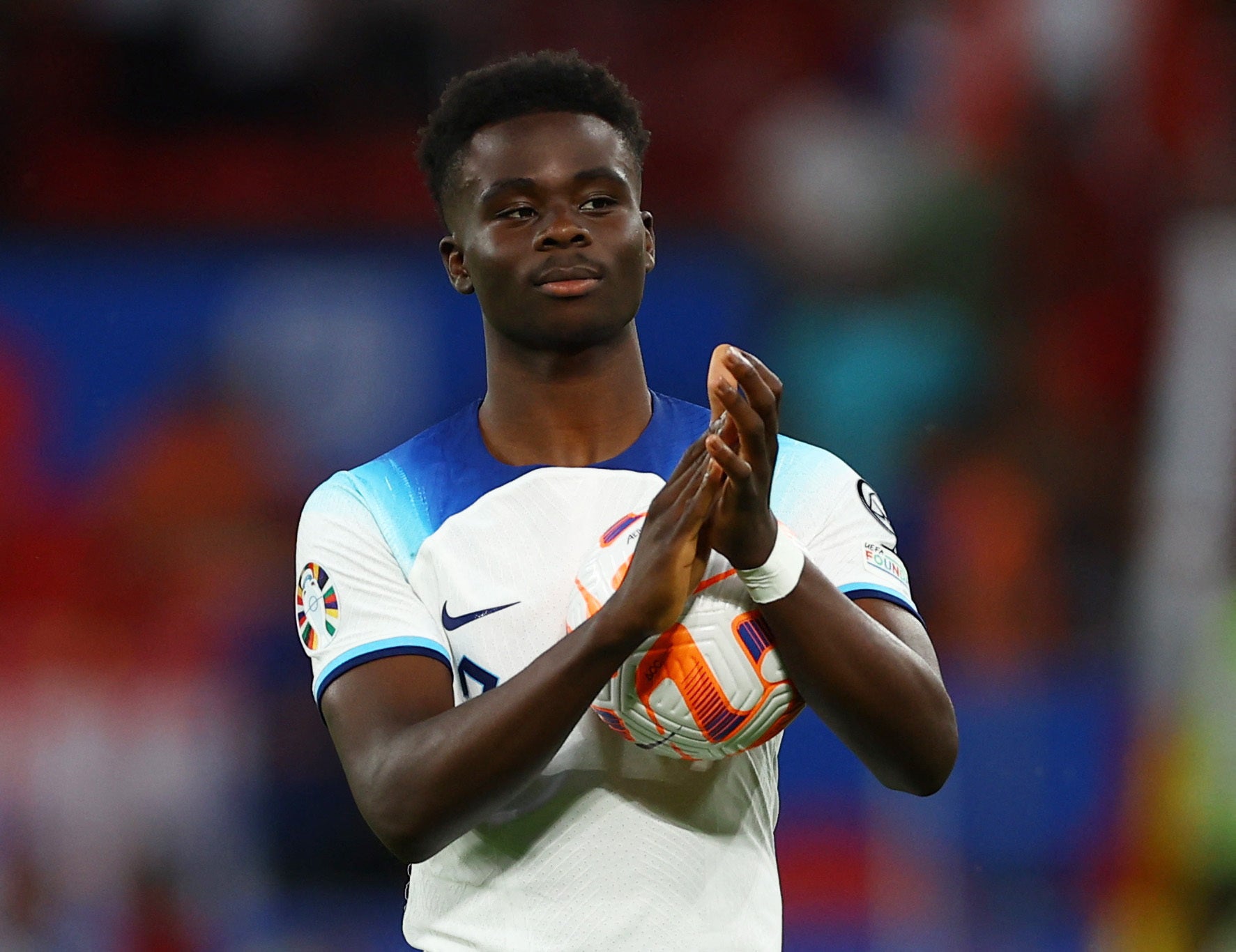 Gareth Southgate lauded Bukayo Saka after the England star scored a tremendous treble against North Macedonia and enjoyed one of the best nights of his life.
Having followed up March's wins against Italy and Ukraine by beating Malta 4-0 on Friday, the side put on a show on Monday as their Euro 2024 qualification cakewalk continued.
Harry Kane's brace was complemented by Marcus Rashford and Kalvin Phillips efforts at Old Trafford, where Saka was the star of the 7-0 annihilation of North Macedonia.
A fierce strike from a tight angle was followed at the start of the second half by a stupendous second, before then quickly wrapping up the first hat-trick of his career.
Saka was given a standing ovation after a sparkling performance made all the impressive by the fact Southgate revealed he has been dealing with an Achilles issue.
"He's had it for a few weeks and it's an injury that just needs managing, but it would have been easy not to appear," the England boss said.
"I think when you then have probably one of the best nights of your life, it's a reminder to everybody that it's worth going through those things.
"To see the joy on his face, he's such a popular member of the team and so humble, works incredibly hard and, of course, talented.
"He's been finishing like that all week, so, yeah, it was outstanding performance."
Asked how close Saka is to being at an elite level, Southgate said: "Yeah, I think he's there.
"When he broke into the team at Arsenal, what struck us was that in a team that were having a difficult time he was performing at a really high level.
"Then when the team were playing well he was still a key player and performing at a really high level.
"So, that says a lot about his mentality, his ability to deal with pressure and that's the environment that we're in all the time. He's exceptional to work with."
Saka's goals in the final match of this unprecedented season mean it is a matter of when rather than if England wrap up qualification for next summer's Euros.
There were few signs of fatigue at a rocking Old Trafford, where Macedonia suffered their heaviest ever defeat.
"The scoreline is outrageous, really," Southgate said. "That wasn't really how you were expecting the game to be because there's no evidence that Macedonia would suffer like that.
"There's no evidence that the game in the end would be as straightforward as it was and certainly in the opening 20 minutes it didn't look that way, so it's huge credit to (the group).
"I think our senior players have set a brilliant tone all week and Jordan Henderson on the pitch tonight.
"He won't get the headlines but the way he set the tone for winning the ball back and running forward and mixing the game up I think was really important."
Macedonia were blown away at Old Trafford, where they were a far cry from the side that shocked Germany and Italy in recent years.
Head coach Blagoja Milevski said: "Before we start the press conference, I want to apologise to the whole of the Macedonian nation for our performance and what we did tonight.
"I make decisions for every player who plays and the responsibility is just mine so I have to apologise for the whole of the Macedonian nation.
"It happens that these disastrous moments happen and we are all involved in it. I take all the responsibility for today's game."
Join our commenting forum
Join thought-provoking conversations, follow other Independent readers and see their replies