Harry Maguire says he can deal with pressure after 'banter' from Scotland fans
Every pass Maguire made was met by an ironic cheer after being brought on as a half-time substitute at Hampden Park.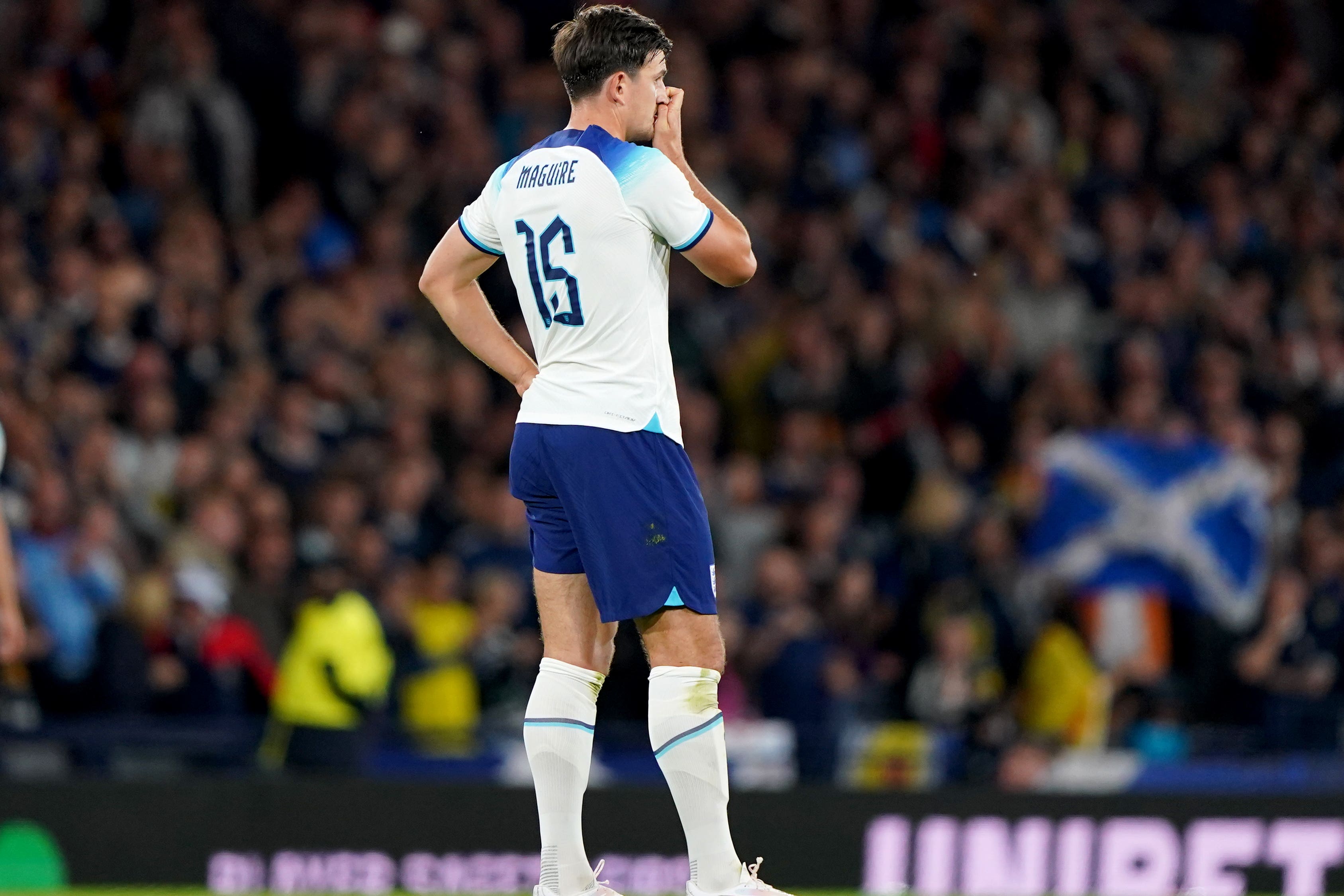 Harry Maguire laughed off his Hampden Park hounding as a "little bit of banter" as the under-fire defender said he can cope with pressure from the stands and on his England place.
Little more than two years ago, the centre-back was an ever-present for Manchester United and earned a place in the Euros team of the tournament after helping Gareth Southgate's side reach the final.
But a drop in form and club game time, including being replaced as United captain, has led pressure and criticism to ratchet up on Maguire to a point that his international manager snapped following Tuesday's 3-1 friendly win against Scotland.
Furious Southgate said the treatment of Maguire is "ridiculous", "a joke" and "beyond anything I've ever seen" – a narrative that he believes led to home fans goading him mercilessly in Glasgow.
Every pass Maguire made was met by an ironic cheer after being brought on as a half-time substitute at Hampden Park.
"Well, it pretty much takes the pressure away from my team-mates and puts it all on myself," Maguire said. "It makes them play better, for sure.
"It is a little bit of banter and it is a hostile environment, coming away to Scotland.
"We wanted to put on a performance and we have dominated from start to finish. We have given them a goal, which is a bit unfortunate you could say.
"But, yes, it was a great reaction from us all. We stayed calm, we stayed composed. I think it was a hostile environment.
"We knew coming here, when you hear the national anthem and the way they disrespect that, we knew it would be hostile and in the second half I got most of it.
"I am happy to go with that, don't worry about that."
Maguire was touched by the away support's backing in Glasgow as Scottish fans attempted to rattle him.
"No, I would not say I am a person who struggles with pressure mentally," Maguire said. "I have been through a lot in the last couple of years and I have been Manchester United captain for nearly four years.
"You take a huge lot of responsibility and everything that comes with it and that is a lot of bad as well as good.
"But it was a huge honour and of course it is a hostile environment here, which is how I described it, and they piled pressure on myself. I would not say I am used to it but I can deal with it."
Maguire is grateful for the backing of Southgate, whose faith he believes he repaid with his performances in Scotland and away to Ukraine when he made his first start of the season on Saturday.
The 30-year-old brushed aside suggestions he was rusty but wants the rhythm back of playing week in, week out, saying he is confident that "the luck will turn" if he keeps working hard.
Maguire now turns his attention to the fight for his place at United, where a lack of minutes could put his place at Euro 2024 in jeopardy – something he says is "too far away" to worry about.
West Ham did offer him a route to regular action in the summer but the defender said "we didn't come to an agreement" and United were happy for him to stay.
"Of course, my England career is a big priority," he added. "And so is my club career.
"I considered everything and I know, at the moment, when I have not started a game in the first four games of the season, the story comes to me.
"I finished off last season with two very strong performances for England and I have played in all five matches to help put us where we are in qualifying, so I need to keep performing when I get chosen.
"Listen, at club football, I want to play games, I want to play football.
"The first four weeks were hard because it was one game a week and the manager didn't select me but we have lots of games coming up now and I am sure I will play lots of games."