Hull City midfielder Ryan Mason could be forced to retire from football after warning from doctors
Mason will be left to make his own decision over his future in the game by the Championship club
Thursday 24 August 2017 13:02 Comments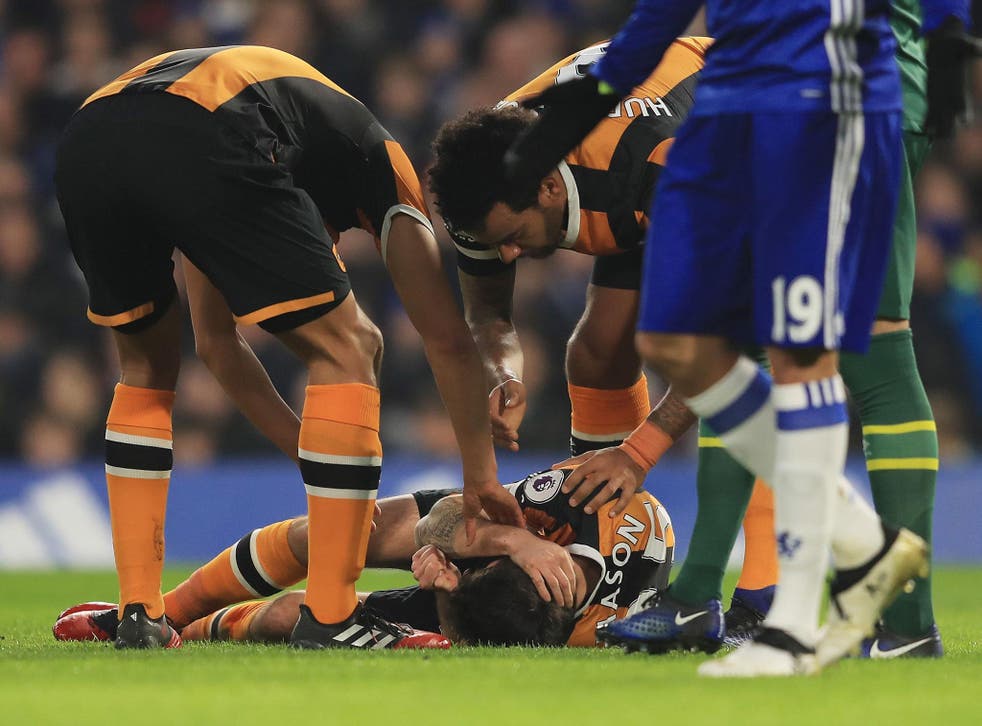 Hull City will allow Ryan Mason to make a decision on whether he retires from football as he sees another specialist following a horrific head injury sustained in January.
The 26-year-old was placed in an induced coma after clashing heads with Chelsea's Gary Cahill at Stamford Bridge and hasn't played since.
The former Tottenham man has spoken of feeling "lucky to be alive" after having surgery on a fractured skull, but now has a decision to make over his future.
Mason has been training all summer with a view to returning to the game with the Tigers, now in the Championship, but differing views from two doctors have put his career in jeopardy.
It is thought he is set to see a third specialist who could recommend that his life would be safer if he retires from football.
Mason, who is expecting his first child with his partner, will be left to make his own mind up over his future by Hull, although the midfielder is understood to be keen to get back to playing for the side who paid £10million for him a year ago.
Back in May he spoke about what the future might hold. "I like to think I've always appreciated what I've got. My family, my friends. But something like this makes you realise that they're actually what really matters," he told the Daily Mail.
"I think it's made me a happier person. Football can be a very up and down business but I think when I return the downs will affect me less.
'I'll just take it step by step. I'm not even running yet. This week I've just been on the bike and doing bodyweight exercises. And Hull, who have been fantastic, have assigned one of the physios to me full time."
Leonid Slutsky's Hull are currently 14th in the Championhip table after four games having lost their last two, and a League Cup clash at Doncaster.
Register for free to continue reading
Registration is a free and easy way to support our truly independent journalism
By registering, you will also enjoy limited access to Premium articles, exclusive newsletters, commenting, and virtual events with our leading journalists
Already have an account? sign in
Join our new commenting forum
Join thought-provoking conversations, follow other Independent readers and see their replies