England fans warned to limit drinking to 'one pint before or after a game' at 2018 World Cup to stay safe
Russian travel chiefs have advised England supporters not to drink heavily in order to avoid a repeat of last summer's violent clashes with Russian fans in France
Jack de Menezes
Thursday 30 November 2017 10:57 Comments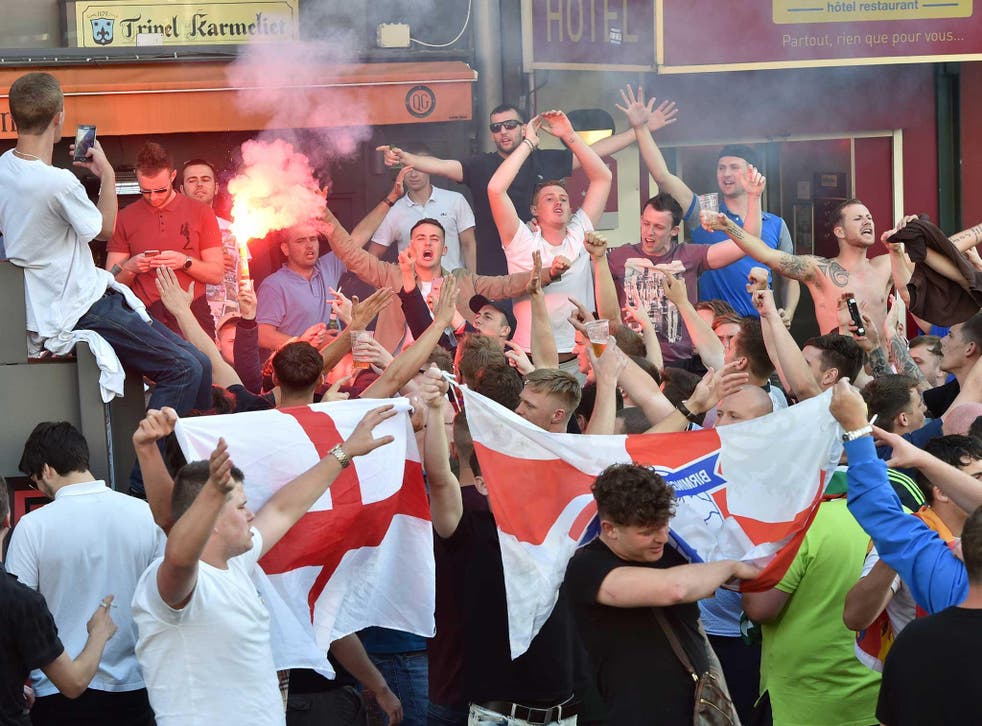 England fans planning to travel to Russia to watch the 2018 World Cup have been warned to only drink one pint before or after matches in order to ensure they remain safe, a tourism official has advised.
The advice comes amid fears that a repeat of the fan violence at Euro 2016 in France, where English and Russian supporters clashed, could occur at next year's tournament. England will discover their World Cup fate on Friday when the group stage draw takes place inside the Kremlin, which is likely to trigger the process of fans booking their tickets for the tournament as they will finally know where and when England will be playing.
Having seen the violence that surrounded England's meeting with Russia at the European Championships, Russian authorities are already putting measures in place to prevent the same happening next year. But Igor Karzov, of Visit Russia, has warned supporters travelling to Russia to restrict their drinking as being intoxicated will make it almost impossible for authorities to police matters.
"British fans love to drink a lot, we know that and I can't guarantee safety if fans are really drunk and offensive," Karzov said at a Russia 2018 roadshow in London. "We can't guarantee everything's going to be OK in that case. I would recommend to make sure that you don't drink a lot when you're in Russia. It's OK to have a pint before or after the game.
"The security services will have a high level of control in Russia so they will try to make sure that people are not drunk. They will be watching and set up controls. They will restrict alcohol to avoid any possible conflicts. The police will make sure everything is OK.
World Cup 2018 kits

Show all 13
"I don't want to correspond the thing that happened in France to the World Cup because in general people in Russia are very hospitable and for them this is the biggest event in their lifetime. Most of them are going to make sure the foreign fans coming to Russia are feeling awesome and also enjoy the cities and the country."
England are able to be drawn alongside Russia for the second time in as many years as the hosts are automatically guaranteed a place among the top seeds, with England set to be drawn from the second pot.
Any violent clashes would add to the scrutiny that is already being applied to staging the World Cup in Russia, given the recent doping scandal in athletics that has also engulfed many other sports – including football.
Fifa have also had to endure their most testing period due to the corruption scandal that led to former president Sepp Blatter's resignation and numerous arrests, with the governing body going through a complete reform in an effort to repair its reputation. One of its harshest critics, Gary Lineker, will host the World Cup draw on Friday, and he appears to have changed his tone on Fifa after watching the reformation from afar.
"I just met Gary and his spirit is very high," said Fifa general secretary Fatma Samoura. "He told me he was very delighted to be here.
"Everybody can be critical at a certain stage...but then you see that progress is being done on issues that are sensitive. If you accept to come here, it means that he is ready to work with Fifa. To me, this is the most important thing."
Register for free to continue reading
Registration is a free and easy way to support our truly independent journalism
By registering, you will also enjoy limited access to Premium articles, exclusive newsletters, commenting, and virtual events with our leading journalists
Already have an account? sign in
Join our new commenting forum
Join thought-provoking conversations, follow other Independent readers and see their replies