A family united but heading in different directions
Eniola Aluko plays for England while sibling Sone represents Nigeria, but big sister was still on hand to help her little brother get out of Glasgow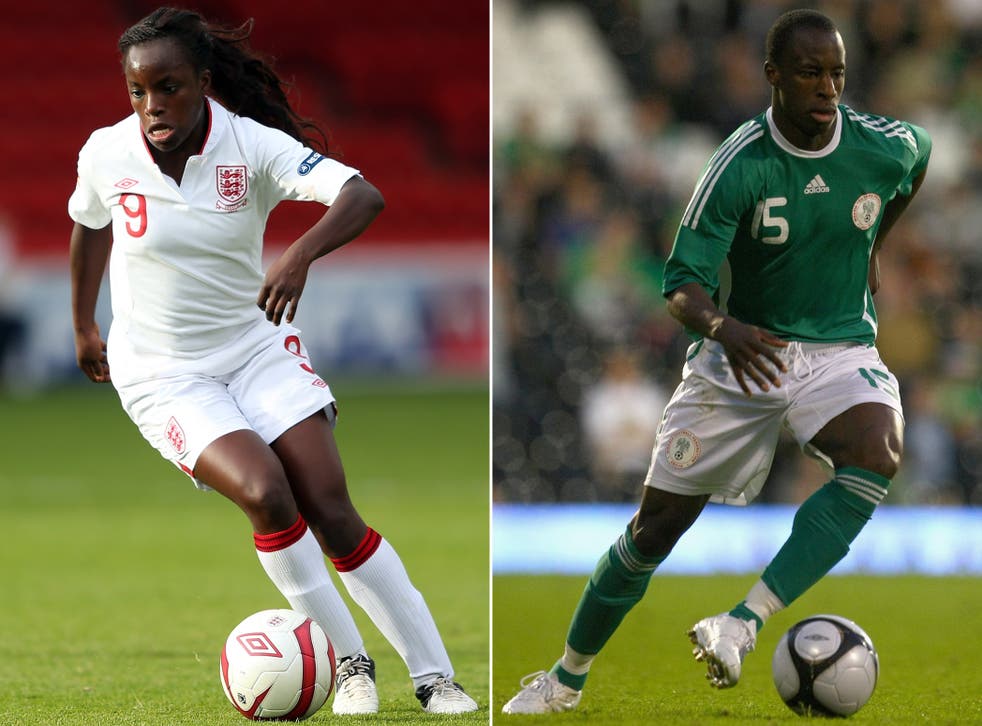 They are the highest-profile brother-and-sister combination in British football – possibly in the world – and now, approaching their respective peaks, both are reaching out for the biggest prizes.
As befits the senior sibling, Eniola Aluko, 25, has the longer list of credits thus far: two women's FA Cups (scoring the winning goal in one of them), runner-up in the United States Women's Pro League, more than 60 caps for England and an Olympic quarter-final for Great Britain. Little brother Sone, 23 and also a forward, is catching up after four seasons with Aberdeen and Rangers followed by a move to Hull City, whose manager, Steve Bruce, asked last week: "Is there a better player in the Championship?"
Brother and sister remain close, and were able to spend a weekend together when Sone returned to his first club, Birmingham City, last Saturday and scored twice to continue Hull's impressive start to the season. It was in Birmingham that they grew up together, playing football on their council estate and – for five brief minutes once – in the same school team.
Yet they represent different countries. Paradoxically Eniola, who was born in Nigeria and came to England as a baby, long ago opted for her adopted nation. "I'm very proud of my Nigerian heritage and I'm a supporter of Nigerian football but I grew up in the English system and got a fantastic chance to play for England from 15 years old, and I'm very proud of that," she says. In contrast, her brother finally decided on Nigeria, whom he hopes to play for at the African Nations Cup in January.
As a striker he faced formidable competition in the younger England age-groups, yet won a place up to Under-19 level with Andy Carroll, Danny Welbeck and Theo Walcott. "It was a very strong age-group," he recalls. "But the first World Cup I remember was 1998, when Nigeria had Jay-Jay Okocha, Kanu and a golden generation that naturally my mum and dad supported.
"At Under-20 I was called up for both countries and I just felt that international-wise you pick the team you feel is closest to your heart. When you pick a club you're thinking about what's best for your career, but I just felt more like a Nigerian player and fan."
What they have in common is having been early starters. Sone was at Birmingham's centre of excellence from the age of eight, by which time Eniola was being scouted for her first girls' team. At 15 she was in the Birmingham Ladies first team, "which sounds ridiculous but I felt I could handle it".
By 17, while studying for A-levels, she was making an England debut and playing for a successful Charlton team, followed by Chelsea and then three years in the US. "I got a call from someone at St Louis who'd watched me in the 2007 World Cup in China. He happened to be a lawyer, so he said I could play for the team and work for his firm, a really amazing opportunity."
By last year she wanted to be back in England ahead of selection for the London Olympics and she rejoined Birmingham, enjoying a memorable summer followed by the inevitable comedown of a return to playing in front of crowds numbered in the hundreds, not tens of thousands.
"The Olympics was fantastic on and off the pitch, unforgettable," she says. "Even now some people recognise me walking down the street and it's something you're going to be associated with for the rest of your life. Whether it was a one-off or not, 70,000 people turned up for a women's game at Wembley, 80,000 for the final even when GB weren't playing, so there's something there."
"It's just a matter now of making it into a product and giving fans access to it, playing at better grounds for instance. With respect, no one wants to play at Barnet, where you're playing on a hill. It just doesn't make it look as professional as it should be. We play at Stratford, which again is not the best idea when Birmingham fans are not going to be based there. It was very hard to come back to."
Her return to England with a first-class degree in law proved useful when her brother found himself caught up in the maelstrom of Rangers' financial problems. "I had an employment law book and I remember photocopying part of it that was relevant to the issues and sending it to him," she says.
Sone finished last season at Rangers with 12 League goals – one of them in a win over Celtic – from 19 starts, second only to Nikica Jelavic. After that, "I spoke to a lot of teams at home and abroad and the challenge at Hull with Steve Bruce and the owner and their ambitions really matched mine. And so far it's been a good fit".
He has set his sights on the Premier League, believing "we have the potential". Meanwhile, Eniola, her summer season over, is concentrating on her job with Lee & Thompson, a London firm who specialise in media and entertainment law, while keeping fit for next summer's European Championships (her third). "I'll be upfront that my ambition now after eight years with the England team is to win something," she says. "Quarter-finals have often been a stumbling block for us."
In that respect at least, there is no great difference to the men's game.
Join our new commenting forum
Join thought-provoking conversations, follow other Independent readers and see their replies