Alan Pardew on World Cup 2014: Germany have the nous to tame Lionel Messi in the final, plus the truth about me and Javier Mascherano
In his exclusive World Cup column for The Independent, Newcastle manager Alan Pardew looks ahead to the World Cup final in which the two best teams of the tournament meet
Alan Pardew
Sunday 13 July 2014 19:09 Comments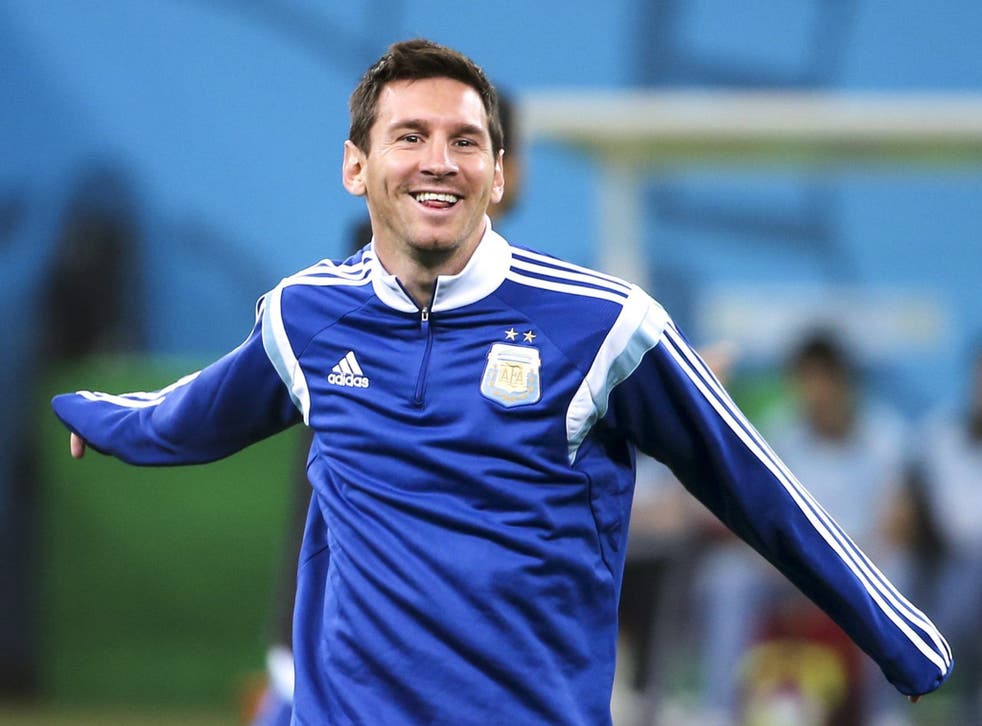 Germany have the nous to tame Messi
So how do you solve a problem like Messi? That is what Joachim Löw and his staff will have been setting their minds to ever since they knew Argentina would be the opposition in what could be a memorable World Cup final to round off a smashing tournament.
As the manager of a team as talented as Germany, you do not, of course, base your whole game-plan around the other side, but we can assume the name of Lionel Messi has been prominent in team meetings.
There has been a clue about the German approach in the quotes of left-back Benedikt Höwedes who talked about the way they stopped Cristiano Ronaldo when beating Portugal 4-0 by playing as a collective, and not getting exposed one-on-one in dangerous positions. That is exactly what I would expect today: grouping round Messi quickly, with Sami Khedira and, above all, Bastian Schweinsteiger, the two men in front of the back four, getting closest to him. But not actual man-marking, which is not the German way.
Argentina's manager may have a couple of difficult decisions to make about the fitness of Angel di Maria and Sergio Aguero. Don't forget, for the manager and players we are talking today about the biggest game of their lives. Do they dare take any risk? Di Maria's pace is really important to the team and they lacked that in the semi-final against the Netherland. He's a great foil for Messi and could be crucial to Argentina – if fully fit.
I saw a comparison of Messi's record with Diego Maradona, which was strikingly similar, the only thing missing being a World Cup winner's medal. There will be many neutrals who hope he has a great game and wins one, but despite having tipped Argentina in my first column here five weeks ago, I think now that Germany will edge it. They have the best goalkeeper and the best midfield.
After that amazing night of football between Germany and Brazil, the second semi-final naturally came as something of anti-climax, but I think the previous game had something to do with that. The players and coaches of both teams must have been as shocked as the rest of us at what happened to Brazil and therefore would not risk being exposed in the same way, so it became a much cagier affair.
That does not mean the final will be similar. For all the occasional shocks along the way, starting with Spain's elimination, the two best teams have made it this far. It will be close, but Germany play an open game, coming at you very fast, and Argentina will enjoy playing in Rio, the home of their greatest rivals, in a World Cup final. I am relishing the prospect too.
The alternative World Cup winners based on expectations and quality

Show all 32
I've seen meltdown. It's not pretty
People talk about the word "pressure" being overused in sport, but Brazil's collapse in the semi-final showed what an effect it can have.
They may not have been as good a team as expected, with particular deficiencies in attack and, as I suggested last week, the absence of Neymar became a huge psychological blow. Despite all that, there seemed no lack of passion before the game – quite the opposite – there appears to have been no rift in the camp and Brazil never resembled a team likely to lose 7-1 at home, however good the opposition.
Yet many coaches will have experienced a day, as I have, when you concede early, lose a second goal quickly and find that the mentality of the team has just been lost.
We see it more often in an individual sport like tennis, that someone can just freeze on the day. When a whole team does it, you have a serious problem and it becomes painful to see. At half-time you might have the chance to do something about it and even affect the result, but in Luis Felipe Scolari's case, it was too late for anything other than appealing to a sense of personal pride.
Secret of leadership is to spread it around
The absence of Thiago Silva from Brazil's humiliation raised some interesting questions about captaincy and leadership. Scolari would have been desperate during that first half for someone on the pitch to have rallied the team as things got worse and worse, but it did not happen.
At Newcastle I have great faith in Fabricio Coloccini, but we have also just last week announced two official vice-captains in Cheick Tiote and Siem de Jong, who was captain at Ajax, giving us three players from different areas of the pitch to take that bit of extra responsibility.
Coloccini is a relatively quiet lad, who leads by example and presence and his calmness on the ball. The most vocal guy does not necessarily mean the best leader, although previously we had Kevin Nolan, who was very vocal in the dressing-room and a great organiser of the group.
Germany's captain, Philipp Lahm, has a bit of everything, including great football intelligence, while in Messi, Argentina have one of the less demonstrative captains: more "keep calm and give me the ball".
It is nonsensical to scrap for third
It was not suprising to hear the Dutch manager Louis van Gaal complaining about having to play last night's traditional third-place match instead of getting on a plane home. It is a needless game and you would have to be a real statto to name the team finishing third in the last few World Cups. Van Gaal's only consolation was that, if anything, Brazil would have been looking forward to it even less.
When you've had a bad defeat, that next match is always difficult and as a coach you're just desperate to get the right response. The team are unlikely to come out flying, it's a case of clawing your way back and all you hope for is a win.
But that is in a match that really matters. All that the players in both squads last night would have been wanting was to get home to their family and have a holiday, while Van Gaal himself could have done with any sort of break before throwing himself into his next big job at Manchester United.
It is not as if football teams at a major tournament here need to be fighting for a bronze medal. So let's ditch the whole idea.
Give us a final worthy of the tournament
Overall it has been a very successful World Cup, of great quality. It will be remembered for more than those two astonishing scorelines between Spain-Netherlands and Brazil-Germany – the Luis Suarez incident and some very close knockout matches. As ever, reputations have been enhanced and diminished, and there have been some interesting tactical variations, including the virtual demise of 4-4-2 with two strikers up the middle. Let's just hope for a majestic final to round it all off.
The truth about me and Mascherano at West Ham
When Javier Mascherano, a star for Argentina in the semi-final, came to West Ham with Carlos Tevez during my time as manager it was an unusual transfer contractually, as became widely known later; and with the new Icelandic owners then taking over the club, he became a victim of political pressure, did not play as much as he would have liked and was moved on to Liverpool soon after I left.
But it is quite untrue to say that I didn't rate him. Like Tevez, he was a terrific lad finding his feet in a new country and I'd be delighted for him to be a World Cup winner tonight.
Register for free to continue reading
Registration is a free and easy way to support our truly independent journalism
By registering, you will also enjoy limited access to Premium articles, exclusive newsletters, commenting, and virtual events with our leading journalists
Already have an account? sign in
Join our new commenting forum
Join thought-provoking conversations, follow other Independent readers and see their replies