Andres Iniesta among greatest ever players, says Petr Cech after Spain win opening Euro 2016 game
Barcelona midfielder stars in opening victory over Czech Republic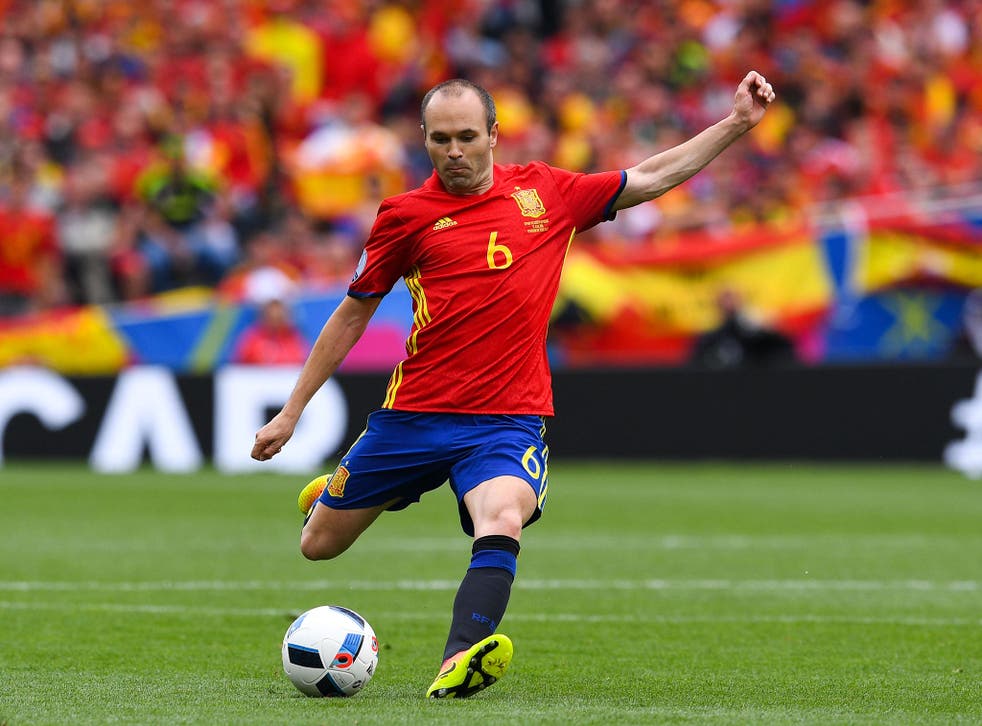 There was a very familiar feeling for Arsenal goalkeeper Petr Cech on Monday night. He thought his saves would be enough for his team and up popped Andres Iniesta in the dying minutes to change everything.
"He is one of the best players in the world and I'm not just talking about my era. I'm talking about in the history of the game," Cech said after the Group D opener.
History had repeated itself. For the Czech Republic read Chelsea in 2009, and for Toulouse read Stamford Bridge. It was Iniesta who scored past Cech in the Champions League semi-final on minute 93. On Monday he left it until minute 87 before teeing up Pique for Spain's winner. He picked up the Man of the Match award after the game for what had been a very special performance that left Gary Lineker asking: "Impressed by this Iniesta fella, where's he been hiding all these years".
It was presumably tongue in cheek from Lineker although it is also true that the Barcelona midfielder has stepped a little out of Xavi Hernandez' shadow since his former team-mate retired. "It is a little strange without him but we have the players to keep our style of play going for many years," said Iniesta after the 1-0 win.
"We are learning to live without Xavi on the pitch. We have others who can pick up the baton such as Thiago, Fabregas, Koke and Busquets and even in the era of Xabi Alonso and Xavi I feel I always took responsibility during games because that's how I am as a player."
The Spanish desperately want Iniesta to become the country's first Ballon d'Or winner since Luis Suarez won the award in 1960 and they know that if he leads them to a fourth major international trophy in eight years, in France, then it could be his year.
Cech added: "Perhaps he has never won it because it goes to players who score goals not the ones that make them." He came close in 2010 when he and Xavi Hernandez split the vote for a Spaniard and Leo Messi was given the prize.
Gerard Pique was the other hero of Spain's win, scoring the decisive goal from Iniesta's cross. His celebration with Sergio Ramos as the ball crossed the line has been taken as the image of 'stronger together' unity that will now take Spain into Friday's meeting with Turkey.
Pique tweeted the image after the game saying: "I suppose I don't need to say anything else we have a great team" and Ramos replied "Equipazo" (Spanish for great team).
The two have not always seen eye to eye but having emerged from seasons when they played a huge part in their rival clubs' success the Barcelona and Real Madrid pair are now united for the cause.
Not everything about Spain's opening day victory over the Czech Republic left them satisfied and Pedro, Aritz Aduriz and Thiago Alcantara could come in for Nolito, Alvaro Morata and Cesc Fabregas for their second game.
On Tuesday back at their La Rochelle base they were still reveling in having won their first game – something they have not managed in any of their last three tournaments.
After the pessimistic start to the tournament and the controversy over David de Gea's off-the-field problems there is now a feeling within the group that they could win an unprecedented third straight Euros. With Iniesta in this form anything is possible.
Join our new commenting forum
Join thought-provoking conversations, follow other Independent readers and see their replies