Argentina vs Chile: Five things we learned as Lionel Messi ensures vital but scrappy qualification victory
Argentina must end their Messidependence before the World Cup, Sergio Aguero is no number 10 and missed players and contentious decisions leave Chile in a tight spot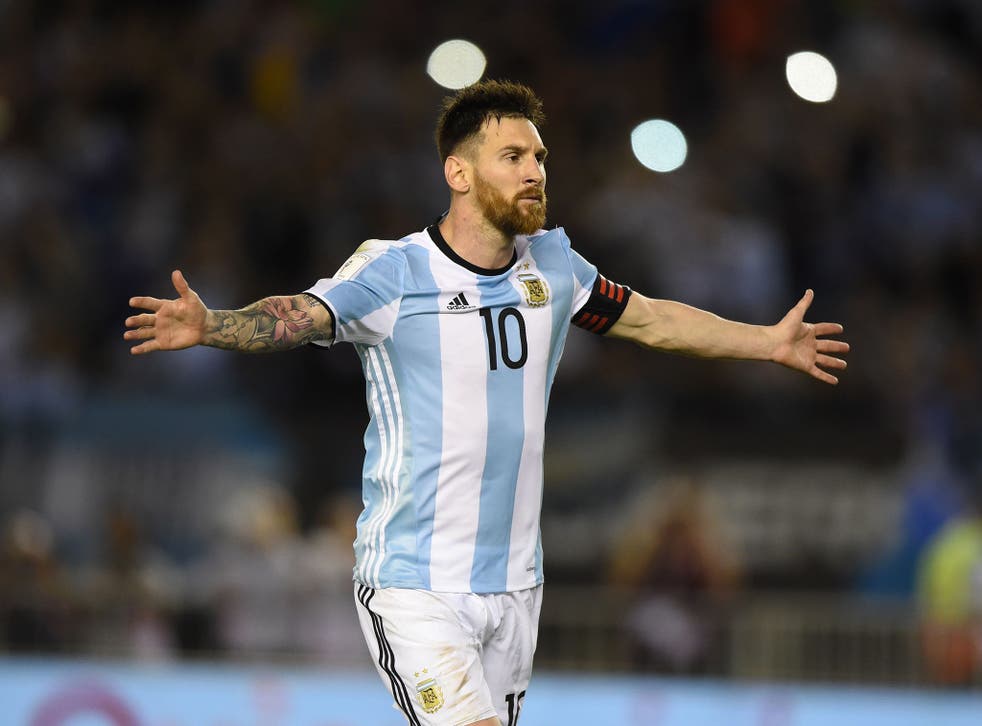 The marathon that is South American qualification has entered the final stretch and Argentina significantly boosted their chances of reaching the 2018 World Cup after edging Chile in Buenos Aires' Monumental.
Lionel Messi's 16th-minute penalty was just enough to give Edgardo Bauza's side the much needed three points but there was little in the performance itself to give supporters belief.
Chile will perhaps justifiably feel they deserved more from the game but with five matches remaining are now the side on the outside of qualification looking in, while Argentina climbed to third.
Here are five things we learned from La Albiceleste's narrow win:
Alexis Sanchez goes into meltdown against Argentina

Show all 9
Qualification remains on a knife-edge
While Tite's transformed Brazil have runaway with the qualifying group, results elsewhere have left the table looking perilously congested. Only five points separate Uruguay in second and Paraguay, who had previously looked out of the race, down in seventh. Argentina's flimsy lead over Chile characterised this better than anything – had La Roja's incessant pressure forced an equaliser it would have been Juan Antonio Pizzi's side in third and Argentina plunged into crisis in sixth.
All will likely change again on Tuesday with Argentina and Colombia facing difficult trips away to Bolivia and Ecuador respectively and Chile hosting bottom-placed Venezuela. Brazil's outstanding form has ensured that the race for top spot is now a formality, the scramble for the four automatic qualification spots and the fifth-placed playoff is just reaching fever pitch.
Even in victory, Bauza riles his critics
"I'm happy. The match went as we imagined and I think we played brilliantly," Edgardo Bauza proclaimed in his post-match press conference to the surprise of the gathered media but presumably to anyone who watched Argentina's embattled victory.
Three points were all that mattered, the players showed determination and a will to win that ultimately dragged them over the line, but brilliant it was not. Question after question were swatted away with praise for his side in a rather Mourinho-esque tactic of taking the heat but Bauza will know none of the pre-match questions of his selection or tactics were answered.
Few of the old-guard did anything to justify their continued selection while notable, talented younger players remain at home and Bauza's attempt to crowbar the so-called fab four of Messi, Aguero, Higuain and Di Maria into the same side resulted in the exact mess that it seemed certain to do.
Taken completely seriously, Bauza's appraisal only fuels his critics' argument that he is out of his depth; now he must prove them wrong on the pitch.
Chile left in a tight spot
Chile have undoubtedly become a modern-day bogey side for Argentina after consecutive Copa America final victories and with so much at stake, Thursday evening's clash was billed as another final, but on this occasion it was La Roja ruefully looking back over a tense 90 minutes.
Jose Fuenzalida's early goal correctly disallowed for offside was swiftly followed by a harsh penalty decision for a tug on Angel Di Maria's shirt that allowed Messi to score the game's only goal from the spot but that debatable call aside, Chile had their chances. Alexis Sanchez rattled the crossbar with a free-kick, could have had a penalty of his own if the referee hadn't deemed the challenge to be right on the edge of the box instead and Nicolas Castillo wasted a wonderful late opportunity.
Chile's Argentinian coach Juan Antonio Pizzi was in philosophical mood after the game, "sometimes those decisions benefit you, sometimes they go against you. We managed to control the virtues of Argentina, and there are many but we deserved a goal."
While it is difficult to argue with Pizzi on the balance of play, it is Chile now nervously looking at the table, desperate to get the suspended Arturo Vidal back in the team and knowing that there is no margin for error, starting with Venezuela on Tuesday.
Sergio Aguero is no number ten
Paulo Dybala's injury disrupted Edgardo Bauza's initial plans as it would have been the Juventus starlet occupying the number ten role were it not for the slight complaint that ruled him out but the decision to play Aguero in behind Gonzalo Higuain proved as ineffective as it sounds.
Dybala is well used to dropping deep, linking play, carrying the ball and probing the opposition defence while Aguero has honed his talents in the penalty box, looking for the split second to burst into space and finish instinctively so the two are far from interchangeable.
Against Chile, it wasn't clear what Aguero was supposed to be doing as the Manchester City striker often played alongside or even more advanced than Higuain. Such positional fluidity is fine, if everyone is on the same page but ultimately Argentina were midfieldless again.
Aguero made just eight passes before his 55nd-minute substitution for Ever Banega, a player who appears far more at home in an advanced midfield role, and it is time Bauza realises it is Aguero or Higuain but not both.
Argentina's Messidependence continues
By his own other-worldly standards, Thursday night's match was not one of Lionel Messi's best but it did continue to prove just how much this Argentina side leans on their captain. The absent midfield forces Messi to juggle several positions from central midfield metronome to goal scoring match winner and so it is little wonder that La Albiceleste rarely see the same end results that Barcelona do on an almost weekly basis.
"I don't think we are Messidependent, Lionel played well today," Bauza bristled under questioning. However, the under-fire coach must see the difference between giving his star player 'license to roam' and asking him to shoulder the entire burden of attack.
Aside from expelling certain demons from the penalty spot after his miss in the Copa America final, Messi was everywhere – winning possession in his own half, darting down the right wing, threading passes over the top and trying to force his way into the Chilean penalty area but until Argentina find a balance far too many games will end in frustration.
Join our new commenting forum
Join thought-provoking conversations, follow other Independent readers and see their replies