Argentina v Mexico: Time to drop your trousers, Diego tells critics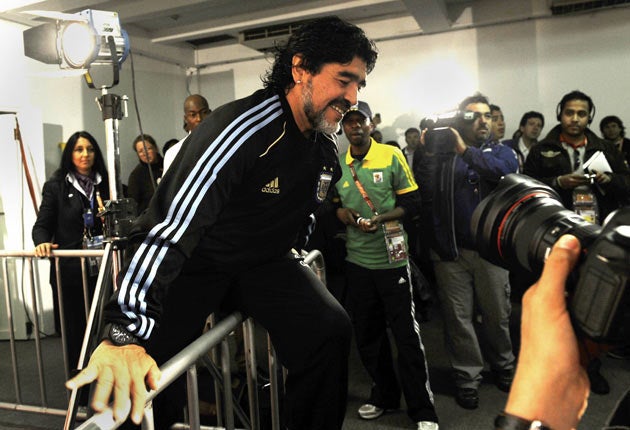 Diego Maradona yesterday insisted it was time for his critics to hang their heads in shame. He was derided by critics in Argentina before the World Cup as a naive tactician. But three wins later and the tone has changed. Argentina, many now believe, could go on to win the tournament.
However, Maradona was ignoring the U-turn yesterday. "Many journalists should apologise to the players," he said. "I'm not suggesting you drop your trousers, but it would be honest and great so we all get along better."
Argentina only just squeezed through qualifying, when Maradona used more than 100 players. "I am turning 50 and I'm not bitter," he said. "But I get annoyed when people don't respect my players. It isn't easy going from being nobodies back home to winning three matches at a World Cup. At the training camp, we had to swallow what you all said about us being a disaster – the worst Argentine team you'd seen. All of a sudden we're an excellent team... the most handsome people in the 'barrio'!"
The winner of today's match will play either England or Germany, and Maradona isn't buying into the sudden status of Argentina as potential champions. "I still think the other teams are the favourites, but we're fighting for it," he said.
Earlier in the week, Maradona said it would have been a crime to deny the thousands who turned up in Polokwane – and the millions watching Argentina play Greece on television – a chance to see Lionel Messi. The unspoken implication was that resting the young maestro would be a sin as serious as leaving out Maradona in his prime.
So Messi was presented with the yellow captain's armband for the first time, an honour that made a small piece of Argentinian football history as the country's youngest ever leader, two days before his 23rd birthday. If, as some have suggested, the idiosyncratic Argentinian coach is eaten up with envy for his star player, he has a strange way of showing it.
There have been tensions in the past, not least because Maradona, whatever his faults, is above all a patriot. Messi, sent abroad to Barcelona at the ridiculously young age of 12, has occasionally appeared less enthusiastic than some about the national team. At a time when Argentina's qualification campaign was in turmoil, Maradona said publicly that he thought Messi often played for himself, and lacked character.
If there was ever any sort of rift, it is now well and truly healed and the most cynical view would be that Maradona's best chance of winning the World Cup as a manager as well as a player is for Messi to have an outstanding tournament. The signs as Argentina prepare to face Mexico at Soccer City, Johannesburg, this evening are good. At the same stadium he was outstanding in the 4-1 win over South Korea, the sort of scoreline the team deserved in their opening game against Nigeria (won 1-0).
In March, Maradona finally met up with Messi for a long talk (having joked he was harder to contact than Barack Obama) and it was agreed he must have a free role, with the freedom to interchange with other forwards and midfielders, as he does for Barcelona. He looks happier for it and Mexico, although impressively fluid themselves, should beware today.
Join our commenting forum
Join thought-provoking conversations, follow other Independent readers and see their replies