Argentine football executive takes his own life after being accused of bribery at Fifa corruption trial in New York
Delhon was one of a number of formerly high-powered executives named as being involved in bribery and corruption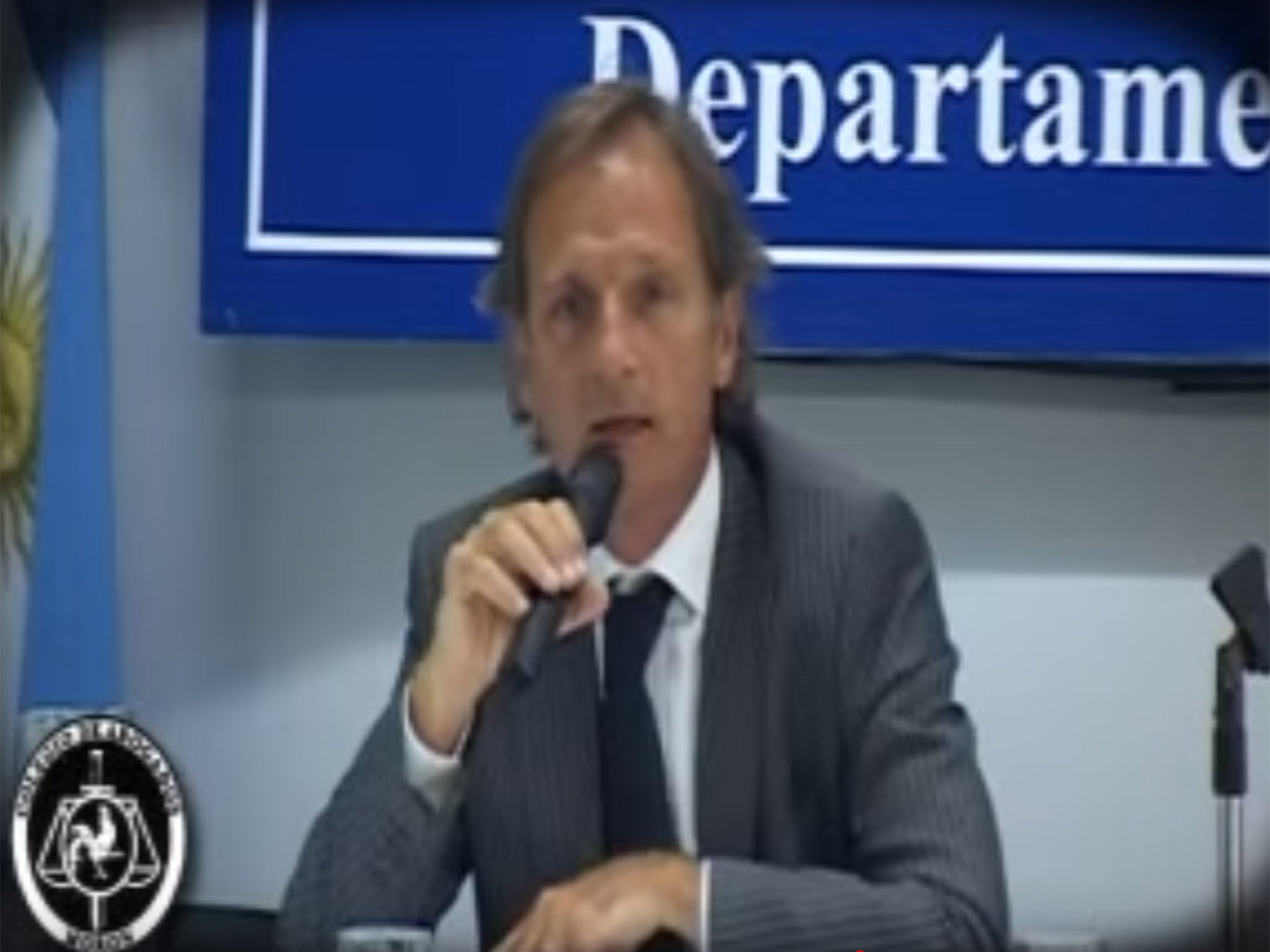 A former Argentine football official killed himself on Tuesday, the same day that he was accused of taking bribes during the second day of a Fifa corruption trial that began in New York this week.
Jorge Delhon, an executive with the Argentine government's Football For All scheme, was alleged to have accepted $500,000 per year from 2011-2014 to secure the broadcasting rights to international football games during testimony in Brooklyn on Tuesday.
He was later found dead on rail tracks in the Lanus suburb of Buenos Aires after colliding with a train.
Former sports marketing executive Alejandro Burzaco, who was indicted and is now a key witness for the US, has already pleaded guilty to handing out millions of dollars in bribes to a raft of senior officials in South American football.
Pablo Paladino, a colleague of Delhon, was also implicated as well as the long-time president of the Argentine Football Association, Julio Grondona, and several other South American officials that held key positions.
Grondona, who was also a Fifa vice-president, is alleged to have taken at least $1m in bribes to vote for Qatar to host the 2022 World Cup and much more in separate deals for a host of other competitions including the Copa America.
Mr Burzaco was the head of Argentina's TyC from 2006 until his arrest in 2015. He's the first of several cooperating witnesses who've pleaded guilty and are seeking leniency by testifying for the US in the trial in Brooklyn, New York.
A former Citigroup banker, Mr Burzaco said he started investing in media broadcast companies in South America in the early 1990s, raising his net worth to about $30m.
He told the jury that he regularly paid out hundreds of thousands of dollars — sometimes as much as $1m a year — in bribes to South American football officials. Mr Burzaco said the money was funnelled to accounts in Asia and Switzerland. Sometimes, he said, he handed out cash with US dollars tucked into an envelope or stuffed into a bag.
Some of the world's biggest broadcasters, including Fox Sports, Globo and Grupo Televisa, were also named in connection with the corruption of international football, with Burzaco telling a US jury that the companies paid bribes to win lucrative, multiyear rights for tournaments.
Asked by Assistant US Attorney Sam Nitze what Fox Sports hoped to gain by winning the broadcasting rights, Mr Burzaco said the company wanted to use "the TV rights to expand its Fox signal in all of the Americas, from Argentina to the USA".
The allegations further tarnish Fox's image just as the media giant tries to persuade UK regulators to allow the acquisition of full control of Sky. The Competition and Markets Authority is looking into issues of corporate culture at Fox, including sexual harassment allegations at Fox News, as part of its review of the £11.7bn bid for the rest of Sky.
Fox Sports denied that the company had been aware of or approved bribes, saying in a statement: "Fox Sports had no operational control of the entity which Burzaco ran. The entity run by Burzaco was a subsidiary of Fox Pan American Sports, which in 2008, at the time of the contract in question, was majority owned by a private equity firm and under their operational and management control."
This article contains reporting by Bloomberg
Whatever you're going through, you can call Samaritans free any time, from any phone in the UK on 116 123. 24 hours a day, 365 days a year. You don't need to be suicidal to call Samaritans - visit website.
Join our commenting forum
Join thought-provoking conversations, follow other Independent readers and see their replies