Artful Artur Boruc dodges clown comparison
Boruc is in outstanding form but rejects talk of being the new Jan Tomaszewski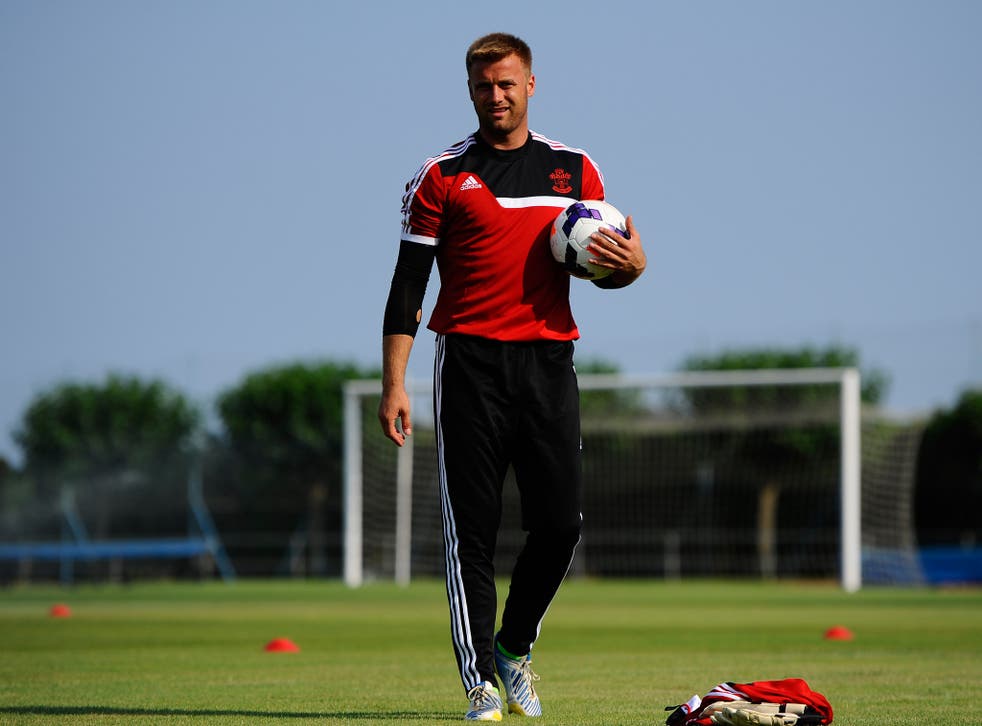 However close England may be getting to qualifying for the World Cup finals, a huge obstacle remains to be overcome in the form of Artur Boruc. On the 40th anniversary of Jan Tomaszewski's exploits in eliminating England at Wembley in 1973, there is some serendipity in another Polish goalkeeper being likely to prove crucial to further English progress now.
Except that Boruc could perhaps be the one person involved on Tuesday night who will not be thinking about Tomaszewski, infamously dubbed "a clown" by Brian Clough. At 33, he is simply savouring the wholly unexpected resurrection of his career.
Better than ever, he has been the form goalkeeper in the Premier League this season, contributing substantially to Southampton's surprising rise to fourth in the table.
And rarely can a club nickname have seemed more suitable than in Boruc's conversion from a sinner to Saint. His colourful history includes a police prosecution for sectarian offences at Celtic, court appearances in libel actions (photos of a companion turned out to be his sister not a mistress), accusations of alcoholism and a complex family life linked to an acrimonious marriage breakdown.
Yet his footballing fall was worse. The star of Poland's side at the World Cup in 2006 and Euro 2008, he was subsequently thrown off the squad more than once for allegedly drinking and misbehaving, most recently leading to an absence from the national team for two and a half years, which included the Euro 2012 tournament staged partly in Poland.
When the 2014 World Cup qualifying campaign was beginning, Boruc did not have a club after being released by Fiorentina last summer. When he was eventually taken on as a free agent just over a year ago by Southampton, it was only on a short-term contract to be third-choice goalkeeper.
It was a big comedown for a footballer who was one of the five goalkeepers shortlisted for the Fifa's World Player XI awards in 2008, alongside Gianluigi Buffon, Iker Casillas, Petr Cech and Edwin van der Sar following his impressive performances for Celtic.
His stay at Southampton could have been even shorter than planned after he threw a water bottle at a section of fans criticising him excessively in only his second match. He was dropped as part of an internal disciplinary process but, sensing a last chance, worked hard to regain a high level of performance.
"This past year and actually most of my career is a great example of how you have to try to deal with the huge ups and downs that fate brings," said Boruc. "Whenever I've been left out, I've always had determination to fight back and re-establish myself. Things seem to be going in the right direction just now. I can't deny I'm more than happy. But I've got to make sure it continues that way. Definitely. I've grown older and I'd like to say wiser. And I'm really pleased that I've managed to change for the better, as it wasn't a small thing. I was extremely lucky to be given a blank piece of paper to start again afresh.
"I've matured and I've wised up with it. I've always wanted to play in the Premier League. I didn't want to waste the opportunity, especially so late in my career. I thought I'd get there sooner but now I've made it I've got to make the most of it."
His change of attitude helped Southampton stay up last season with a last-minute penalty save in a draw at Norwich, plus big performances in wins against Liverpool and Manchester City. It earned him a new two-year contract and he has since maintained the improvement with five clean sheets in seven Premier League games this season.
That he can at the moment do no wrong was seen in the stunning sideways volley he scored as an outfield player in a training game with the Poles before Friday night's 1-0 defeat in the Ukraine. The video footage of has already attracted more than a million views on YouTube. Given the chance, he would like to still take penalties as he did in his early days with Legia Warsaw.
However, his main focus is on keeping ahead of Wojciech Szczesny in the contest for the Polish No1 shirt. "For me, Boruc has for several years now been a world-class goalkeeper," said Tomaszewski. "Maybe he has not been appreciated as much as he should have been by some of his coaches. Even now it's not easy for Boruc and Szczesny competing for one place in the team. But Boruc would be my choice."
Not that Boruc is pleased with the Polish clamour for him to match Tomaszewski on Tuesday. "Am I ready to become the new Tomaszewski? I am Artur Boruc and I would like to stay being him."
Join our new commenting forum
Join thought-provoking conversations, follow other Independent readers and see their replies