Beitar Nordia: Israeli fans choose football over racism to start their own club
Fans shun Beitar Jerusalem, who have never fielded an Arab-Israeli player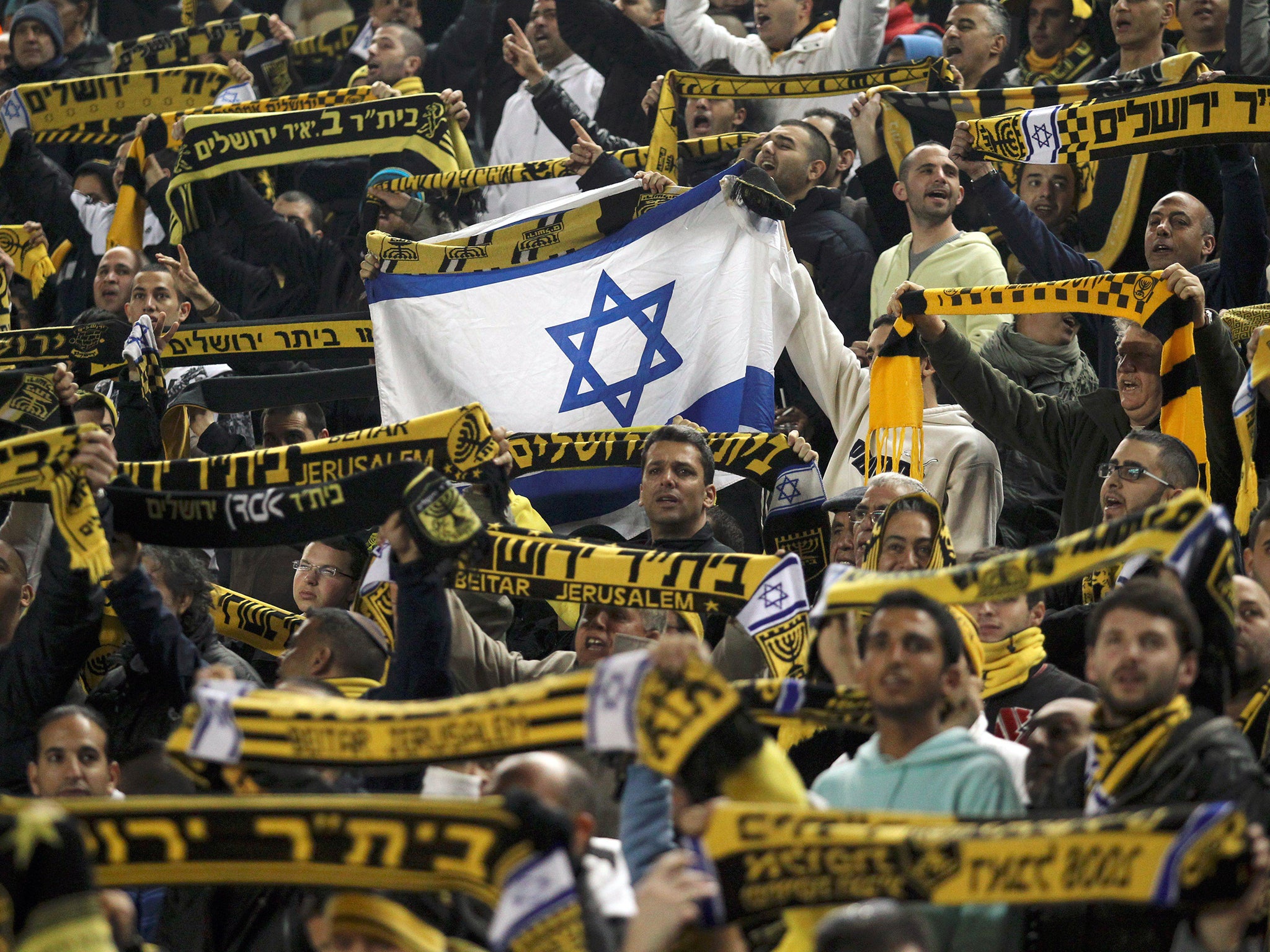 They've gone from the top division of Israeli football to the bottom, from crowds of thousands to gatherings of hundreds, and from Jerusalem's main arena to smaller, more modest digs.
But for the supporters of the club known as Beitar Nordia, a fan-owned venture poised to begin its second season next month, size isn't the main attraction. Many have switched allegiance to shun their original team, Beitar Jerusalem, for the racism and violence displayed by sections of its fan base.
The bigger club has never fielded an Arab-Israeli player, and late last month the club was fined by Uefa after supporters rioted at a match in Belgium against Charleroi. The Belgian club was also reprimanded for its supporters' racist gestures directed at Beitar fans.
Itsik Alfasi, Nordia's 36-year-old volunteer chairman, grew up supporting Beitar Jerusalem, wearing its yellow-and-black scarf. "My father was a Beitar fan," he says. "Being a football fan is part of your identity; it's your first love."
So, it broke his heart, he says, to see the beautiful game turn ugly over the past decade.
Football in Israel has always been political. Supporters tend to split on left-right lines. Beitar Jerusalem, the dominant force in Israeli football, is affiliated to a right-wing Zionist group, and while on-field success has brought the club fans from across the political spectrum, politicians from Likud – the party of Prime Minister Benjamin Netanyahu – have long made attendance at a Beitar match part of their campaign trail.
However, in the past few years an ultra-fanatical group, known as La Familia, has gained prominence. Violent hooliganism came to a head when fans rebelled against the 2013 signing of two Muslim Chechens. "Death to Arabs" became a common rallying cry at matches.
Feeling the club had been hijacked, Dr Alfasi and others formed Beitar Nordia – the original name of Beitar Jerusalem – and gave fans a vote in its affairs for a £110 membership fee.
While it failed to win promotion from Israel's lowest division last season, the upstart already has one notable win over the bigger club: and it has two Arab-Israeli players.
Management at the bigger club has kowtowed to its fans' demands and has so far avoided signing Arab-Israeli stars. Howevere, it has been called to explain itself before the country's Equal Employment Opportunity Commission.
After the events in Charleroi, the club's owner, Eli Tabib, put the it up for sale, describing the riot as an "embarrassing horror show".
Beitar Jerusalem's story is an anomaly in Israeli football. All leading teams have Arab-Israeli citizens in their squads, with the levels in the top division nearing the 20 per cent make-up in the wider population. The national team, too, is mixed.
The proportion of Arab-Israelis playing in the lower levels is even higher than at the top, thanks to the abundance of local teams, although some now opt to play in the Palestinian league.
This year, Salah Hasarma will break a major barrier as the first Arab-Israeli manager of a first division team from a Jewish area. Ammar Salman did the same in the second division, and believes football is an arena where a segregated society can come together. "Football is the place for coexistence," he stresses.
As a player, Mr Salman felt the wrath of Beitar Jerusalem fans. And, he adds, "[to be successful] as an Arab you have to be much better [than a Jewish Israeli] – as a player and as a manager – by several degrees."
The players at Beitar Nordia are optimistic about the project. Amir Shweiki, a 22-year-old clothing shop manager from Jerusalem, grew up playing in the Beitar Jerusalem youth leagues. "I thought I would be their first Arab player, the one to make peace," he says.
But it wasn't to be, and the winger is happy to have found a home at Nordia. "I have the same colour shirt, I wear the same number, and the fans … actually want me there."
Last year's captain, Li-Or Ken Dror says frankly that until signing he had no Arab-Israeli friends. "There's nowhere we would meet," the 30-year-old government employee says. "There's just no interaction." Now, Mr Ken Dror stops by Mr Shweiki's work so they can have lunch together.
For now, the club is far from the big leagues, but a crowdsourcing campaign has brought in £28,000 and it expects to have 250 fan-owners this year, 50 more than last.
At this season's first training session, dedicated supporters turned out to rally around their side despite the stifling heat. Mr Shweiki patted the yellow-capped head of a young admirer on his way to the changing room. "To the next division!" the supporters chanted; "To the first division!" one voice added.
Join our commenting forum
Join thought-provoking conversations, follow other Independent readers and see their replies