James McClean 'hero' praise sees furious customers threaten to close betting accounts with bookmaker
Republic of Ireland midfielder scored crucial winner against Wales but is a controversial figure with some for his refusal to wear commemorative poppy for Remembrance Day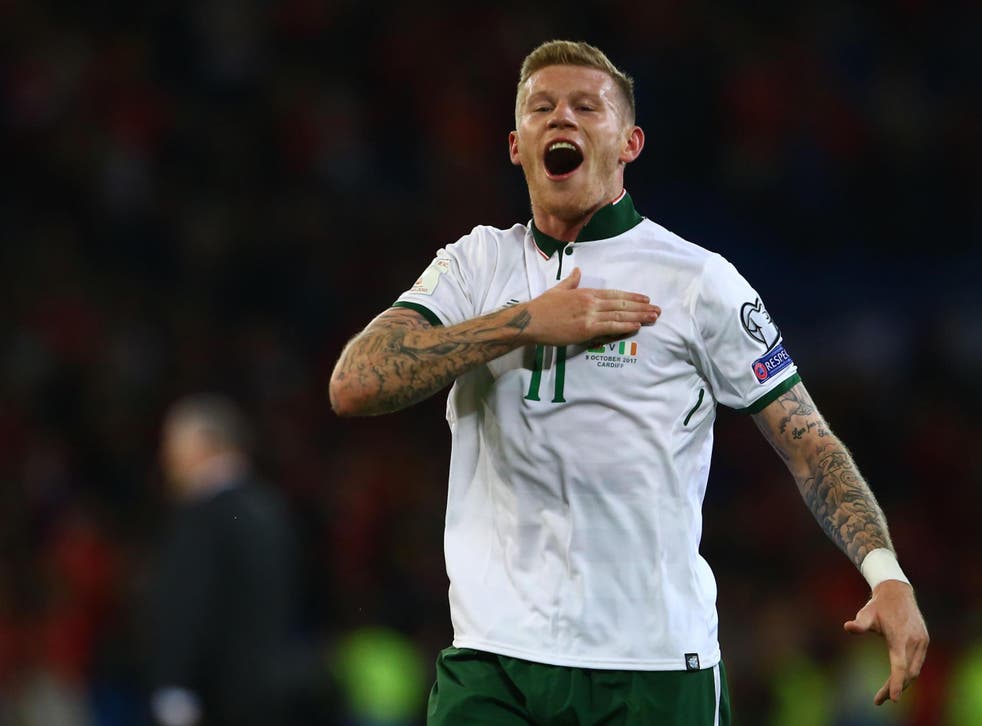 Furious customers have threatened to close their accounts with an online bookmaker after it tweeted praise of Republic of Ireland midfielder James McClean.
The 28-year-old scored the winner in Ireland's crucial World Cup qualifying victory over Wales on Monday but is a controversial figure with some for his refusal to wear a commemorative poppy for Remembrance Day.
After Bet365 tweeted a photo of McClean with the caption "Not all heroes wear capes" it was inundated with angry replies.
"365 talking s**t, they support a non poppy wearing thug. Be ashamed I will also Close my account," wrote one.
Another said: "This c*** is no hero the amount of disrespect he's given to actual heroes is unforgivable my account will be getting deleted."
Several others sent abuse far too vitriolic for republication.
McClean, who was born in Derry in Northern Ireland but represents the Republic, explained his refusal to wear a poppy, worn by Premier League clubs in the build up to 11 November, in a West Brom match day programme two years ago.
"If the poppy was simply about World War One and Two victims alone, I'd wear it without a problem," he said.
"I would wear it every day of the year if that was the thing but it doesn't it stands for all conflicts that Britain has been involved in. Because of the history of where I come from in Derry, I cannot wear something that represents that."
In 2014, McClean was booed off the pitch for not wearing the symbol during Wigan's 3-1 defeat to Bolton, later defending himself in a letter to his then chairman Dave Whelan.
"For people from the North of Ireland such as myself, and specifically those in Derry, scene of the 1972 Bloody Sunday massacre, the poppy has come to mean something very different," he wrote.
World Cup 2018 Russia stadiums

Show all 12
"For me to wear a poppy would be as much a gesture of disrespect for the innocent people who lost their lives in the Troubles – and Bloody Sunday especially - as I have in the past been accused of disrespecting the victims of WWI and WWII.
"It would be seen as an act of disrespect to those people; to my people."
McClean was also sent death threats after refusing to wear the poppy while playing for Sunderland in 2012.
Some social media users defended Bet365 for its tweet and for McClean over his principled stance.
"THE REPLIES! Yer Da's hit the roof and threatened to withdraw all his doe," wrote one.
"Best part of this is the boiled p**s of the Brexit Das in the replies," said another.
Bet365 has been approached for comment.
Register for free to continue reading
Registration is a free and easy way to support our truly independent journalism
By registering, you will also enjoy limited access to Premium articles, exclusive newsletters, commenting, and virtual events with our leading journalists
Already have an account? sign in
Register for free to continue reading
Registration is a free and easy way to support our truly independent journalism
By registering, you will also enjoy limited access to Premium articles, exclusive newsletters, commenting, and virtual events with our leading journalists
Already have an account? sign in