Brazil coach Tite unimpressed with England's defensive mentality after goalless draw
England spent most of the game doggedly rebuffing Brazil's frequent waves of attack, enjoying just 35 per cent of possession and four shots on goal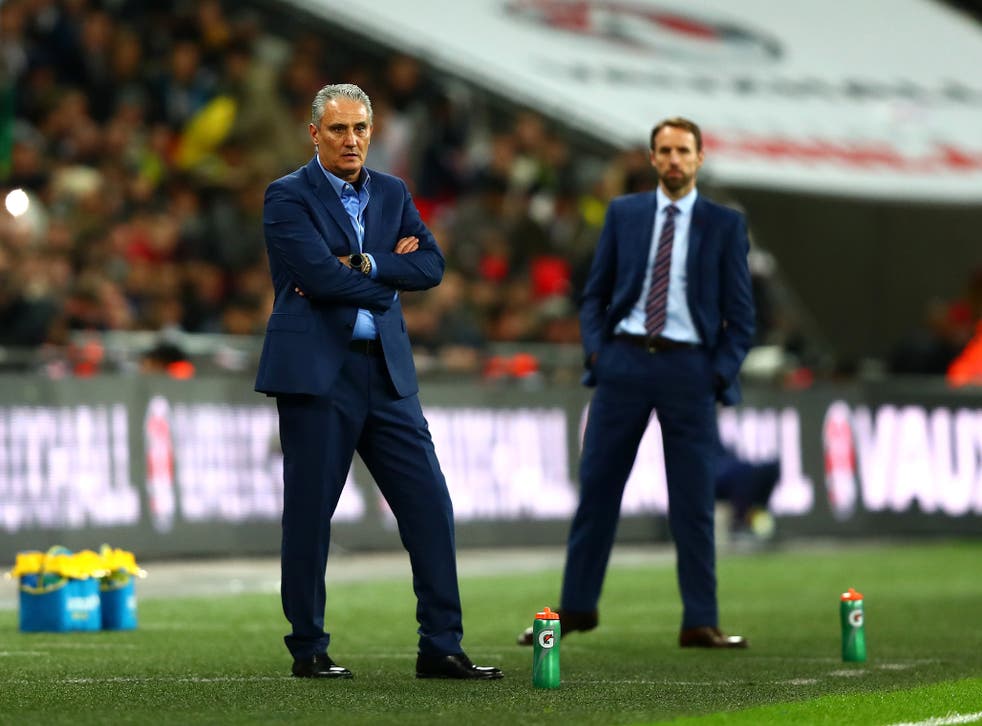 Brazil coach Tite accused England's defensive tactics of stifling the game during the goalless draw at Wembley. But Gareth Southgate defended his side's approach, saying that England's "pride" and "passion" were beginning to reconnect the team to the general public.
England spent most of the game doggedly rebuffing Brazil's frequent waves of attack, enjoying just 35 per cent of possession and four shots on goal. For Brazil, Fernandinho hit the post and Joe Hart was forced into a couple of scrambling saves, and as Tite put it afterwards: "Today there were two different schools of football.
"One team was 'proposing' the game, trying to press in a high line, playing with possession of the ball. The other team was in a more defensive way, trying to win the match with one goal, waiting for our mistake to have a counter-attack. They were betting on us losing our minds.
"They have this mentality. They are like ice, they are cold and they never lose their minds. In a match like this, you will have fewer opportunities. Even though we had fewer opportunities than in other matches, we had the best ones. I can't remember more than one or two of theirs that scared us. If there was to be a winner today, it should be Brazil."
Southgate admitted that England had been more cautious than against Germany on Friday night, but paid tribute to his three-man defence of Joe Gomez, John Stones and Harry Maguire for keeping out Brazil's feared front three of Neymar, Philippe Coutinho and Gabriel Jesus.
"Frankly, when you play teams of that quality, at times you are going to have to soak it up," he said. "And we are a team that can counter-attack, so I don't think it's a disgrace to have to do that. We just couldn't get the one or two passes to get out of the press.
"But the defensive performance and the spirit, collectively, were outstanidng. We've played what I think is the best team in the world, and we can look at areas that we need to improve, but we've found so many positives. The system has worked well.
"Brazil are pretty close to the finished article. We're at a different point in our journey, but we'll take huge belief from what we've done. I hope the English public see that these boys have given absolutely everything. They've played with pride and passion, and it feels like there's a little bit more of a connection between the supporters and the team."
2018 World Cup group-by-group guide

Show all 33
Southgate also reassured Crystal Palace fans that Ruben Loftus-Cheek's first-half withdrawal through injury was not serious. "It's a problem with his back which he has had periodically," he said. "It should settle down fairly quickly. I don't expect it to be a problem.
"We're going to have to give him time to build his resilience. He's already played more minutes than he did in the whole of last season. But he's way stronger than he was a year or two ago. Then, it was difficult for him to finish 90 minutes. It's a disappointment for him to come off, but these 10 days have been a massive stride forward for him."
Register for free to continue reading
Registration is a free and easy way to support our truly independent journalism
By registering, you will also enjoy limited access to Premium articles, exclusive newsletters, commenting, and virtual events with our leading journalists
Already have an account? sign in
Register for free to continue reading
Registration is a free and easy way to support our truly independent journalism
By registering, you will also enjoy limited access to Premium articles, exclusive newsletters, commenting, and virtual events with our leading journalists
Already have an account? sign in
Join our new commenting forum
Join thought-provoking conversations, follow other Independent readers and see their replies