Finding Gabriel Jesus and freeing Neymar - how Tite made Brazil into Brazil again
In a year, the Seleção have ended their search for a No 9, ditched the ubiquitous double-pivot and found matchwinners other than the world's most expensive player - now the World Cup awaits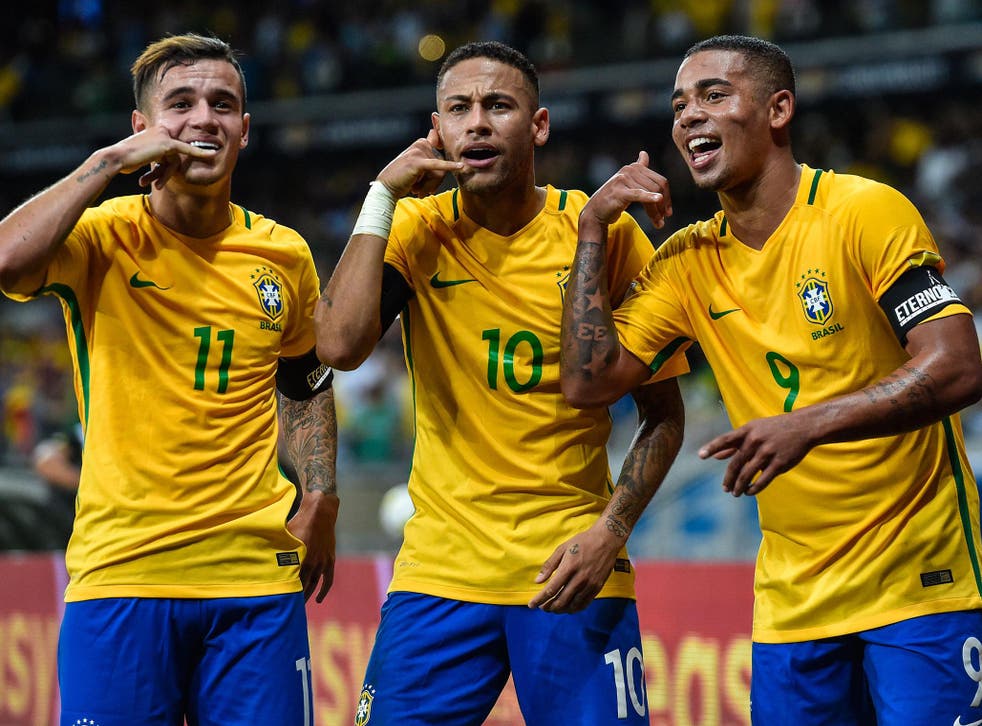 A point would have been a respectable result. Brazil had never won a World Cup qualifier up in Quito, losing two of their last three. Still, with 20 minutes remaining and the game goalless, a new era for Brazilian football was heading for a somewhat underwhelming start. When teenage debutant Gabriel Jesus set off after a lost cause that afternoon, it was mostly an attempt to appear useful after a fairly useless opening 70 minutes.
And then everything changed.
Jesus' robbed Arturo Mina and darted into the box to draw a foul from the onrushing goalkeeper. Neymar converted the penalty for his first Brazil goal in a year. Jesus then capped a remarkable finale by helping himself to a brace in the final few minutes. While not everyone had forgot the preamble – Jesus' mother answered the phone to her son that evening by berating him for being offside so often – the 19-year-old beamed, "It couldn't have gone much better." Neither could it have for new coach Tite.
Resurrection
After stumbling to two wins in their opening six matches under the lugubrious Dunga, Jesus had set Tite's Brazil off and running. They're yet to slow.
A Seleção won their next eight qualifiers as Tite smashed João Saldanha's 47-year record of six-in-a-row. In March they became the first team to join hosts Russia at World Cup 2018. Wins over Bolivia and Chile this month will see them equal the record Conmebol qualifying points tally set by Marcelo Bielsa's Argentina in 2002.
"When you have the talent to lead, you can really make a difference," Juninho Paulista said of Tite in July. It's been a remarkable turnaround.
Politics as Usual
Brazil were at their lowest ebb when Tite, having been overlooked in 2012 and 2014, was finally announced as coach in June 2016. In the 24 months since what Brazilians call simply 'The 7-1', former World Cup-winning captain Dunga led Brazil to two Copa America humiliations, declared war on the local media, inexplicably banished key players, and left a public so disillusioned that opinion polls showed local interest in the national team was at an all-time low.
"At no point did I feel confident Dunga could qualify Brazil for the World Cup. And there was no relationship there. He couldn't even bring himself to say 'good morning' when saw a journalist in the hotel lobby," Globo's national team correspondent Alexandre Lozetti told The Independent.
"Dunga was the kind of coach who needed the press to be one more enemy to overcome," adds ESPN Brasil's Leonardo Berzotti. "But now there is respect on both sides and Tite often remains after the press conference for friendly chats with reporters."
Gregarious, erudite and eager to encourage debate, Tite instantly won the press back onside and then set about relieving tension among the playing staff. He began by wiping a muddied slate clean. Marcelo – ostracised after a bizarre miscommunication between Dunga and his medical staff over a WhatsApp exchange with the player regarding his fitness – and Thiago Silva – cast aside largely for voicing his displeasure at being stripped of the armband without even a phonecall – were quickly brought back in from the cold.
The captaincy had become a contentious issue. After Neymar had publicly resigned from the role, Tite elected not to select a replacement, instead rotating the responsibility around the squad in an attempt to rebuild harmony. "I don't think there is great importance in being captain," said Dani Alves, one of 11 since Tite's arrival. "We need a bit of leadership from everyone."
Tite selections also ensured none of Brazil's notoriously partisan domestic divisions have crept into what has been an overwhelmingly positive discourse. In March, he made Sport Recife's Diego Souza first player from the underrepresented Nordeste region to be included in a qualifying squad since 2001, and he also handed Brazil's most popular club, Flamengo, their first international since 2011.
"The harmony between the coaches, players and fans is now total," said reserve left-back Filipe Luis last month. A poll conducted by the Paraná Research Institute in March suggested 15% of the population would vote for Tite to be president.
"His overall approach has won him a lot of praise," says Berzotti. "But of course, the results have helped." Forget jogo bonito, the majority of Brazilians couldn't care less how their team wins. But Tite's approach to those results has certainly helped.
Un-becoming Brazil
There were no wholesale changes in personnel. "Only a few players came in," Willian told Goal. "But Tite opened our minds to ideas we can take onto the pitch." He has transformed the identity of the side, seeking answers to questions that have had Brazilian football for a generation. In one year, Brazil ended their long search for a no.9, ditched the ubiquitous double-pivot to facilitate a midfield able to elaborate on the ball, and found matchwinners other than Neymar.
Neymardependencia had become a buzz word for Brazil's systematic failings. Isolated in a 'broken' team, he'd appeared frequently disillusioned, and increasingly volatile. With five yellows and a red, he was Brazil's most-carded player under the previous coach. Desperate to find someone to help him out, Dunga trialled nine centre-forwards in two years. None of them stuck.
Securing a permanent presence to dovetail with Neymar was the biggest of the many on-field tasks facing Tite. Confronted with a choice between Santos superstar Gabriel 'Gabigol' Barbosa and untried Palmeiras starlet Jesus, who had struggled desperately in the role at the Olympics a month previously, it'd been a bold decision. "I never imagined it would be so successful," Tite later admitted.
With five goals in his first four internationals, Jesus ended 2016 Brazil's top scorer, despite only debuting in September of a year in which Brazil played a major tournament. Leading the line in a fluid 4-1-4-1 that had brought Tite domestic, continental and world titles with Corinthians, Jesus' pace and desire to run in behind saw opposition defenders retreat. Brazil moved 20 yards up the field, pressed high and became more compact, which provided their attackers increased passing angles and greater support from deep. Attacking full-backs were reintroduced to provide width, creating more space for the chief creators centrally. All of which benefited Neymar in particular, Brazil's top scorer under Tite.
After decades of dull, functional and reactive football, this team is proactive, desire possession and – most remarkably for a modern Brazil side – actually pass the ball through central midfield. Casemiro's rise at Real Madrid has been key. Finding a volante enough to operate without a partner in crime and distribute from deep created room for the cerebral, creative Renato Augusto and reborn shuttling midfielder in Paulinho, who'd been nowhere near the squad since the World Cup.
With just three days to work with his new players ahead his debut, Tite needed someone who knew his system and could help translate it to the others. The two had worked together in what was the most successful period of Corinthians' history. Paulinho, meanwhile, just needed someone to believe in him again. A hat-trick in a 4-1 crushing of Uruguay in Montevideo was the highlight of a remarkable redemption story.
Ready for Russia?
Tite has also consolidated a winning and consistent squad, with a particularly settled starting XI. Since his debut 13 months ago, there has been just one chance to his preferred first-team, with Philippe Coutinho replacing Willian on the right.
The only places up for grabs right now are reserve slots. And it speaks volumes of Tite's success that the biggest selection controversy of his spell so far has been not pick Santos' in-form Vanderlei as his third-choice goalkeeper. There has been mild disquiet over his preference for former Corinthians players, but almost zero outcry over high-profile omissions of David Luiz and Douglas Costa.
To many, Brazil look ready for Russia. Unsurprisingly, Tite disagrees. "Absolutely not," he said in June. "I wish we had more time." A studious coach who in 2013 took a year-long sabbatical to travel the globe, visiting some of Europe's biggest clubs in order expand his knowledge of the game and fine-tune his idea of play, Tite will now be keen to show he's learned from the lessons of Brazil's recent past.
Dunga raced into World Cup 2010 with a settled line-up before his quarter-final capitulation against the Dutch. Luiz Felipe Scolari then won 15 of 16 ahead of World Cup 2014, settling on his XI a year before the tournament as his assistant Carlos Alberto Parreira claimed, "the hard work has been done." Tite himself, meanwhile, suffered from keeping faith in the same players for too long when his 2012 world champions Corinthians crashed and burned just months after defeating Chelsea in Yokohama.
There are still some kinks to iron out, particularly at full-back where his team look vulnerable, and there are some challenges his side are yet to face. "Meeting a team that will dominate possession, like Germany or Spain, is going to be a big test," says Lozetti. Tite is currently experimenting with Philippe Coutinho a deeper midfield role, where he may also test Gremio sensation Athur. And he also appears intent on perfecting an alternative shape to his side.
"It is a daily process of construction," Tite said last month. The building has been conceived, foundations have been laid and the structure erected. But work has yet to be completed. Brazil have come a long way since the dizzy heights of Quito and they're yet come down. The true challenge, however, still awaits.
Join our new commenting forum
Join thought-provoking conversations, follow other Independent readers and see their replies