Capello: I knew England would be terrible after seeing warm-up
Italian plans to phase out number of older players after dismal display against Wales
Sam Wallace
Thursday 08 September 2011 00:00 Comments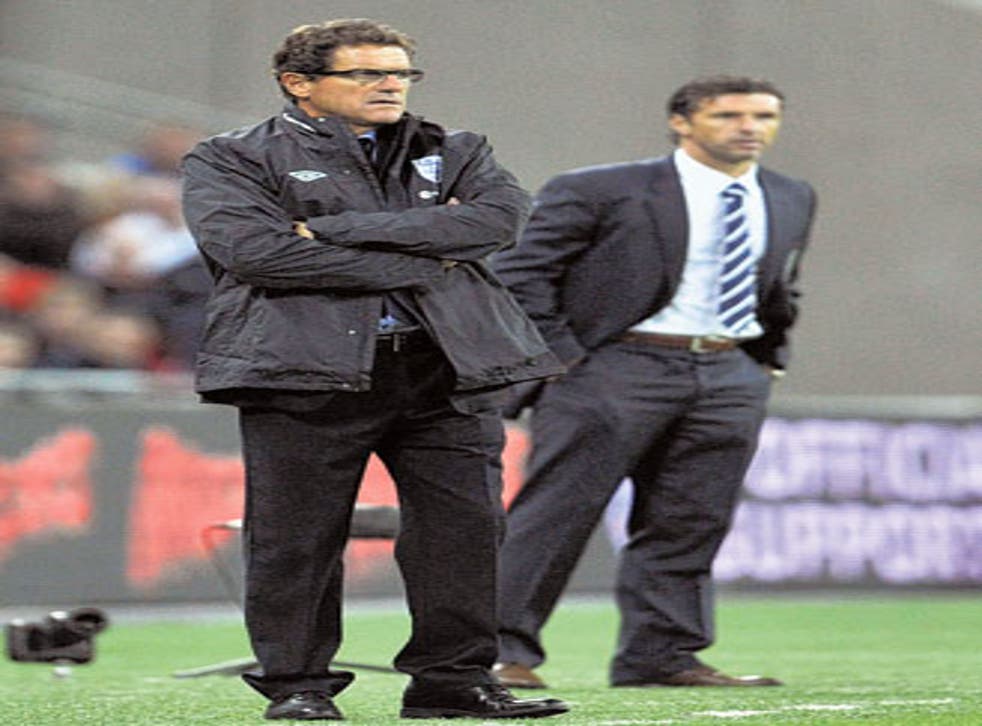 Fabio Capello has admitted that he had a moment of clarity before Tuesday night's insipid 1-0 win over Wales at Wembley, when he realised that his England players' approach to the warm-up ahead was so bad that he feared for their performance in the Euro 2012 qualifier.
Capello confessed in a late-night press briefing on Tuesday that he harboured major concerns about his players before the game, and since then it has emerged that he is planning a major shake-up of the England team after qualification for Euro 2012 is ensured. His changes could mean that the likes of Frank Lampard, Gareth Barry and former captain Rio Ferdinand, currently coming back to fitness after injury, are phased out before the tournament next summer.
England only need one point from their final Euro 2012 qualifier against closest rivals Montenegro in Podgorica on 7 October but Capello made no secret of the fact that he was concerned by his team's approach to Tuesday's match. Asked on Tuesday night whether he had any clue before the match that England might be off the pace, Capello said at first that he had "understood something" about his team that night.
Pressed on what he had seen in the players before the match, the England manager said: "When I go to the pitch before the game, because I like to see the warm-up, sometimes in my career I understood a lot of things about what would happen on the pitch [from what he saw] during the warm-up." He was asked if he thought he players were not sharp enough? "Sometimes," Capello replied.
What did he discover about his players? "That is between the players and me." Did he know the game would be difficult after watching the warm-up? "Yes, I knew. I know the players and it's my job [to analyse them]. In my career I understood a lot of times what really happened."
Pushed on whether he could have changed the players' mindset in the few minutes between them coming into the changing rooms and going back out for the game, Capello said: "I tried to do that, I tried. I spoke with the players, said things, but it is impossible, with the things that I saw, to change."
Asked why it was impossible to change, Capello replied: "Because it was not [as simple as] to change the shirt [ie a relatively superficial solution]. Here was the problem [he tapped his head]." Subsequent clarification from sources around the Capello camp of the England manager's comments, uncharacteristically frank by his standards, have revealed that he was particularly dismayed by the lack of effort in a five-a-side passing game in which the players divide into two teams to keep possession of the ball in a small area. One source said that Capello thought the standard of the warm-up was "rubbish".
There is a feeling within the Capello camp that the lack of effort and energy in games such as Tuesday's match are more common at Wembley, where England recorded their first win in a year on Tuesday. The Capello camp also believe that these performances are more symptomatic of the older players around the squad and that is what has convinced them that there is a need for serious change before next summer's tournament. They feel the older generation carries "baggage" from previous failed tournaments.
The Capello camp remained unconvinced that Lampard and Barry is an effective partnership in central midfield. They were concerned at the isolating of Wayne Rooney. But above all they want to try to build a new England team, albeit one that includes the likes of Steven Gerrard and John Terry, but with a core of players relatively new to England such as Wilshere, Ashley Young, Theo Walcott, Chris Smalling and Gary Cahill, as well as the likes of Phil Jones and Tom Cleverley, yet to make their senior England debuts. There are doubts over James Milner's England future.
Capello was open about his team's failing against Wales. He said: "It's not my style to be cautious, absolutely not. Against Wales I decided to play only one midfielder in front of the defence so that more players could go forward and help Rooney to go in front of the goal. But that didn't happen.
"Sometimes it is incredible to understand why [the team did not perform well]. I told you, as a manager, as a player, I never understood what really happened in these moments. For 20 minutes we played well. So if you can do that for 20 minutes, why can't you do the same for the rest of the game? This is what I don't understand, why?"
Register for free to continue reading
Registration is a free and easy way to support our truly independent journalism
By registering, you will also enjoy limited access to Premium articles, exclusive newsletters, commenting, and virtual events with our leading journalists
Already have an account? sign in
Join our new commenting forum
Join thought-provoking conversations, follow other Independent readers and see their replies