Carrick earns England recall after Hodgson's 'retirement' confusion
Neville solves mix-up over midfielder as experimental squad named for Italy friendly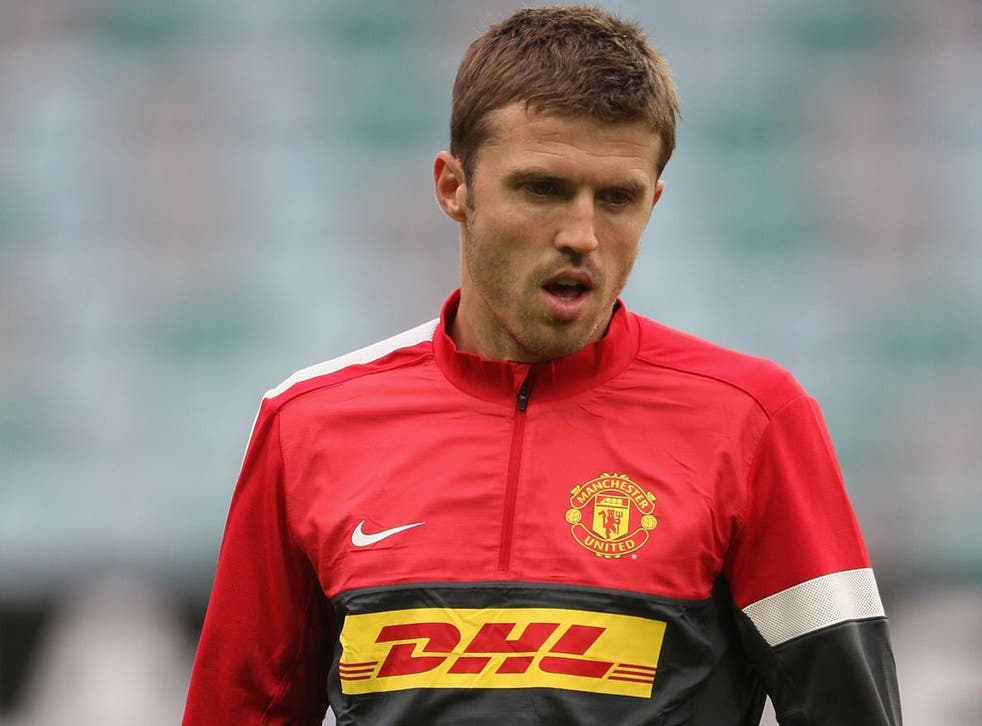 Roy Hodgson yesterday defended his decision to recall Michael Carrick to the England squad for next week's friendly against Italy, as it emerged that the England manager did not know that the player would have been available for the European Championships this summer.
The supposed international retirement of Carrick, 31, only came to light in May when Hodgson failed to name the Manchester United midfielder in his Euro 2012 squad. He explained then that the player had told the Football Association in January that he wished to withdraw having been named in past squads by Fabio Capello but rarely getting an opportunity to play.
While on United's pre-season tour this summer, Carrick said that he would consider a return to the England squad and that he had never permanently retired. He said that he had simply indicated that, under Capello, he did not want to be a non-playing squad member. Tellingly, he interpreted Hodgson's failure to pick him for Euro 2012, even after injuries to Gareth Barry and Frank Lampard, as further proof that he was not required.
"The bigger deal [in terms of being left out] was the two injuries before the Euros," Carrick said last month. "But that's just how it goes. I've had no contact from Roy Hodgson, so it would be wrong of me at this stage to make a decision either way."
However, Hodgson said yesterday that he was under the impression that Carrick was not prepared to play for England in Ukraine this summer. "Michael Carrick would have always been in our thinking," Hodgson told Sky Sports News. "I was given to believe he didn't want to be part of the England set-up. He didn't want to be considered for the Euros so I reluctantly thought if people are not available they are not available.
"He has had discussions with Gary [Neville] and me since and it turns out that he does want to play. This is an ideal opportunity to invite him to come and play for England again. There has never been any doubt that Carrick has been in our thoughts or our wishes. It was more a case of believing he wasn't available for England and it was a final decision."
Hodgson selected a 22-man squad for the game in Berne, Switzerland on Wednesday, including six uncapped players. Tottenham's Steven Caulker and Jake Livermore are the biggest surprises and, along with Ryan Bertrand, the only players never to have been in a senior squad before. Uncapped Jack Butland, Tom Cleverley and John Ruddy are also called up.
Hodgson said that Butland will be left behind next week to play for Birmingham City against Barnet in the Capital One Cup on Tuesday if Joe Hart and Ruddy are both fit when the team travel to Berne. Wayne Rooney, Steven Gerrard, John Terry and Ashley Cole are among those rested for the game.
On the delicate matter of the FA charges faced by both John Terry and Rio Ferdinand over racial abuse, Hodgson hinted that their England careers could be officially ended if the punishment they face is extensive. "As long as they don't suffer enormous bans that will keep them out of my thinking there is no reason for me to believe I can't consider them in the future. And obviously I will.
"John Terry has been through a charge in a court, now he has to go through the FA process. The same applies to Rio. As far as I am concerned, it is a disciplinary matter, which the FA will take care of."
Hodgson defended the FA over the timing of the game, arguing that it is one of 40 friendlies being played under Fifa jurisdiction next week.
England squad to face Italy
Friendly in Berne, next Wednesday
Age/Caps
Goalkeepers
J Butland (Birmingham) 19/0
J Hart (Man City) 25/21
J Ruddy (Norwich) 25/0
Defenders
L Baines (Everton) 27/8
R Bertrand (Chelsea) 23/0
G Cahill (Chelsea) 26/9
S Caulker (Tottenham) 20/0
P Jagielka (Everton) 29/12
K Walker (Tottenham) 22/2
Midfielders
M Carrick (Man United) 31/22
T Cleverley (Man United) 22/0
F Lampard (Chelsea) 34/90
A Johnson (Man City) 25/11
J Livermore (Tottenham) 22/0
J Milner (Man City) 30/26
A O-Ch'berlain (Arsenal) 18/5
J Rodwell (Everton) 21/2
A Young (Man United) 25/27
Strikers
A Carroll (Liverpool) 23/7
J Defoe (Tottenham) 29/48
D Sturridge (Chelsea) 22/2
T Walcott (Arsenal) 23/28
Join our new commenting forum
Join thought-provoking conversations, follow other Independent readers and see their replies