Chris Coleman throws Wales future into doubt after admitting he could walk away if judged on short-term success
Coleman wants the 'bigger picture' to be the focus for Wales as talks over a new contract continues
Andrew Gwilym
Friday 04 October 2013 11:51 Comments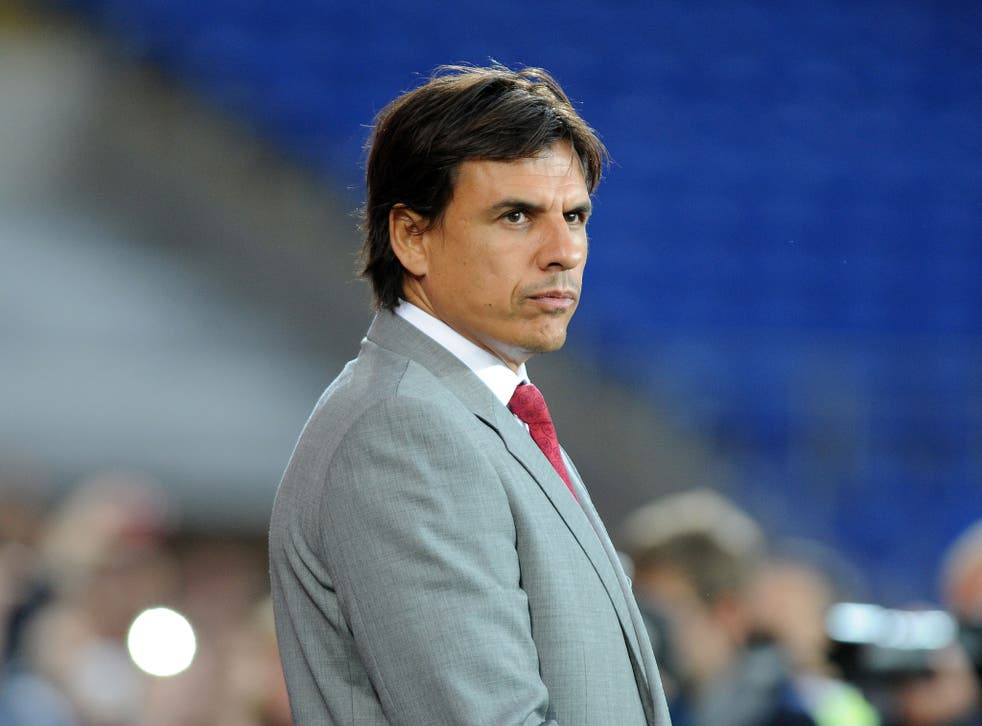 Chris Coleman has claimed he is prepared to walk away from a new Wales contract.
Manager Coleman had agreed terms on a further two-year stint in charge of the Dragons prior to last month's World Cup qualifiers against Macedonia and Serbia.
But back-to-back defeats, which saw Wales slump to the bottom of Group A, mean the deal remains unsigned.
Football Association of Wales chief executive Jonathan Ford recently suggested results in the upcoming qualifiers against the Macedonians and Belgium will be taken into consideration before anything is finalised.
Coleman, who claimed judging him on two games was an example of short-termism, suggested he was no longer certain he would sign the contract himself, having held a meeting with FAW chiefs on Monday.
"The contract is still there, it has not been signed, ideally it would have been," he said.
"I have seen comments that I will be judged going into these games. If that's the case, that's not right, surely it has got to be about the bigger picture, but it's not right to sign the contract now."
He added: "We spoke on Monday at length but more on how it had gone in the campaign, what my experiences were, stuff going forward for the next campaign. What we want to be doing. No targets were set.
"The perception now is not good. If we beat Macedonia everything will be rosy.
"People outside might say 'well Chris can sign the contract now', but maybe I won't.
"I don't know looking at it myself. I'm going 'Can I do what I really want to do? Can I achieve the success I am desperate for the country to achieve?"'
Coleman also used the announcement of his squad to stand firm on the issues surrounding James Collins' no-show for last month's fixtures.
Following Wales' 3-0 home defeat at the hands of Serbia, Coleman criticised Collins, claiming the centre-half had turned down the chance to join up with the squad.
Collins responded with a statement in which the 30-year-old insisted he would not have turned down the chance to represent his country, and he had not heard from the FAW about a potential call-up.
However, Coleman rubbished that suggestion, and clarified Collins had been invited to join the squad, having missed out on the initial selection, prior to the game in Macedonia, and not just for the Serbia fixture.
"He wasn't in the initial squad. We called him up because we had a pull-out. I sent a message through (FAW international secretary) Mark Evans and he refused to be considered for the squad," said Coleman.
"I called James up and he told me mentally he wasn't in the right frame of mind to come because he felt he should have been in the initial squad. I told him my disappointment on that.
"After that, we contacted him on the Sunday (between the Macedonia and Serbia games), we contacted him at 3pm.
"We got a call back at 8pm on the Monday night. James said his phone was broke or someone dropped the phone in water. That's what happened.
"Unless I was speaking to the wrong person when I called him up and unless someone contacted our secretary Mark and it wasn't James, then I can't say anything else."
PA
Register for free to continue reading
Registration is a free and easy way to support our truly independent journalism
By registering, you will also enjoy limited access to Premium articles, exclusive newsletters, commenting, and virtual events with our leading journalists
Already have an account? sign in
Join our new commenting forum
Join thought-provoking conversations, follow other Independent readers and see their replies