Costa Rica vs Greece: Will Greece spread wings or park bus?
Greeks beat Ivory Coast by playing wide and handsome, but early score against Costa Rica might tempt them to revert to type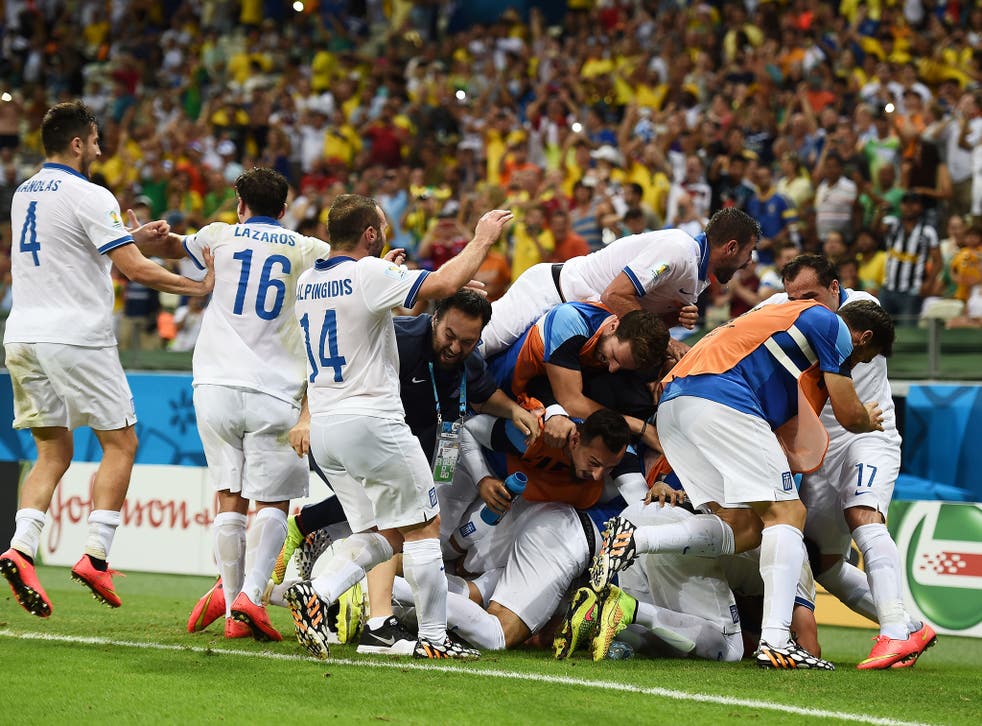 "Oh my God, yes!" ran the front page headline in Greece's SportDay newspaper on Wednesday, the morning after the country's success in reaching the last 16 of the World Cup for the first time. Elsewhere in the world, a more likely response might have been: "Oh my God, no!".
After all, Greece – 10 years on from an improbable Euro 2004 triumph built on solid defending and set-pieces – could easily be regarded as unwelcome gatecrashers at a World Cup party marked by exciting, attacking football. This tournament has seen more goals per game (2.83) in the group stage than any World Cup since 1958, yet Greece's goals-per-game average on this stage is 0.44.
Indeed, before overcoming Ivory Coast 2-1 after Georgios Samaras's injury-time penalty to snatch second place in Group C, they had found the net in only one of eight previous World Cup matches in their history.
One player from today's last-16 opponents, Costa Rica, Yeltsin Tejeda, unwittingly summed up this feeling of a team swimming against the tide when he admitted the Central American side had been thinking about facing Colombia or Ivory Coast but now had "to change the video cassette".
To understand the Greek approach you have to rewind 20 years to the country's first World Cup appearance, at USA 94. When Greek journalists came home complaining about "4-4-2", it had nothing to do with tactics but rather the beatings their team suffered: 4-0 against both Argentina and Bulgaria and 2-0 against Nigeria.
When Greece returned to international competition at Euro 2004 there was no way their German coach, Otto Rehhagel, would let them make the same mistake again; thus they sat back, defended resolutely and hit opponents on the counterattack or with a set-piece goal. Somehow it all came together as they claimed the European crown with three successive 1-0 wins – against France, Czech Republic and Portugal.
Given Greece's supply line of good defensive players and simultaneous struggle to produce a world-class striker, it is no surprise they retained the safety-first template. Even in qualifying for Brazil they managed just 12 goals in 10 group games yet conceded only four.
Greece 2 Ivory Coast 1 player ratings

Show all 22
Greece's Euro 2004 captain, Theo Zagorakis, believes that, instead of criticism for their style, Greece deserve praise for their unprecedented run of reaching five of the past six major tournaments. Now a newly elected MEP for the country's ruling New Democracy party, he told The Independent on Sunday: "It's easy to be critical and attach labels, but football isn't chess, where each team has the exact same type of players. That's the magic of football, and the difficulty is to combine players with different abilities, ages, personalities in order to produce a solid team and beat your opponent. Just look at the teams that are already out of the tournament. Rehhagel used to say that modern tactics are the tactics that win a game."
Zagorakis saw similarities with his 2004 side on Tuesday in "the team spirit and huge desire of the players" as they recovered from injuries to midfielder Panagiotis Kone and goalkeeper Orestis Karnezis, and the setback of a late Ivory Coast equaliser, to win at the death. It is a spirit summed up, he added, by his old colleague Georgios Karagounis, still driving the side on at 37 and "the absolute example of how a player gives his soul for the team".
Yet it must be added that Greece showed us something more than just spirit in Fortaleza. As another of their Euro 2004 winners, Stelios Giannokopoulos, points out, against Ivory Coast they revealed a refreshing attacking dimension in a game they had to win.
"Like with our team from 2004, the team today are a little bit underestimated," Stelios said. "All around the world people say we play ugly football, but we saw quality football. We hit the post three times. We proved them wrong." In the process a team who kicked off the World Cup with a 3-0 loss to Colombia took a historic step into the last 16.
The role of the head coach, Fernando Santos, in this success should not be underplayed. There is a feeling among Greek reporters in Brazil that he would have gone for a more attacking approach earlier but for the knee injury to Kostas Mitroglou, the scorer of three goals in the November play-off win over Romania.
With Mitroglou still struggling with the fitness problems that limited his impact at Fulham, Santos sought a different solution against Ivory Coast with a mobile front three of Dimitris Salpingidis and Lazaros Christodoulopoulos on the flanks and the Celtic striker Samaras in the middle. With the support of attack-minded full-backs Vasilis Torosidis and Jose Cholevas, Greece were a team transformed, a constant threat on the counter-attack.
According to Zagorakis, it was a tactical triumph for Santos, a lugubrious Portuguese who could pass for George Clooney's ugly big brother. "I worked with him as a player at AEK and some years later when I was president of PAOK," he says. "He is the boss, he made the choices, he read the opposition and deserves credit as well."
The question now is whether Greece will spread their wings once more or revert to type against Costa Rica in Recife today. The Central Americans have already spoken of the importance of scoring first, doubtless having noted the excellence of the Greece centre-backs Sokratis Papastathopoulos and Kostas Manolas when holding out with 10 men in the goalless draw with Japan.
One journalist close to the Greece camp suggested they may be right: "It depends on the circumstances. If we score first, maybe we will see the bus parked again."
Costa Rica v Greece is live on BBC1 and ITV1, kick-off 9pm
Join our new commenting forum
Join thought-provoking conversations, follow other Independent readers and see their replies