Cristiano Ronaldo: Why it's all gone Wrongaldo
The Portuguese captain is showing his frustration as the figurehead of a side that are no longer the golden boys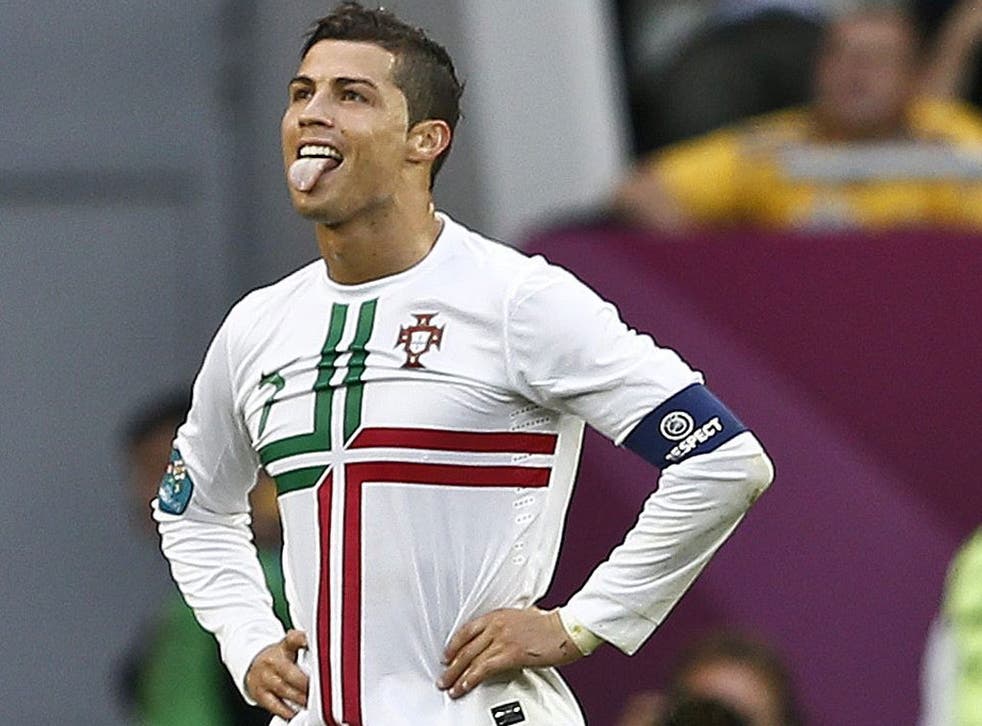 The most revealing image of Cristiano Ronaldo is not of him staring down from a billboard in underwear supplied by Armani but after the final whistle had gone on Wednesday night.
The Portuguese side he captained had just snatched victory against Denmark. Pepe and the rest of his team were circling around Silvestre Varela, whose winner had kept all their dreams alive.
Ronaldo sat on his haunches staring at the turf. He, rather than the Porto centre-forward, ought to have settled this contest long before the 87th minute. He knew what the headlines would be.
The country's leading newspaper, Diario de Noticias, led the way: "Ronaldo is the best player in the world except in Portugal," it announced, adding "he would have been crucified had Portugal lost." They won and he was still flayed.
The French have a saying: "The absent are always wrong." However, in sport, they are invariably right. Had Paul Bodin not smashed his penalty against the Romanian crossbar in Cardiff, Ryan Giggs would have gone to the 1994 World Cup, where he would have dazzled. Nobody suggests he might equally have been anonymous.
Had Northern Ireland overcome the Soviet Union at Windsor Park in 1969, George Best would have found himself at the same tournament as Pele and all the arguments about their greatness might have had some reference point. But, then again, Best might have spent his weeks in Mexico drunk.
It is the misfortune of Lionel Messi and Ronaldo that Argentina and Portugal have always made it to the greatest stage, where they have both shrunk in the limelight.
The difference is that Messi's tears in South Africa after Argentina were clinically demolished by the Germans was met by sympathy. Ronaldo's character, the on-the-pitch arrogance that disguises shyness off it, his desire to be considered an icon of style with a dress sense slightly above Ashley Cole's white suits, meant his failures were met by general gloating. Ronaldo's riposte was instant. "Do you know where Messi was last year? Being knocked out of the Copa America with Argentina and they were playing at home. I think that's worse, don't you? I am still here." It was as if John Lennon had responded to the terrible reviews for the Beatles' Let it Be by claiming that Let it Bleed by the Rolling Stones was even worse.
The cries of "Messi" that echoed around Lviv are not new. They were first aimed at Ronaldo at Sarajevo Airport as Portugal travelled back from their Euro 2012 play-off against Bosnia. The game had finished goalless, the pitch was dreadful and Ronaldo had stumbled. Portugal scored six in the return in Lisbon, where Ronaldo found the net twice.
No sooner had the Portuguese squad stepped off the plane, bound for their base camp near Poznan, the first question put to Ronaldo was whether he thought himself a better footballer than Messi. He deliberated a little before agreeing that, yes, he probably was.
Two days later, Messi scored a hat-trick for Argentina against Brazil but it was in a friendly and counted for as little as the three centuries Greg Chappell reeled off against Holding, Roberts, Croft and Garner in 1979 – which since they were for Packer's World Series Cricket never made the record books.
Ronaldo had come to Poland having scored 60 goals for Real Madrid in a season that had seen Jose Mourinho's side break Barcelona's stranglehold on La Liga. He was captain, not because he is natural captaincy material – he is too wrapped up in his own game for that – but because he is Portugal's icon.
They will probably have to overcome the stricken Netherlands in Kharkiv tonight to ensure that Ronaldo's remark that his career would remain unfulfilled unless he lifted an international trophy does not become an epitaph. "I tell you this," he said after the Denmark game. "If I do not score in the tournament and we win the European Championship, I would take it right now."
It is a feature of Ronaldo's tournaments that each has been worse than the last. In 2004 he reached the European Championship final. Two years later in Munich, there was a World Cup semi-final in which Ronaldo was heroic in defeat against the French. Euro 2008 saw Portugal leave at the quarter-final stage and two years later, in Cape Town, they were eliminated in the round of 16 by Spain. The 2010 World Cup saw him score once, in the evisceration of North Korean.
Ronaldo does not score big goals in big games. His second for Portugal was against the Netherlands but it was at Euro 2004, where the dominant figure was Luis Figo. It is six years since his last significant goal against a European big beast – Russia in the first stadium he called home, the Jose Alvalade in Lisbon.
Those close to Ronaldo say that the flashes of temper that have come from Portugal's captain stem from the frustration of being the best and most recognisable player in a side that no longer calls itself a 'golden generation'. Had they travelled this far, they are emotions Giggs or Best might have recognised.
Top names who have fallen from grace on big stage
John Barnes
Described by Sir Bobby Robson as "the greatest enigma of my career". There was the fabulous goal against Brazil in the Maracana, the rap for the World in Motion song in 1990 but precious little else.
Eric Cantona
He famously called his first manager, Henri Michel "a bag of shit", and played badly enough to cost Michel Platini his job in Euro 92. Cantona then abjectly failed to get France to the World Cup in 1994.
Kaka
Brazil have won two tournaments in the past decade, the 2002 World Cup and the 2007 Copa America. The Brazilian played 25 minutes of one and gave the second a miss. Was present for all the failures, though.
Register for free to continue reading
Registration is a free and easy way to support our truly independent journalism
By registering, you will also enjoy limited access to Premium articles, exclusive newsletters, commenting, and virtual events with our leading journalists
Already have an account? sign in
Register for free to continue reading
Registration is a free and easy way to support our truly independent journalism
By registering, you will also enjoy limited access to Premium articles, exclusive newsletters, commenting, and virtual events with our leading journalists
Already have an account? sign in
Join our new commenting forum
Join thought-provoking conversations, follow other Independent readers and see their replies