Croatia vs Portugal Euro 2016 match report: Ricardo Quaresma's late strike settles dreadful encounter
Croatia 0 Portugal 1 (after extra time): Besiktas winger scores with four minutes of extra-time remaining to secure quarter-final against Poland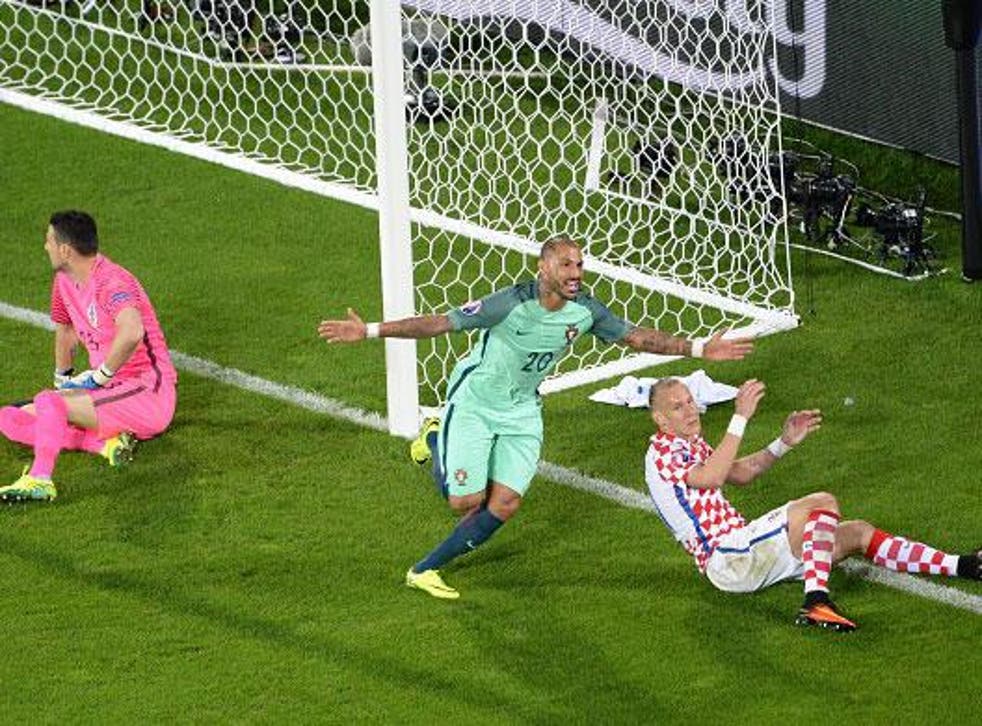 Almost two whole hours of barren desolate football had been played here in Lens before each team finally made their first chance on goal. Up to the 116th minute this had been a game of historical eventlesness, with not one shot on target for either side. But then Croatia missed their chance, Portugal took theirs and they were team heading for a quarter-final with Poland in Marseilles.
This game looked more set for penalties than any other game ever played with five minutes left. No saves, no open-play chances, no invention and no risk. No European Championship game had ever gone 90 minutes without a shot on target before. But knock-out football matches are strange things and in 27 seconds at the very end this one found room for hours of drama and emotion.
Luka Modric crossed from the right to Ivan Perisic, at the far post. He jumped with Pepe and got just enough of his head on the ball, but Rui Patricio tipped it onto the post and away.
Croatia had missed their moment but they did not have time to regret it because Renato Sanches was driving forward with the ball. He charged down the middle and passed to Nani on the left. There were not enough Croatia defenders back and Nani curled a cross to Cristiano Ronaldo, anonymous all game, lurking in space where left-back Ivan Strinic was meant to be. Ronaldo's shot hit Danijel Subasic but it bounced straight to Ricardo Quaresma who headed in from one yard out.
Less than half a minute had gone since Perisic's chance. The Croatian players looked beaten and Vedran Corluka had to drag some of them off the floor. They managed a desperate late rally and Domagoj Vida nearly looped one in at the end of added time from a corner kick. That was the last action of the match.
Croatia looked broken at the end and understandably so. Luka Modric, who said that playing a Champions League final is "easy" compared to the pressure of representing his country, was in floods of tears. Croatia were favourites before this game to reach the final, the best team of the group stage and certainly the best team in this half of the draw. This was their chance to set up a quarter-final for which they would certainly be favourites. And they blew it.
The responsibility would always be on Croatia to make the game, to take control and open Portugal up. But they could not do it, and Perisic's late header was their first real chance from open play. Before that there was a Vida header from a Darijo Srna free-kick and quite literally nothing else of note.
Portugal, too, had one chance in the first 115 minutes. That was also a header from a free-kick, as Pepe put one over the bar in the first half. There was no other threat on goal in the game.
The problem was that each team was good enough to cancel the other out, but not good enough to overcome them. The threat of the counter weighed heavier than the incentive to attack. For every action there was an equal and opposite reaction, and the result, until the end, was footballing neutrality, or footballing zero.
When Croatia play at their best Srna is almost a right winger, but here he looked too worried by Ronaldo to play his natural game. Modric started well but was rattled by the physicality of Sanches. Ivan Rakitic could barely get in the game. Perisic is a dangerous left winger but here he spent most of his evening drifting inside searching for the ball.
Clearly the Croatian game plan was not working but coach Ante Cacic was surprisngly reluctant to make changes from the bench. This was a game crying out for a different type of striker from Mario Mandzukic, and yet Cacic waited until there were just two minutes left of the 90 before bringing him off. And then he replaced him with Nikola Kalinic. Croatia improved with Marko Pjaca at the end of extra time but if they had played for the first 110 minutes with the intensity they showed in the final 10 it would have been a much easier evening.
But Portugal were in no mood to give Croatia space and were happy to spend the whole night shutting Croatia down and waiting for the break. In that sense this was a perfectly judged counter-attacking performance. They conceded one chance, saved it, made one chance, and scored it. For a side often seen as a one-man team they were impressively well-organised and physically resilient. Raphael Guerreiro was impeccable at left-back and Sanches injected the only dynamism that there was when he came on minutes into the second half. He gave the ball and fouls away but he also won it back and drove forward when he had it. Without him Portugal would not have scored their goal.
Portugal celebrated wildly at the end, having won their first match of the competition. They qualified from Group F with three draws and that was as a third-placed side. But they have a solid structure, a hospitable draw and one of the best players of all time. They could yet show up at the crucial point of this tournament, just as they did at the crucial point of this match.
Man of the match Sanches
Match rating 2/10.
Join our new commenting forum
Join thought-provoking conversations, follow other Independent readers and see their replies