Dele Alli handed one-match England ban by Fifa after middle-finger gesture
Fifa ruled that Dele's behaviour was 'offensive and unsporting'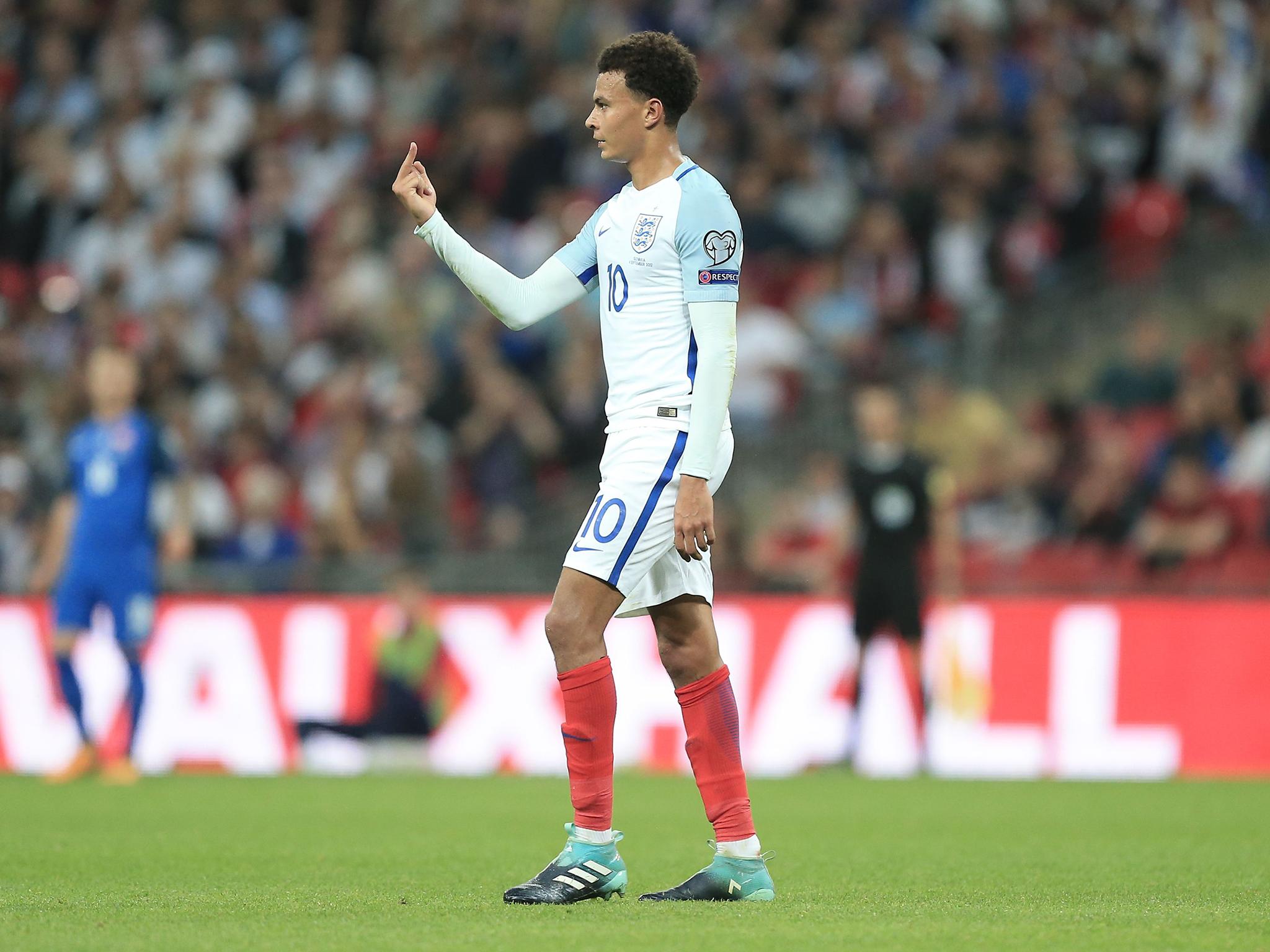 Dele Alli has been banned for one international match by Fifa for raising his middle finger during England's 2-1 victory over Slovakia earlier this month.
Alli has also been fined £3,800 following the incident, although the governing body's disciplinary committee determined that the midfielder had not directed the gesture at the officiating referee, as initially suggested.
Nonetheless, Fifa ruled that Dele's behaviour was "offensive and unsporting" and have subsequently banned him for one match.
A Fifa spokesman said: "Following the incident that occurred during the match between England and Slovakia on 4 September 2017 Dele Alli has been sanctioned with a suspension for one official match, and a fine of CHF 5,000 for making an offensive and unsporting gesture.
"Although the Disciplinary Committee was not convinced that the player directed the gesture at the referee, and regardless of whether it was allegedly directed at a team-mate, it did consider such gesture to be offensive and unsporting and therefore it amounted to a violation of art. 57 of the Fifa Disciplinary Code."
The decision means Alli will miss England's game against Slovenia next week but will be free to play during the start of the side's World Cup campaign next summer, should they qualify.
Shortly after a collision with Martin Skrtel at Wembley, Alli was captured on live TV making the one-finger salute in the direction of Kyle Walker and referee Clerment Turpin.
After the game the 21-year-old insisted that he was engaging in a private joke with his former club teammate - a line of argument put forward by both England manager Gareth Southgate and Tottenham boss Mauricio Pochettino.
"Kyle and Dele were mucking about, and Dele's made a gesture towards Kyle," Southgate told reporters immediately after the match.
"I don't know what the angle of the pitch is. The pair of them have a strange way of communicating, but that's what they've said."
But Fifa opted to open disciplinary proceedings against the England midfielder before reaching today's verdict.
The one-match ban will come as a relief for Alli and Southgate following initial fears that the player was set for a lengthy ban that would have seen him miss the early stages of the 2018 World Cup.
Join our commenting forum
Join thought-provoking conversations, follow other Independent readers and see their replies