Dunne repels Russians to put play-offs in sight
Russia 0 Republic of Ireland 0
Jack Pitt-Brooke
Wednesday 07 September 2011 00:00 Comments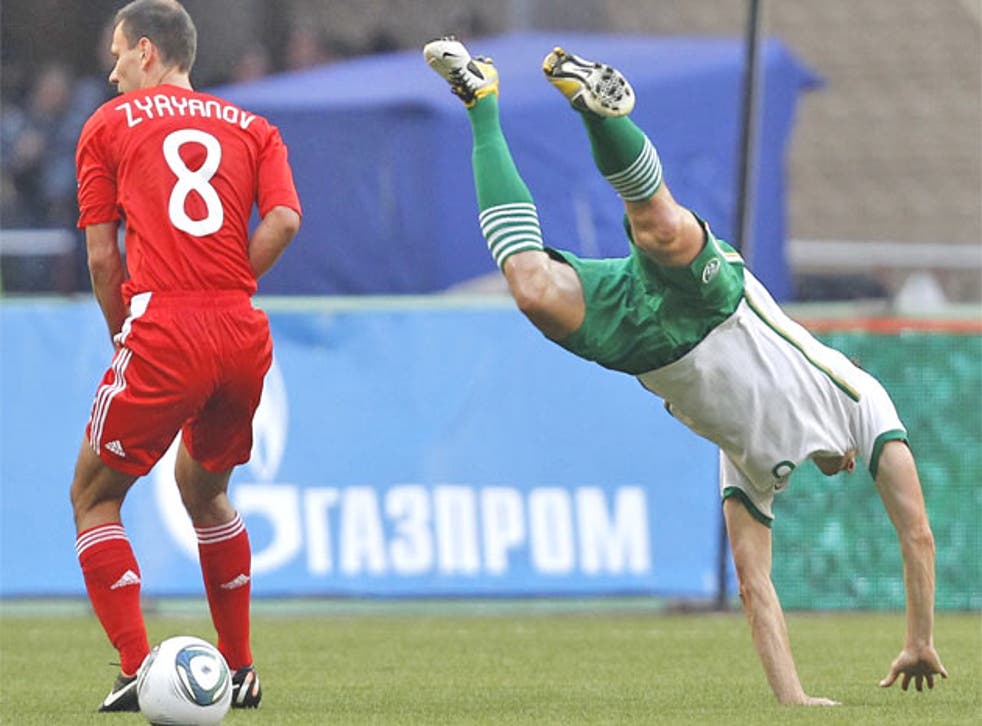 Heroic, desperate defence from the Republic of Ireland secured an implausible 0-0 draw in Moscow last night to ensure they kept alive their hopes of reaching Euro 2012. They barely completed a pass in the Luzhniki Stadium, but Shay Given and Richard Dunne, intensely and utterly committed to their clean sheet, kept the dominant Russians out. Ireland, with two winnable games remaining, have second place within their grasp.
Giovanni Trapattoni, the Republic manager, said of Dunne's performance: "He was fantastic. I thank God we had Richard in this game. He sacrificed himself because he went back on to the pitch with four stitches. He understood the need to stay on. Shay Given also saved two or three goals. They were fantastic saves. With this result, we can look to the future because we have cleared a big obstacle," he added. "I told the players St Patrick was looking down on us tonight."
Russia were technically superior and tactically ambitious throughout, while Trapattoni arranged his Ireland players in a defensive 4-4-2, with the emphasis on preserving what the Italian described afterwards as a "golden point" in Group B, particularly in view of Armenia's 4-0 away win against the Republic's other main rivals Slovakia.
Twice in the first period last-ditch Irish defending was required to keep out Igor Semshov. After 20 minutes, Andrei Arshavin, deep and central, played Aleksandr Kerzhakov through inside left-back Stephen Ward. Kerhakov pulled the ball back and the arriving Semshov volleyed the ball, only to be denied by the full-length dive of Given.
From the opposite flank, 13 minutes later, Yuri Zhirkov dribbled past Dunne to the byline, before rolling the ball back to Semshov, whose shot was somehow blocked on the line by Dunne's scramble. Dunne has made a career out of such moments of improbable defiance, often appearing like a bodyguard diving to protect his target, but even for him this was impressive. Two minutes into the second half he threw himself in front of Roman Shirokov's shot; a moment of similar bravery.
As the second half settled, the Russian supremacy continued. Right-back Aleksandr Anyukov was the most urgent threat without ever creating the chances he could have done. Still, it was always Dunne who stood in their way. Ten minutes into the second half, Dunne surged up the field with the ball, before losing it. Arshavin broke but Dunne caught him up and put him down with a rousing slide-tackle.
Soon after, Zhirkov broke down the left and Dunne's tackle cost the Aston Villa defender a blow on the head, a bloodied shirt and a yellow card. Then Konstantin Zyryanov headed the ball into Given's knees from two yards out. It was the very best of Russia's 28 goalscoring attempts.
Russia Malafeev, Aniukov, Vasili Berezutsky, Ignashevich, Alexei Berezutsky, Zhirkov (Bilyaletdinov, 76), Semshov, Shirokov, Zyryanov, Kerzhakov (Pavlyuchenko, 54), Arshavin. Substitutes not used Shunin, Pogrebniak, Torbinsky, Glushakov, Shishkin.
Republic of Ireland Given, Kelly, Dunne, O'Dea, Ward, McGeady, Whelan, Andrews, Duff (Hunt, 67), Doyle (Cox, 59), Keane. Substitutes not used Westwood, Foley, Delaney, Lawrence, McCarthy.
Referee F Brych (Germany).
Register for free to continue reading
Registration is a free and easy way to support our truly independent journalism
By registering, you will also enjoy limited access to Premium articles, exclusive newsletters, commenting, and virtual events with our leading journalists
Already have an account? sign in
Join our new commenting forum
Join thought-provoking conversations, follow other Independent readers and see their replies