Ecuador vs France: Karim Benzema hails Ecuador goalkeeper Alexander Dominguez and reveals the way to beat France is to 'disrupt them physically'
French were held to a goalless draw at the Maracana although the result was enough to take them through as Group E winners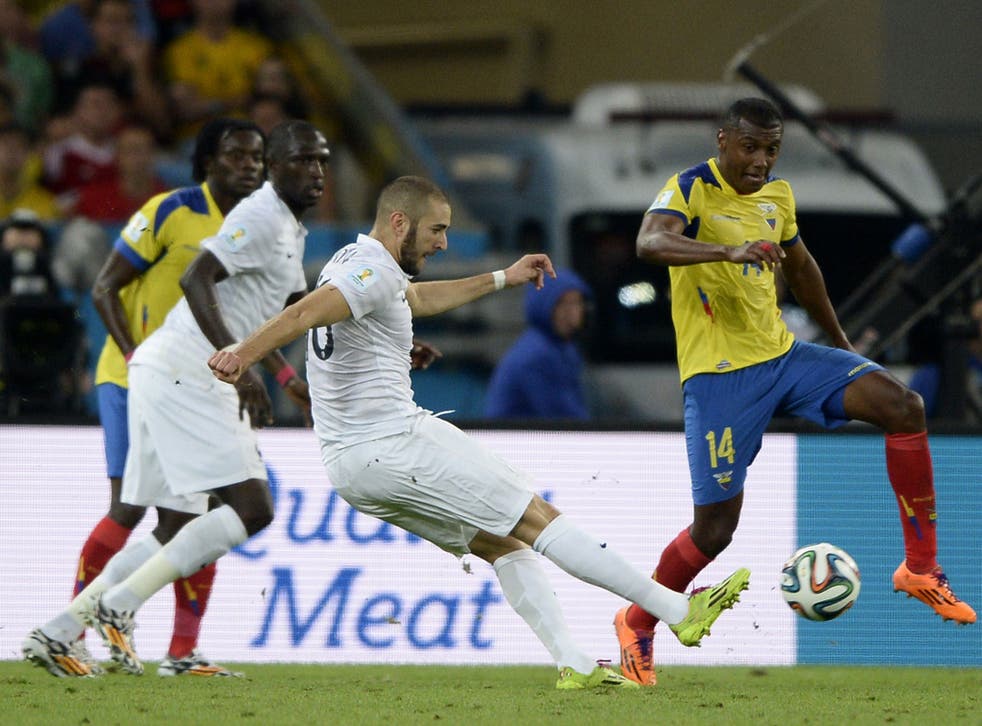 Patrice Evra came into the Maracana mixed zone with a smile on his face but didn't want to speak. Whether that was down to Luis Suarez so sensationally opening his own mouth against Italy wasn't clear. Evra obviously has a controversial history with the Uruguayan but another player whose future may be affected by the Liverpool striker who was much more willing to talk.
Karim Benzema, though, was also smiling.
"It's mythical," he gushed after France's 0-0 draw with Ecuador in the Maracana. "Every footballer wants to play in this stadium."
Every footballer usually wants to play for Real Madrid too. One school of thought around the Bernabeu, however, is that they want Suarez to upgrade their forward line - and that Benzema will be the player to eventually lose out.
Some have argued that it has been a motivational factor in the French forward's supreme form throughout this World Cup, and that he wants to make Real think twice as well as really earn himself some significant suitors. The long-standing link with Arsenal still hasn't gone away.
Ecuador 0 France 0 player ratings

Show all 22
Through his goals and general play at this World Cup, Benzema has converted himself from that type of second-tier striker to someone so much more marketable. It is as if he is finally fulfilling the potential so many talked about before he first joined Madrid in 2009.
Unlike the last five years at the Bernabeu, he is no longer just someone else's support act. For France, he is that main man.
It is probably no coincidence, then, that Didier Deschamps encountered their first struggles of the competition on the night when Benzema wasn't at his strident best. Ecuador made life tough for the French, and were unlucky not to win.
"It was a difficult match," Benzema said. "In the first half especially it was hard because they defended well as a team. After the red card [for Antonio Valencia], there was more space."
Benzema still almost maximised that, especially with one searing second-half drive that stung the hands of Ecuador number-one Alexander Dominguez, who ended up being named man of the match.
"Why didn't we score?" Benzema wondered. "Their goalkeeper! We had chances but he dealt with them all. We had a lot of success in the game before [against Switzerland] because practically every shot went in. Today, we came up against a team that disrupted us, especially with their physicality."
Despite the restrictions, Benzema did manage to dazzle at some points, particularly through a fine one-two with Blaise Matuidi. The striker wasn't completely kept in check, and still looks ready to charge into the next round.
"We wanted to win, but the important thing is that we've qualified."
It may have even more important repercussions for Benzema's career.
Register for free to continue reading
Registration is a free and easy way to support our truly independent journalism
By registering, you will also enjoy limited access to Premium articles, exclusive newsletters, commenting, and virtual events with our leading journalists
Already have an account? sign in
Register for free to continue reading
Registration is a free and easy way to support our truly independent journalism
By registering, you will also enjoy limited access to Premium articles, exclusive newsletters, commenting, and virtual events with our leading journalists
Already have an account? sign in
Join our new commenting forum
Join thought-provoking conversations, follow other Independent readers and see their replies