Gareth Southgate's words, rather than England's performance, give us an idea of how his reign will look
The Scotland result makes it clear there is still a lot of work to be done before the Three Lions can even contemplate challenging for trophies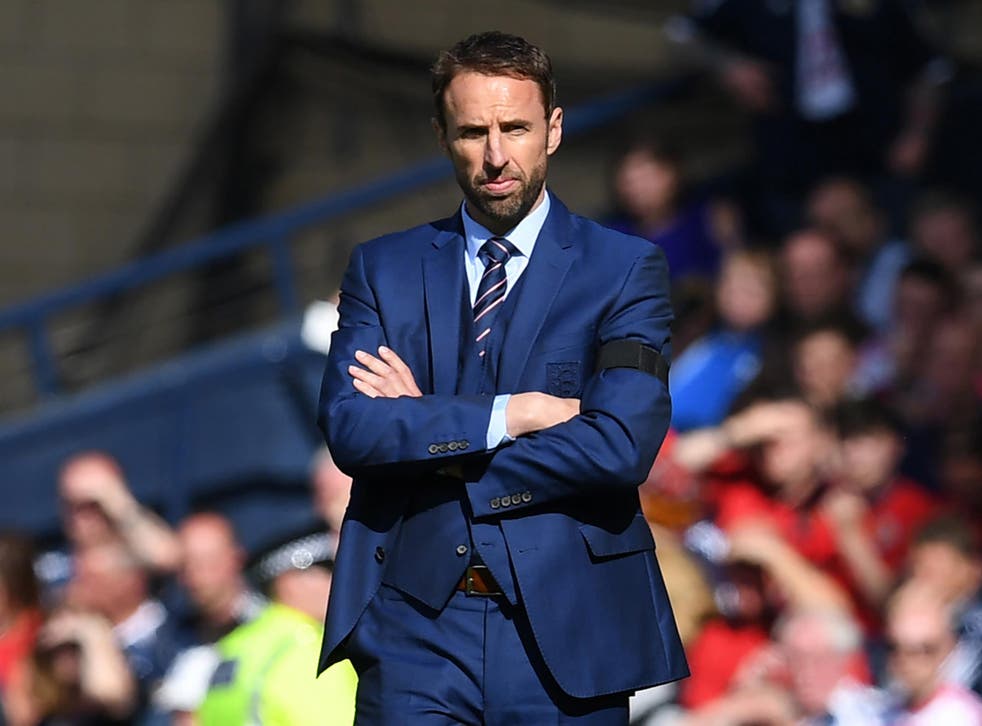 A few games into his reign, on the back of a spectacularly dreary-turned-wild encounter with Scotland, one wonders whether we know any better what Gareth Southgate's England will look like.
The early deductions stem more from Southgate's words than performances thus far, and those words could, of course, prove to be ultimately empty.
Indeed, after the draw with Scotland the 46-year-old set out what almost amounted to a mission statement:
Scotland vs England player ratings

Show all 22
"The challenge for us is how we become the best team in the world.
"We have to improve in all areas to do that. We can only take steps at a time and work as a team to improve every area, whether that's technical, tactical, psychological… and we're identifying those areas and we'll keep working on them.
"We have short-term objectives in individual games but in the background a lot of the work we're doing now is to start preparing us for finals. You can't take your eyes off the immediate goals of qualifying but equally you can't wait until next March when we've qualified to start preparing."
But there is obviously a plan in Southgate's head, and one that he's trying to work gently into his side. It appears to be a fairly holistic approach - to borrow from Manchester City's post-Mancini parlance - and one that is targeting trophies at all levels.
It is hard to disagree with Southgate that there remains a significant amount of work needed, especially after a display against Scotland that lacked any inspiration until its dying, most desperate moments. Joe Hart's place will come under immediate scrutiny but there are also holes in midfield and a need for the team's most talented individuals further forward to translate their club form to the international stage.
But that is true for every England team of the last 10, 20 or 30 years almost. England's failures have been blamed on any number of things and, most recently, psychological or mental deficiencies.
"The questions around us principally come down to character," he offered, "the essential ability to withstand events that go against you."
That is a line that Southgate is clearly investigating and looking to remedy, coming up repeatedly in his analyses.
Strength in adversity was undoubtedly there in the fight-back against Scotland but much of the blame has fallen on Joe Hart, who was arguably at fault for both of the hosts late goals. Rather than piling on, Southgate defended Hart by blaming his team for giving away the set pieces in dangerous areas.
"At 1-0 the challenge is to see games like that out or finish them with a second goal and that highlighted an area we have to get better at.
Once that happened and the chain of events happens, you have to react.
"Part of what we have to do is to make good decisions when teams come at us and throw the ball forward and put us under pressure. I am not standing here saying we have not got a hell of a lot of work to go but I have to focus on the actions of the team coming back from adversity.
"In more general terms it is decision making under pressure, calmness, focus and that applies across the board," he said.
"We have to avoid conceding free-kicks to make sure they do not have the opportunity.
"When Germany won the World Cup they hardly conceded any fouls in their third of the pitch and that is part of seeing the game through."
While absolving Hart of much of the blame, there was a tacit acknowledgement that the Manchester City goalkeeper, who has become increasingly error-prone over the last couple of seasons, has recognised problems with his approach to matches.
"He has shown much more composure before matches and that has been important.
Scotland 2-2 England - Managers react
"He has been really honest about that being an area he felt he needed to develop and there is no question he has developed it. His preparation is different now.
"For me the goals were two moments of quality, but we will look at them… his contribution has been high and without his save against Slovenia we would be worse off in the group."
The issue, even without Hart's old pumped-up, over-amped pre-match ritual, is that if anything there are more mistakes than before. Hart will be rested, rather than dropped, against France but must earn his place back. Jack Butland, a keeper known to Southgate from his time with the Under-21s, could lay a serious claim to the number 1 jersey with an impressive display in Paris.
Perhaps inevitably, given his promotion from within, Southgate is clearly thinking within the youth ranks of England football when it comes to finding success.
When asked questions about his team's performance against Scotland, these thoughts on the Under-21s and the Under-17s leaked into his answers as if the whole system, top-to-bottom, is inseparable in his head, a linear process of progress and growth. When there was talk of penalty shoot-outs after friendlies to prevent England players freezing on the biggest stage of all, he points to those youth teams again - where this is already happening.
His job now, on the back of the Under-20s' World Cup win on Sunday and victory in the Toulon Tournament a day earlier - on penalties, no less - is to ensure that pathway is cleared.
That was already on his mind when looking for answers in central midfield. Despite praising Jake Livermore's fairly unremarkable display, Southgate indicated a desire to promote players and Nathaniel Chalobah is one that the former Middlesbrough manager is known to hold in high esteem. The key for him is that players are technically sound, tactically obedient and possess "big-game temperament."
Southgate will be tactically flexible and even tried out a formation last week which featured Marcus Rashford alongside Harry Kane in a front two. In the end it just didn't work on the training field and was scrapped in favour of a 4-2-3-1.
"We had a serious thought about changing shape today but didn't like the way it looked in the training session and decided that to get more attacking players on the pitch, that was the better way to go.
"We are always looking at who's in form, who's playing well, how do we get the best out what we have got, always open to trying different things."
And perhaps that is the best way to describe what Southgate's England will look like in the immediate future, "trying different things."
More than with any recent predecessor, Southgate is invested in promoting young talent to England's senior team. His coaching staff will work on the players' psychology and readiness for the top level, while tournaments are being planned years out. Tactics are to be fluid and whatever suits his personnel best. No player, he says, is untouchable.
But for now these are just principles. They must be put into practice and for all the calm pronouncements, Southgate is no different to every other England manager in how he will be judged.
Adding to England's paltry three knockout wins in the last 25 years will be the only way he can claim genuine progress.
Join our new commenting forum
Join thought-provoking conversations, follow other Independent readers and see their replies