England manager Roy Hodgson full of praise for Mauricio Pochettino's youth policy at Tottenham Hotspur
Spurs players Eric Dier, Dele Alli and Harry Kane were all in the starting XI for the 2-0 victory over France at Wembley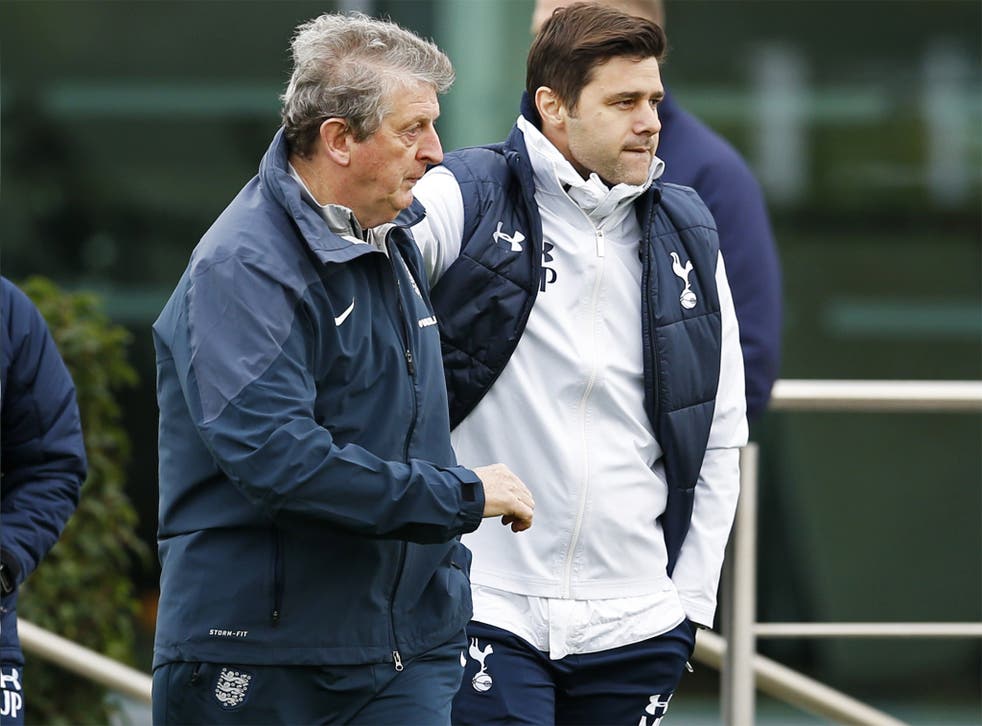 Roy Hodgson, the England manager, invited Tottenham Hotspur coach Mauricio Pochettino to Wembley on Tuesday to see the three Spurs youngsters starting for his team against France.
Eric Dier, Dele Alli and Harry Kane were all in Hodgson's starting XI for the 2-0 victory, a vindication of Pochettino's impressive record, at Southampton and at Tottenham, of giving young English players a chance. Nathaniel Clyne, who played for the Argentine at St Mary's, also started, while Spurs' Ryan Mason and Adam Lallana, who also made great progress under Pochettino with the Saints, were on the bench.
Hodgson spoke very warmly about Pochettino afterwards and his enthusiasm for giving English players a chance. "Tottenham is a team that is interesting for me to watch, because when I go there I get to see sometimes as many as five Englishmen," Hodgson said. "We are delighted that Tottenham have gone down this route, and Pochettino in particular, of giving players he thinks have quality a chance.
"He has shown his faith in them and it is perfect for us because it means if we like them as well we can show our faith in them and that is exactly how it has been."
While Hodgson agreed that Alli "set the benchmark" with his goalscoring display on Tuesday in terms of young players, he said a new generation of youngsters had been emerging for a while.
"We have been showing there are young English players out there for the last two and a half years if you give them a chance," he said. "[Raheem] Sterling, [Ross] Barkley, Luke Shaw, Jack Wilshere, Alex Oxlade-Chamberlain. It is not as if Eric Dier has come on the scene, and Dele Alli has come on the scene, and everything has changed."
"Harry Kane was always in our plans even before he went with the Under-21s. I have been saying all along that these players are there, and I think they will blossom into very good players when they get a bit more experience. The beauty of Tottenham is that these players are getting experience because they are playing week after week."
While Alli and Dier played in part because of injuries to others, Hodgson praised them for their performances. "I would never be able to pick a team on loyalty alone," he said. "I would have to pick the best players at the time, someone like Dele Alli. I would also mention Eric Dier, who I thought was really good."
England vs France player ratings

Show all 21
Alli thanked Pochettino after making his full England debut on Tuesday less than six months after joining up with Spurs from MK Dons. "He is a great manager, he puts a lot of trust in young English players," Alli said. "It is a great thing for English football, it is a great platform for the club and it shows what we are about."
"Pochettino is a great guy, really passionate, and he cares about the players. If you've got any problems he's always there for you. I can already tell that from the short time I've been there. He puts a lot of trust into youngsters, which is obviously really good for me."
Dier was similarly enthusiastic about the coach who has moved him into midfield this season, leading to his England debut on Tuesday.
"Our club manager is giving young English players a chance . Maybe he just doesn't have the fear that other managers have in giving people a chance. He has no fear, then it is up to the player to take the chance," Dier said.
Register for free to continue reading
Registration is a free and easy way to support our truly independent journalism
By registering, you will also enjoy limited access to Premium articles, exclusive newsletters, commenting, and virtual events with our leading journalists
Already have an account? sign in
Register for free to continue reading
Registration is a free and easy way to support our truly independent journalism
By registering, you will also enjoy limited access to Premium articles, exclusive newsletters, commenting, and virtual events with our leading journalists
Already have an account? sign in
Join our new commenting forum
Join thought-provoking conversations, follow other Independent readers and see their replies