England OUT of the World Cup 2014 comment: FA stands by its man – it's the only tactic it hasn't tried yet
Roy Hodgson to stay in his role because, despite abject failure, World Cup expectations were at an all-time low
Sam Wallace
Friday 20 June 2014 22:25 Comments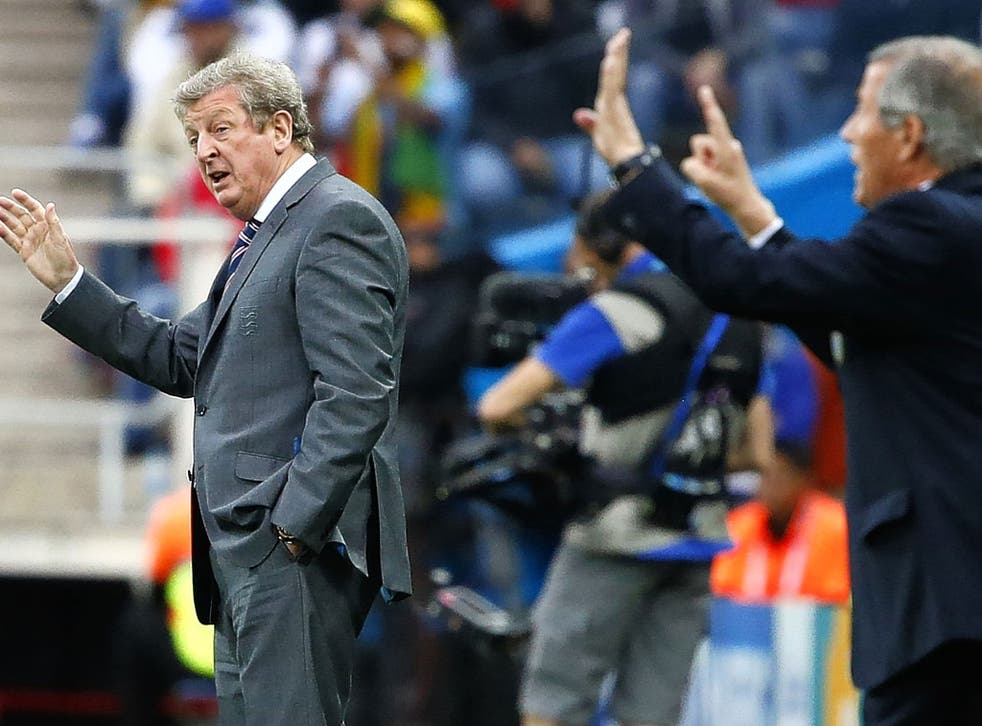 There are many football nations where two defeats at a World Cup finals and elimination before the third game would see the manager sacked before the wheels on the flight home bumped down on the tarmac. It is considered a mandatory tariff for failure and the only discussion is: who next?
When Steve McClaren was dismissed in November 2007, after the qualifying campaign for Euro 2008 ended in defeat to Croatia on a Wednesday night at Wembley, a Football Association board meeting was called for the next morning. Not that they needed a show of hands. The decision was a foregone conclusion and that, almost seven years ago, was the last time the FA was obliged to throw a manager overboard.
Having sacked and appointed over the last 15 years, sometimes at an extraordinary cost, the last new option left open to the FA is to stick with their manager. It is that course which they seemed determined to take with Roy Hodgson. The FA went into the 2014 World Cup with low expectations although it is one thing having those expectations, and it is another seeing them fulfilled in spectacular fashion.
As Hodgson spoke on Thursday night he had the classic demeanour of the diminished England manager: the colour drained from his skin and the grey FA suit evoked an Englishness that owed more to John Major than James Bond. A doctor chancing upon the scene might have diagnosed post-traumatic stress disorder. Technically speaking, his team were still in the tournament at that point.
Uruguay 2 England 1 player ratings

Show all 22
Behind him, his players walked out in what looked like a mood of sheer embarrassment. Come Sunday, after their final training session in Urca before they leave for Belo Horizonte, the FA will have no further use for the £80,000 Vauxhall-sponsored media centre or the training pitch. The Brazilian soldiers at the military base will bear witness to a shorter occupation than even Paraguay managed when it encroached on Brazil's borders 150 years ago.
It is a personal view that Hodgson should stay. There is no alternative, given that the alternative should be English. But he is vulnerable. The current FA chairman Greg Dyke gave Hodgson the FA's backing but Dyke was not in position when Hodgson was appointed and does not have his credibility bound up with the England manager. That was a decision made by his predecessor David Bernstein and the rest of Club England, which positions itself as a hermetically sealed enclave inside the FA, that deals with the national team.
Hodgson's future depends on Dyke over the next six months and he is a man who remains largely a mystery to English football. His greatest achievement thus far was, with hindsight, calling Group D exactly right at the draw in December. Cut-throat was on the money. Other than that there has been his B-team league proposal (with the whiff of madness about it), a half-hearted attempt on Sepp Blatter's career and a lot of time spent away from the FA on his other business interests.
By the end of the year England will have played four Euro 2016 qualifying games, and we will have some idea of how the future looks. The first is the most difficult, away to Switzerland. San Marino, Estonia and Slovenia come before the turn of the year. In their wisdom, Uefa have expanded the tournament to 24 teams, to the extent that it is more difficult not to qualify.
Even so, it is hard to implement change and take risks as an England manager when one feels that already job security is an issue. For instance, what team to pick against Costa Rica on Tuesday? Yet that is what Hodgson will be required to do post-World Cup as he builds a new team for Euro 2016. Every slip by his team will just bring back memories of Brazil.
In his defence, Hodgson has introduced a new group of players to international football and his squad and subsequent team selections have not encountered much opposition. There are some positive aspects to their performances, against Italy more than Uruguay, but it is hard to think of many when the team is out six days after they began.
At least some decisions will be taken out of his hands. It seems inevitable that Steven Gerrard and Frank Lampard will retire from the international game. The younger generation of Alex Oxlade-Chamberlain, Ross Barkley, Raheem Sterling and Luke Shaw will have to be involved.
Most difficult for him, however, will be shaking off the stigma of England's failings at this World Cup. It will not take many poor results for the mood to turn among the fans at Wembley. It was the same for Fabio Capello post-South Africa four years ago.
Since the muddled succession to Sven Goran-Eriksson, undone over the 'fake Sheikh' scandal, the FA has stumbled from one crisis to another. McClaren was only appointed at the 11 hour because Luiz Felipe Scolari turned the FA down. After the Euro 2008 debacle, Capello qualified for two tournaments, the last World Cup and Euro 2012, but made a hash of the first and walked out before the second.
Since then Hodgson has been given a free-pass for two tournaments. The first, in 2012, because he took over the team just a month in advance. The second, because expectations had dropped so low that even the first group stage exit since 1958 has not been enough to unseat a manager. Hodgson has been helped by the policy, post-Capello, that the England manager should be English. It is the right way to go, although its limitations are obvious.
Having sacked managers in the past the only thing the FA has not tried yet is sticking with the same man. That and giving the job to a recently-retired high-profile player with no managerial experience. The obvious candidate in that regard is Hodgson's coach, Gary Neville whose capacity to break-down the complexities of elite football for a television audience have conferred on him great credibility. More so than he could have expected had he decided to plunge into management with a lower league club.
My tip for Hodgson's successor – barring the emergence of an exceptional English coach in the interim – is Neville. Much depends on how quickly, if at all, Hodgson can shake off the memories of Brazil 2014. He is in uncharted territory in that regard, because no recent England manager has survived that kind of humbling.
Register for free to continue reading
Registration is a free and easy way to support our truly independent journalism
By registering, you will also enjoy limited access to Premium articles, exclusive newsletters, commenting, and virtual events with our leading journalists
Already have an account? sign in
Join our new commenting forum
Join thought-provoking conversations, follow other Independent readers and see their replies