England's U20 World Cup triumph must form the bedrock of future international tournament success
The next step remains so up in the air for many of the youngsters who took England to World Cup glory. But the bottom line is that these fine young players just need to play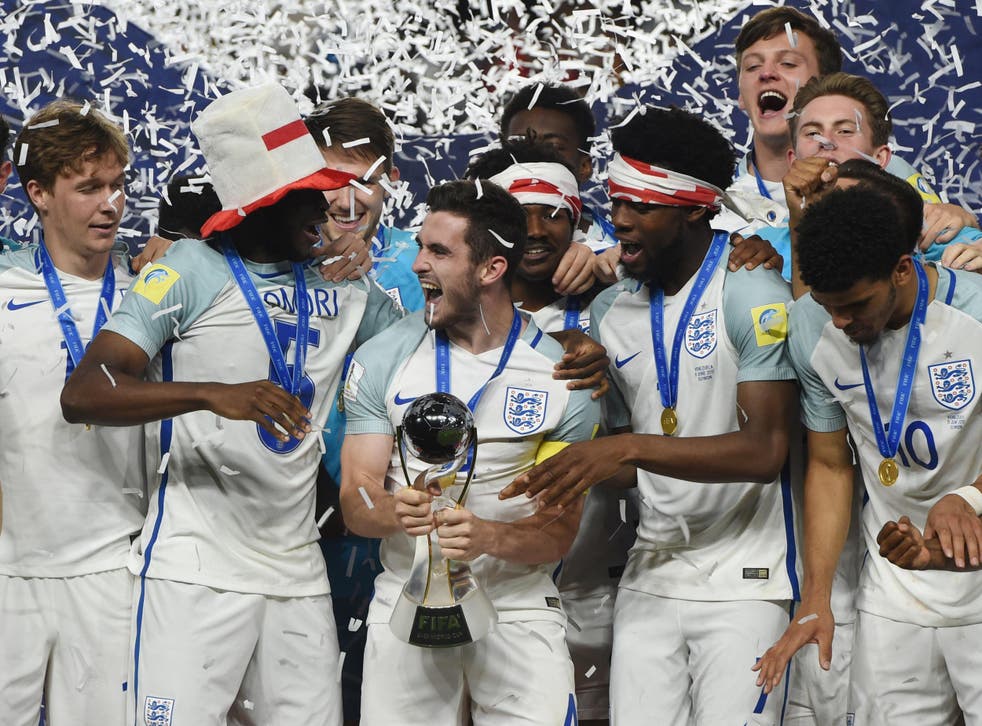 In so exquisitely winning the country's first ever under-20 World Cup, England's supreme young players have joined some exclusive and elite clubs.
The tournament's pantheon certainly isn't to be dismissed, and reflects just how prestigious this really is.
Most emotionally, captain Lewis Cook follows Bobby Moore as an Englishman to lift a world trophy.
Most gloriously, the whole squad follow great football figures like Diego Maradona, Xavi Hernandez and Bebeto in claiming a medal.
And most pointedly, Dominic Solanke follows stars like Maradona, Lionel Messi, Robert Prosinecki and Sergio Aguero in winning the competition's Golden Ball.
More generally, some of the squad follow their own success in the European under-17 Championships as well the standards set in this competition by Argentina 1979, Brazil 1985, Spain 1999 and Brazil 2003.
If the point here was not as clear as the thunderous Josh Onomah shot that cannoned off the crossbar in the final against Venezuela, members of all of those teams went on to win some of the big senior trophies in the following years.
That is why it genuinely isn't hype or overexcitement to talk about what this could mean for the future. By contrast, England was for a long time one of the few big countries that didn't quite take this tournament as seriously as they might have. Argentina, Brazil and Spain, for example, have, always seen the value of this most grandiose of youth tournaments.
They have long known the worth of a young side growing together across a campaign like this, of learning to play in tournaments together, and of winning together. It binds and boosts players like nothing else, and many previous champions like Diego Simeone have pointed to it as key moment in their development.
The triumphant Spanish generation of 2008 to 2012 meanwhile commonly spoke of how so much youth success - across so many tournaments - led to the ultimate success, as they became the first country to win three major trophies in a row with two European Championships and the 2010 World Cup.
England now know some of that, too, but the next step remains so up in the air.
That is why the next question is also what happens with the exclusive clubs so many were already at, or where they go next. These fine young players just need to play.
If it feels churlish to point to doubts like that amid such a celebratory moment, it equally can't be forgotten that this is the ultimate point of these tournaments, too.
They're literally about the future, and the potential that this England have shown makes it more frustrating that some of these players have not got more game-time in the present.
As one well-connected figure who works in central European football confided to the Independent, if some of these players like goalscorer Dominic Calvert-Lewin or Onomah "were at Juventus or a few other big clubs, they'd be straight into the first-team squad".
The money-laden nature of the Premier League however means that the pressure for instant effect, so the temptation and easy task is just to go out and spend on the best available players right now. Only managers like Mauricio Pochettino or Ronald Koeman have been prepared to offer the show of faith required to let these players breathe, to get that air they need.
That is also why the move of Solanke from Chelsea is so interesting. Whatever happens there, the hope - and now strong argument - is that more of this winning XI at the very least get the time to prove themselves at the top level.
They have already more than proven themselves in the top youth tournament.
Remember the names.
Join our new commenting forum
Join thought-provoking conversations, follow other Independent readers and see their replies