England v Germany: Manchester City stopper Joe Hart 'in the right frame of mind'
The troubled keeper has the full backing of Roy Hodgson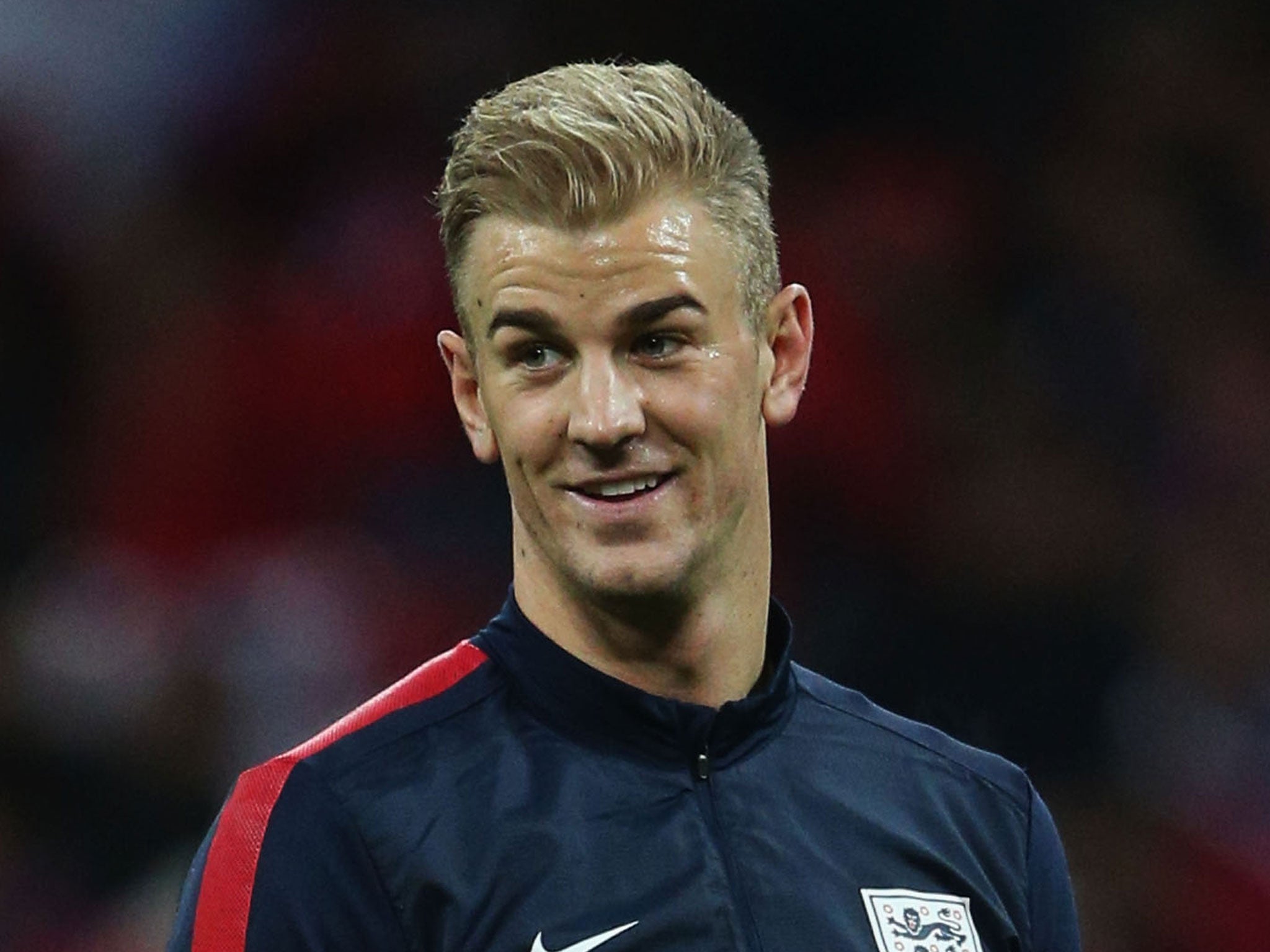 Roy Hodgson has thrown his support behind Joe Hart, who he said is determined to prove that he can be trusted in goal tomorrow night against Germany at Wembley, his first game in more than three weeks.
Hart, left out by Manchester City manager Manuel Pellegrini since the club's defeat to Chelsea on 27 October, will start against the Germans. He did not feature in Friday's 2-0 defeat to Chile but will be part of a team that Hodgson said will be the best he can muster from a squad that is carrying injuries, not least to Liverpool contingent Steven Gerrard and Daniel Sturridge.
The England manager said that Hart was "in the right frame of mind". He added: "That is what being England manager has been like for me for the last 18 months – selecting players who haven't played for a couple of weeks. Jermain Defoe played [as a substitute against Chile] and he hasn't played for hardly any part of the season unless you count the odd minute here and there and the Europa League.
"We aren't in the situation where I can only pick players who are playing regularly 90 minutes for their team. We don't have enough players for me to do that. But I am more than happy that Joe is ready. He will be anxious to show everyone that he is still a very good goalkeeper.
"You would have to ask Dave Watson [the goalkeepers' coach] how he has been. In the training sessions he does with me he has been fine and I know Dave has been happy with him. So I could only answer in the affirmative that he is fine, he is ready and he knew he wasn't playing [against Chile]. This was Fraser Forster's chance to show what he can do but he [Hart] knows it's his chance on Tuesday night."
Gerrard, Sturridge, Kyle Walker, Phil Jagielka, Ashley Cole and Andros Townsend are all expected to come back into the side. As for Germany, they have rested Mesut Özil, Philipp Lahm and goalkeeper Manuel Neuer for the game following the team's 1-1 draw with Italy in Milan on Friday night. Sami Khedira will also miss the game with a ruptured cruciate ligament that has put his World Cup in doubt.
Hodgson said that he believed his side could be as good as the team rated second in the world. "I am very keen to work with the players I have got and I am very keen to hopefully get the best out of them. I don't make comparisons, and I am pretty sure that all of the 11 who go out on Tuesday night will be anxious that they put any comparisons to bed. And that they will show they are every bit as good. That is what I believe they will be."
Joachim Löw, the Germany coach, has said that for his team tomorrow's game will be an opportunity to "test out any tactics or players we can", with Roman Weidenfeller, the 33-year-old uncapped Borussia Dortmund goalkeeper, expected to start. Hodgson said that he considered the Chile game a friendly in which he had been able to experiment but that he would play what he considered his best side against the Germans.
The England manager gave his players the day off on Saturday. They reconvened yesterday lunchtime and trained mid-afternoon. Hodgson said: "We won't dwell on the negatives, but we are not prepared to ignore them either. We are not prepared to fool ourselves that there weren't negatives in the performance [against Chile], things that could be an awful lot better, but it was a team of course which did have a lot of players who don't have a lot of international experience playing for England, so it was a tough ask for them to play against a team of that quality.
"Germany have a lot of players who are used to playing with each other and have experienced a lot of success in the major tournaments so I am sure they will be coming here with enormous confidence in themselves. They are going to ask massive questions of us and I can only hope that we brushed ourselves down from this defeat and we are ready to take them on."
Join our commenting forum
Join thought-provoking conversations, follow other Independent readers and see their replies