Brazil stars united in praise for England's defence after Three Lions match World Cup favourites at Wembley
While the goalless draw was far from an entertaining game, Brazil's world-class stars were nevertheless impressed with England's dogged defending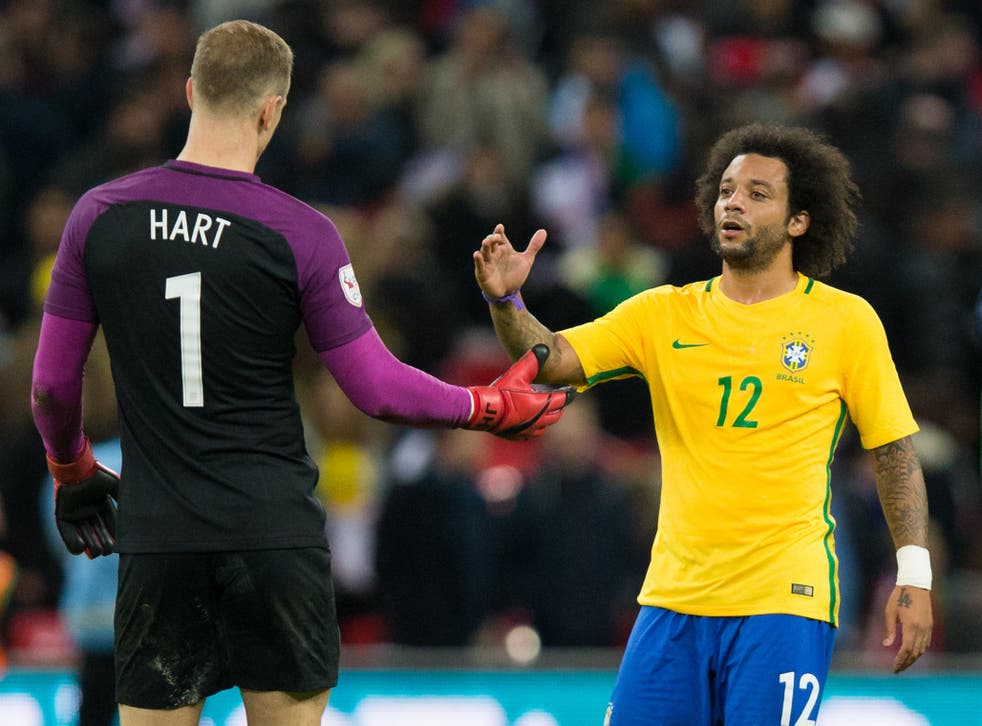 It's safe to assume that Brazil, when they arranged last night's friendly against England, didn't imagine that they would be faced with quite such a pick-and-mix team as the one that ran out in white at Wembley last night.
But while the Portuguese-language Wikipedia pages for Jake Livermore, Ruben Loftus-Cheek, Harry Maguire and Joe Gomez probably got a good airing in the away dressing room before kick-off, the feeling in the Seleção camp by the end of a slow-burn Wembley draw was unanimous: Brazil had been in a proper match.
"It was a complicated game," said Manchester City's Gabriel Jesus. "We know the quality England have: they're organised tactically, good technically and physically strong. They're a good team and it was a good test."
Brazil had scored 38 goals in the 16 matches before this one, but coach Tite's first outing against European opposition proved to be tough going. As usual, both Neymar and Philippe Coutinho looked happiest drifting inside from their wide berths, but with England set up in a 3-5-2 system, there was precious little space in the middle.
Gabriel managed one header on target in the first half and Coutinho might have broken the deadlock just after the interval, but it wasn't until late on, when both managers had made a raft of substitutions, that Brazil really exerted any great pressure on the England goal.
"They're a big side: all of the centre-backs are really tall," said Fernandinho, who impressed off the bench for the visitors. "Our midfielders and attackers tried to infiltrate their defence but they were very well positioned and we had trouble doing so.
"Against a team that's so 'closed', with a five-man defensive line, perhaps the solution was to move the ball around more quickly. In the first half especially, it was hard to create chances."
Paulinho called it "a great test against a really high-level team" and Coutinho admitted that he and his fellow attackers had struggled to penetrate an imposing defensive wall.
"We knew it was going to a difficult, competitive game," said the Liverpool midfielder. "Every national team comes prepared when they play Brazil. They played with three centre-backs and two full-backs as well. They defended really well, so it was difficult to get through. We tried everything to get ahead, but we couldn't convert it into goals."
Coutinho reserved special praise for club-mate Gomez, a surprise starter alongside John Stones and Maguire but assured on his first start for his country. "He is a great player," Coutinho said of the 20-year-old. "He has shown that at club level, in big matches, and he had a very good game today."
Register for free to continue reading
Registration is a free and easy way to support our truly independent journalism
By registering, you will also enjoy limited access to Premium articles, exclusive newsletters, commenting, and virtual events with our leading journalists
Already have an account? sign in
Register for free to continue reading
Registration is a free and easy way to support our truly independent journalism
By registering, you will also enjoy limited access to Premium articles, exclusive newsletters, commenting, and virtual events with our leading journalists
Already have an account? sign in
Join our new commenting forum
Join thought-provoking conversations, follow other Independent readers and see their replies