Harry Kane speaks on Callum Hudson-Odoi's England call-up
England vs Czech Republic: Have Three Lions' opponents finally found their next golden generation?
The era of Pavel Nedved, Tomas Rosicky and co. has long gone, but there is newfound hope with Roma star Patrik Schick spearheading Jaroslav Silhavy's side
Czech Republic travel to England on Friday with next to no expectations they can pull off an upset, yet it was not long ago they were able to mix it with the best on the continent.
At Euro 2004, a great team led by Milan Baros, Pavel Nedved, Tomas Rosicky, Petr Cech and Karel Poborsky played attacking football and were tipped to win the whole tournament, until Greek defender Traianos Dellas' silver goal stopped them in the semi-final.
The Czechs were close to winning their first major tournament since independence but have not managed to make it back to that stage since.
It was a golden era for Czech football and it had all started back in 1996, when they lost 2-1 against Germany in Euro final at Wembley. Vaclav Nemecek, a defensive midfielder who was the Czech national team's captain, but started the tournament on the bench, remembers: "It meant a lot to us. For the majority of the squad, it was our best result in the national team as we became European vice-champions.
"Of course the beginning was difficult as we lost against Germany. Then we had a little of luck with our advance from the group stage. However, the more games we played, the bigger self-confidence we had and that was exactly what we needed. We became strong opponents for anyone after that."
2022 England World Cup squad: Who will be on the plane to Qatar?

Show all 24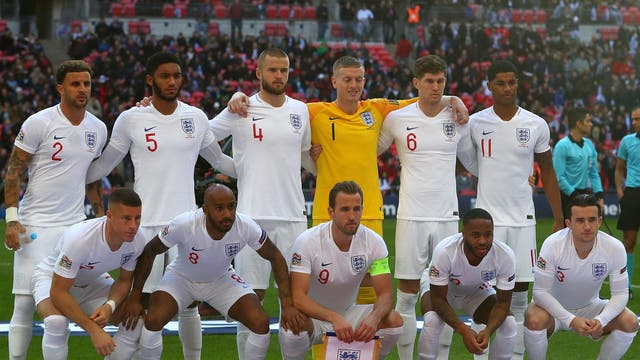 Czech Republic managed to beat Italy, Portugal and France on the way to the final, even if Euro 1996 was their first big tournament appearance after the dissolution of Czechoslovakia in 1993. They did it thanks to good defensive work and great individuals in attack, such as Pavel Nedved, Patrik Berger, Karel Poborsky or Vladimir Smicer, who all caught the world's attention at the tournament.
Nemecek explains: "Our team was built on a good defence, because every team in the position of outsider has to simply rely on it. It was also an issue of self-confidence: in the beginning (of the tournament), we had a problem with that. However, we had some defensively strong players and then some very technical ones, who quickly got into great form and mental state.
"That was a reason why Patrik Berger or Karel Poborsky had a great tournament, or also Pavel Nedved and Vladimir Smicer. They did things on the pitch they would not have had courage to do before."
It was an exceptional generation of players, and they had skills missing in Czech football nowadays: they were quick, technical and innovative. Berger and Smicer later played for Liverpool, Poborsky for Manchester United and Nedved won the Ballon d'Or in 2003 at Juventus.
Nemecek insists it was a mixture of amazing players: "Some of them kind of started their career there. They wanted to prove that they know how to play, and in that time they either already were in good clubs or they got their transfer a little later, for example Pavel Nedved who went to Italy (with Lazio). There was a good blend of young and older players and we had a great atmosphere in the dressing room."
Euro 1996 in England was at the start of a great era, when Czech Republic was often described as members of world's football elite. They were able to beat any big opponent, later adding younger players such as Tomas Rosicky or Milan Baros along the way. However, after the 2006 World Cup, where the team ended in a group stage, there was a gradual decline.
As older key players as Nedved or more recently Rosicky announced their retirement, Czech Republic have not been able to find their replacements. Considering the size of the country, Nemecek thinks the good generation was also a result of a little of luck: "In my opinion, it was a little like coincidence. I think this (a great group of players) comes in some periods or sinusoids. We were not big as Czechoslovakia and now we are even smaller. It is hard only to rely that some great player will simply appear somewhere. We have to wait a little for younger players to grow."
Lack of quality players became apparent in the recent years. In the current team, there are only two internationals playing for big European clubs: goalkeeper Tomas Vaclik (Sevilla) and star striker Patrik Schick (Roma).
"A generation of players can always be measured according to which clubs the national team's players play for. In the recent past, all the guys were in top European clubs and regularly in starting line-ups. It is not like that now and we have to wait until the young players become key ones – for example Patrik Schick and boys like him. When they will be playing in big competitions for big clubs, also the national team will make progress," Nemecek adds.
Part of the reason of why Czech Republic could not produce great players anymore was the visible contrast with for example neighbouring Slovakia, where the poorer clubs often gave opportunities to their youth graduates sooner and more often, and as the result of that, youth national teams' results improved, too.
Czech coach David Holoubek, 38, who has worked in Sparta Prague's youth teams for thirteen years and now coaches MFK Ruzomberok in the Slovak top flight, points out that in Czech Republic, there is a problem with youth players transition into senior football: "One thing is that sometimes a great generation comes, either in the national team or in a club, as for example Sigma Olomouc had with players born in 1995. However, it is then very important to get these players who are 19-year-old into senior team. A lot of them become lost. And that is a problem in the Czech league.
"A lot of these guys were not given the playing time that was necessary for them. I think the whole situation has improved over the last years, though, and a lot of clubs have started fielding them. However, it is not as much as we, the youth coaches, would have imagined – for example in Slovakia, these young boys get more opportunities. Obviously, the quality of the league and teams is important, too, but I see shortfalls in that regard."
Top Czech clubs fighting for the Champions League spots often rely on experienced imports from abroad. Famously, Karel Jarolim, a former national team's head coach who was sacked last autumn, criticised Sparta Prague for fielding too many players from Romania: "When a man watches it (their games), it rather looks like a friendly game of Romanian national team. Sparta's games should be observed rather by Romania's coach than by us. I can only smile on that, but that is a reality."
However, the current Czech coach, Jaroslav Silhavy, can build his squad also around a couple of decent players from Slavia Prague, which have managed to beat Sevilla last week on their way to Europa League quarter-final. There are signs of improvement at Sparta too – after Tomas Rosicky stepped in as the club's new sporting director, a couple of young players appeared in the first team, such as only 16-year-old winger or forward Adam Hlozek.
David Cermak, a journalist for MF Dnes, asks: "How can you put an experienced player for 2 million pounds on the bench and replace him by unknown 18-year-old? There are clubs which don't have enormous budgets so they play with footballers from their youth teams. However, something like a good mixture is missing: a strong team consisting of experienced players, who would be completed by two or three talents."
Instead, a lot of talented players leave abroad before they even start in the Czech league. Morevero, a project of regional youth academies with Karel Poborsky as its ambassador had a problematic start due to a conflict between Czech FA and academies' director Michal Prokes, who ended in his position.
"In my opinion, Czech Republic simply fell behind," Cermak adds. "Coaches did not manage to support creativity in the kids. Instead they have to follow tactical instructions and the emphasis was on physicality and results, not the playing style. Coaches were afraid they could lose their job so they relied on strong defence and were happy with 1-0 wins. Hence, nowadays we have a lot of 'series' footballers, who follow tactics perfectly, but they don't have any fantasy."
Holoubek also agrees that is a part of the problem: "That is also the problem with U19 teams – you want to develop your players, but you also have to look at results. Of course, your ambition is to win the national youth league and get into Youth Champions League, and as a coach you are under pressure to get results. Coaches have to rely on some system which is often defensive. And, it can be a reason of a relatively small number of creative players being developed."
Anyway, it can take years until Czech Republic have players like Pavel Nedved or Tomas Rosicky again. "They are extreme cases," Holoubek argues. "Those are footballers who are born once in few decades. We will have to wait on that kind of a player."
There are few who are tipped to follow in their footsteps, though. Now, Czech Republic's biggest football star is Patrik Schick, the 23-year-old AS Roma forward who has been compared to Zlatan Ibrahimovic. "He has achieved a lot already, he is quality striker in a quality team," Holoubek, who coached him in Sparta's youth, says. "In order to become (one of the best in the world), everything has to go well for him: he has to be healthy, work hard in every training and have his coach's support to play regularly. He has huge potential in my opinion."
Schick is expected to become Czech Republic's leader in the upcoming years. After encouraging results in Nations League, where the Czechs beat Slovakia twice, Silhavy can be optimistic about his team. The Euro 2020 qualifiers, starting with England at Wembley on Friday, will provide further evidence as to whether this generation are capable of bringing the glory years back.
Join our new commenting forum
Join thought-provoking conversations, follow other Independent readers and see their replies